Forging a Fearless Future
Marsai Martin knows there are few things as powerful as a girl who recognizes her worth. At 16 years old, the actress — who is the youngest executive producer in Hollywood history — already exudes an admirable spirit of aplomb. When we hop on a Zoom call to chat about her knack for, you know, breaking barriers and flourishing, she's completely poised in black-and-white pajamas with notch lapels. Her hair is braided back into cornrows, and she's rocking a pair of rounded gold eyeglasses. "They're my chillax glasses," she says with a dimpled grin, readjusting the specs.
It's a more casual look compared to the outfits she modeled at POPSUGAR's cover shoot, which took place three days before our interview. She's still spellbound by the photos she snapped at the LA studio, where she greeted crew members on the COVID-safe set with elbow bumps. The atmosphere was upbeat as Marsai jammed out to a collection of tracks — including "Go Crazy" by Megan Thee Stallion and "Easy" by Mac Ayres — and donned a caped candy-pink Brandon Maxwell top with purple Chanel trousers, among other pastel ensembles, in a curated landscape of blue roses, orchids, and butterflies. "It was one of the first shoots I've had where I was really happy with all the looks," she says. "The creative direction was really good. I loved it."
The Texas native is speaking with me from her home in LA, where her parents, Carol and Joshua Martin, relocated about eight years ago so their daughter could pursue acting. It was a sacrifice the young star took to heart as a clear indication that they saw something special in her. After all, it's not every day that a mother and father uproot their lives to follow the dreams of an 8-year-old. It further solidified the trust between Marsai and her parents, whom she describes as her biggest fans and "strict best friends." Throughout her personal and professional endeavors, they've kept her grounded, cheering her on when she needs encouragement and putting her in check if need be. "We definitely have a close relationship and talk to each other about everything," she says, adding that even though they're chill, they'll "snap at you if you do anything crazy."
Family is everything to Marsai, and that precedence was instilled in her early on. Born Caila Marsai Martin, she was given her middle name — and acting moniker — to commemorate her cousin Marsai Murry, who was killed by a stray bullet at age 17 in 2003: "To honor her name, legacy, joy, and her love for the world, they made [Marsai] my middle name."
Marsai was a beacon from birth, and that was undoubtedly a foreshadowing of her destiny. As she ascends the Hollywood ranks, she's become an inspiration to girls everywhere, largely due to her portrayal of Diane Johnson on Black-ish. Not unlike Marsai herself, her character is extremely intelligent and usually dons braided hairstyles with a pair of eyeglasses — though Diane is significantly more mischievous. When Marsai's portrayal debuted on the comedy series in 2014, she didn't anticipate the accolades that would follow. And we're not just talking about the handful of awards that she's won throughout her career, including the three NAACP Image Awards she nabbed in 2020; we're also referring to the less tangible impact she's made on her audience. "I don't like to call them 'fans,'" she notes. "They're more supporters or even family members because they help you grow and feel supported and loved."
Case in point: around three years ago, Marsai walked into a shoe store on Rodeo Drive in Beverly Hills, CA, where a supporter spotted her and burst into happy tears. Marsai also recalled meeting a fellow bespectacled girl at Disneyland who ran up to say hello and snap a picture. "Her mom was saying she didn't want to wear her glasses before," Marsai says. "But after watching Black-ish and seeing Diane wear her glasses and cute braids in different styles and making them look cool, she started wearing her glasses and being confident in them."
It would be remiss to say that Marsai's confidence hasn't been tested, especially as she learns more about working in the entertainment business as a Black girl. Almost every person of color, myself included, can pinpoint an occurrence that made them cognizant of their skin color and how it affects the way others see them. Marsai's experience came after she wrapped one of the early seasons of Black-ish. She was hoping to work on other projects, but her agency at the time claimed that there weren't any other roles for her, which Marsai knew wasn't true. "They were like, 'Just sit back, you're good,'" she recalled. "'There's nothing else you could do right now.'" She pauses while thinking back on the interaction, and we both raise an eyebrow with a mutual understanding. "That's suspicious . . ." I say, quoting Cardi B from a popular TikTok audio clip. ". . . That's weird," Marsai adds, completing the refrain.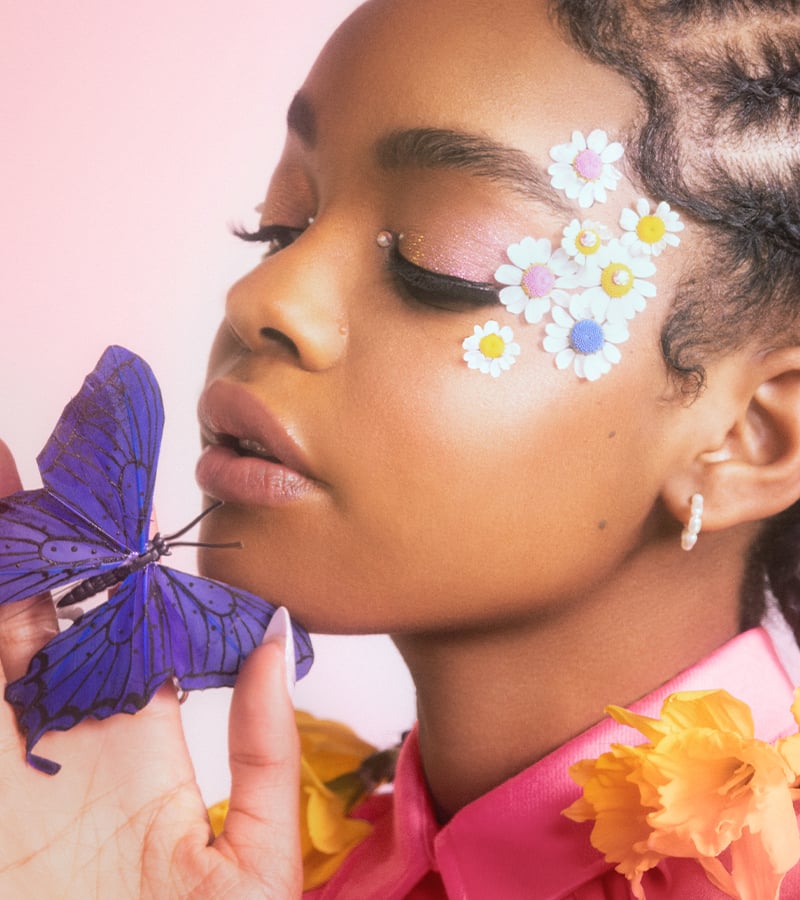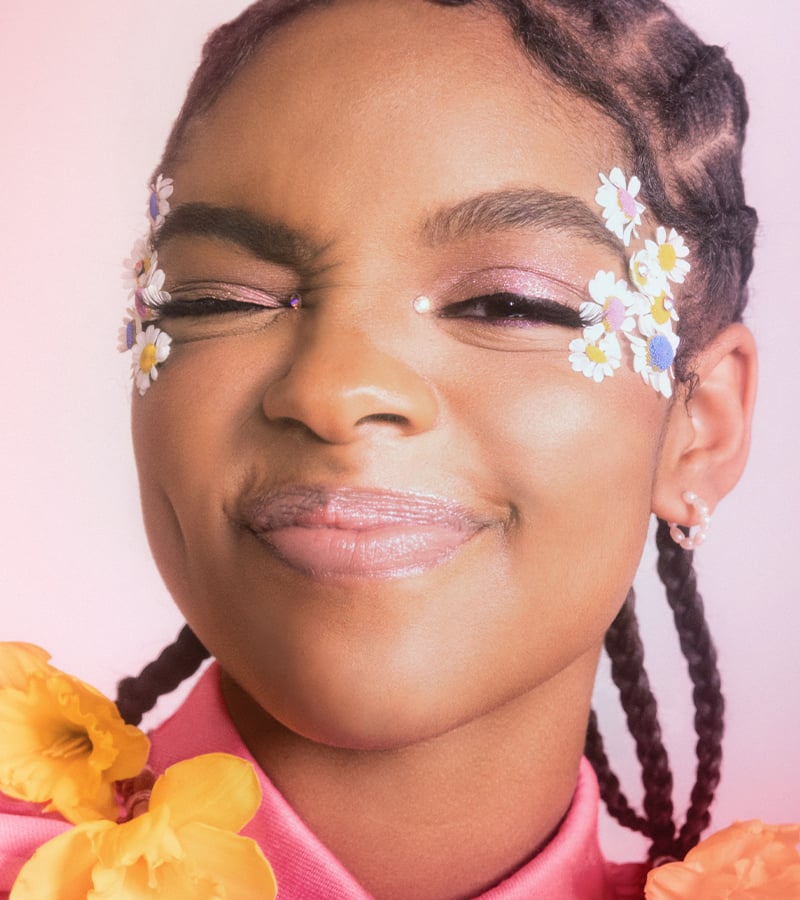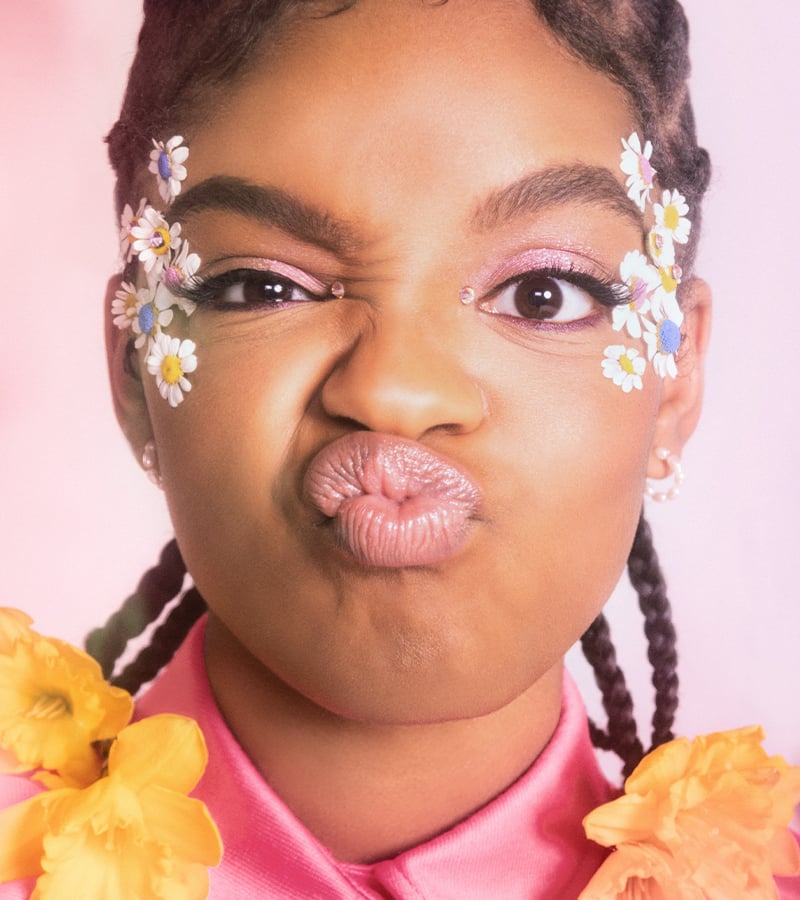 "That was probably the day when I was like, 'Oh, they're basically saying since I'm a young Black girl with glasses and an Afro, there's nothing else for me,'" she continues. "If there isn't anything for me, then there's nothing for other Black girls who look like me who are trying to make it in this white-male-dominated, or even white-girl-dominated, industry where that's the only standard of lead actors or actresses." But rather than allowing the agency's racism — and downright laziness — to inhibit her, Marsai took matters into her own hands. "That was the start of creating my own content, finding myself, and figuring out what I love," she says. "I can just go for it and show other girls who look like me that they can do the same thing."
In true Gen Z fashion, Marsai is repudiating the status quo by speaking out about issues like bullying, the Breonna Taylor case, and the importance of providing free lunch to underserved students. "I'm honored to speak up about the things that I care about and be a part of this generation, seeing how we work together as one," she says. "During the pandemic, we've seen what's going on in the real world. We're more engaged and passionate because we can't leave this reality that we're in. We've been forced to really listen. Most of my generation has realized history is kind of repeating itself, and we are the generation to make it stop happening, make our voices heard, and show other kids that if you use your voice, you can move the needle and turn heads."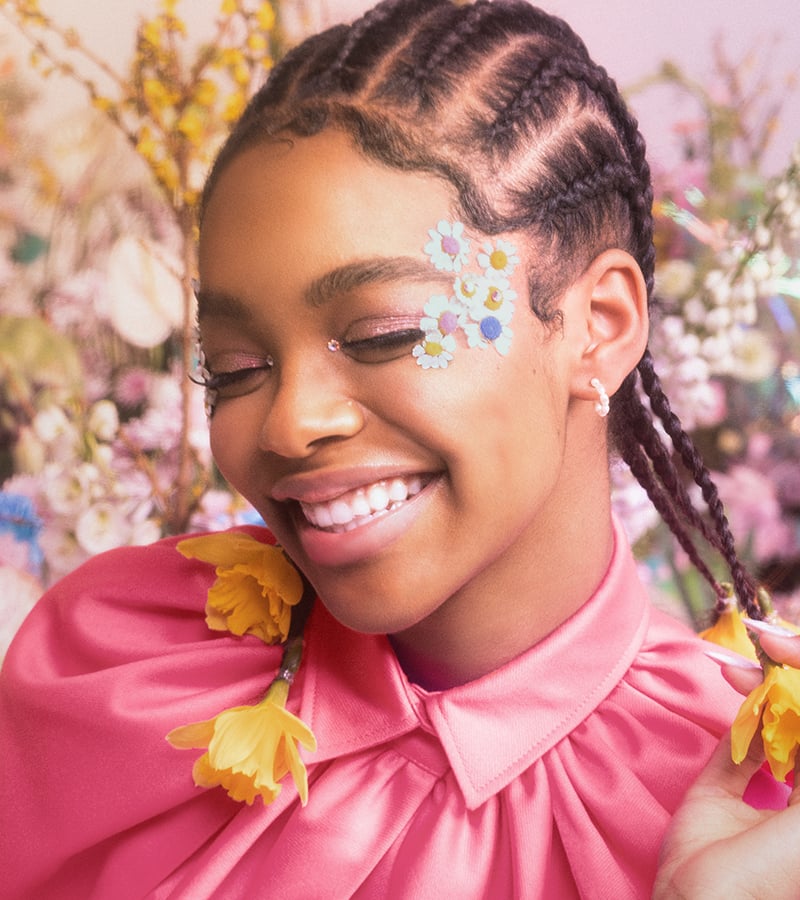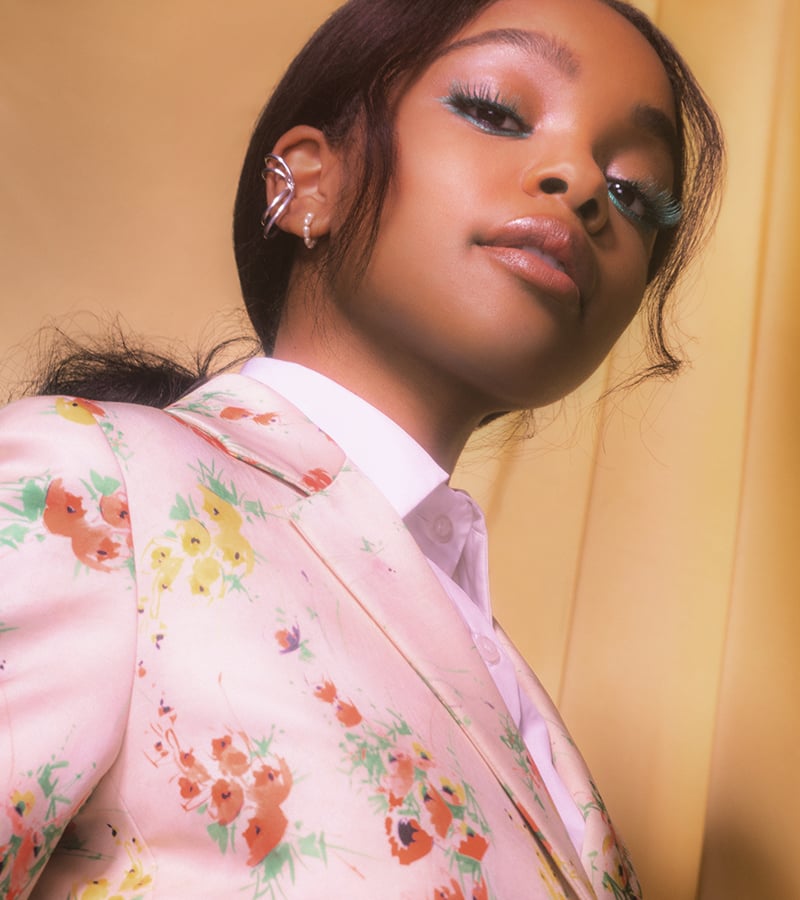 In early 2019, Marsai unveiled a stunning photo shoot that she set up as a Christmas gift for her best friends. Her friends got to experience the whole shebang — glam, styling, professional sets — and Marsai shared the gorgeous results on Instagram, captioning them with a call to "erase the old standards of beauty." Those antiquated standards, Marsai tells me, laud "the skinny white girl with bone-straight hair" over anyone else who doesn't fit into that mold. "I'm not saying that that's not beautiful — all body types and all races are beautiful," she adds. Instead, she and her friends were simply expanding the perception of elegance and artistry in a way that embraces Black girls.
"We want to change the narrative for people to recognize that we are beautiful," Marsai continues. "Young Black girls like me see what's on TV or in magazines, and they see one standard of beauty that doesn't look like them. It can take a toll on your mental health because you think that's the only type of style or person that others want to see, and that's not the case at all." She reminisces on how her photo shoot helped to eradicate those internalized inferiorities, adding, "Together, we felt confident. We're proud of being amazing Black girls who do their thing."
I ask Marsai what she believes is the most beautiful thing about being a Black girl. She perks up with a sparkle in her eyes that's so bright, I can almost see it glimmer from behind her chillax glasses.
"We can do anything," she says with a dreamy Southern drawl. "We can change our style, our skin is beautiful and comes in all different shades. Our inspirations, music, and culture are amazing. There's just something cool about being Black. We're dope, and people should see that more. I think some people do, they just don't want to say it. Our culture, other people love it, and we don't get the credit for it. But we know what we did, we know who we are, and that's the cool thing about it."
Marsai's limitless credo has enabled her to accomplish exceptional feats. In 2019, she launched her own production company, Genius Productions, and signed a first-look deal with Universal Pictures. The venture landed her on Fast Company's list of the most creative people in business, as well as Time magazine's compilation of rising stars.
That year, she also became the youngest executive producer of a major Hollywood movie with Little — which she starred in alongside Issa Rae and Regina Hall — and the historic undertaking earned her a Guinness World Records title. But this is just the beginning of what Marsai hopes to achieve through her company. "Creating Little and seeing how amazing that was, I was like, 'I can do more of these,'" she says. "It just grew to be something bigger. It started with acting, and then it went into executive producing, and it can go to writing or directing — it can go further."
Marsai's early accomplishments as a producer are highly regarded among her Hollywood peers, including her Black-ish costar Yara Shahidi, whom she affectionately calls her "big sister." Attesting to Marsai's ingenuity, Yara said: "She's a thoughtful young human, and that is not only evident in her work in front of the camera but also why she continues to find such immense success in production. There is a level of thought and detail that goes into everything that she does." Yara even remembers being in awe of Marsai when they first started filming Black-ish. "From the moment we stepped foot on the Black-ish set — which, mind you, she had not even hit double digits in age — she was already working on her improv, adding things in scenes, filling out her character for us in ways that were so unexpected, and I think that only continues to blossom," Yara said.
The Grown-ish star also reveres Marsai's "old-school sensibility," especially when it comes to her taste in music. "When she was 8, one of the first things I remember is the fact that you could give her any old-school song, and she'd know every lyric," Yara recalled. "It may sound super funny, but honestly, I think she's able to hold our histories and our cultures and carry them forward."
Marsai always keeps the wheels turning, so channeling her creativity is an intrinsic forte. "My mind runs wild," she says. To stay in tune with her imagination, she spends time in nature, peruses social media, and observes others, sometimes crafting fictional storylines for passersby in her head. Marsai also takes cues from inspirations such as Yara and fellow Texas native Beyoncé to push her to master her métier. She evolves as a creative with every new experience that comes her way and is constantly looking to expand her cache of knowledge.
"I have a journal that's super-duper old. I had it in Texas, and it was my first diary," she says, reflecting on her personal journey. "The things that I thought were something else. Like sex, for example — I thought babies fell from the sky. It's really funny. It's cool to see how far I've come as a person."
Tracee Ellis Ross, Marsai's Black-ish costar and onscreen mother, has also taken note of the budding luminary's growth, as well as her ability to stay true to who she is. "At her core, Marsai is still the same little girl that I met when she was 8 years old," Tracee said. "And by that, I mean she is intuitive, she has impeccable comedic timing and a commanding presence on screen. It's been beautiful watching her find her voice and discover how to use it in business and to help others. I'm proud to be her TV mom, and I can't wait to see all that she accomplishes."
It's clear that Marsai inherently knows how to access her capabilities, but as she gets older, that discernment of faculty evolves. "It's an active process of understanding the power that I have," she says. "I feel like a regular teenager that has ups and downs. I think it's all about confidence and being passionate about the things you put into the world." She takes another moment to think, visibly grappling with the idea of labeling herself as powerful. "Being myself, just Caila Marsai Martin, it's weird to say that I have a lot of power. I just go with the flow," she says.
In her effort to "go with the flow," Marsai aims to fulfill a mission of encouraging everyone to thrive in their own way. "Success is having a purpose, moving forward, and motivating people to do what they love," she says. "When I was younger, I said I wanted to be a legend. That means when I leave this world, I want to make sure that I came with a purpose, made a positive mark, and inspired young girls to do the same thing that I did."
In the midst of everything (life in 2021, being a 16-year-old boss), Marsai makes sure to check in with herself. She's previously opened up about going through bouts of depression but found it easier to navigate her emotions thanks to commonplace conversations about mental health. "I'm glad that people are recognizing how important mental health is, especially during this time," she tells me. Her approach to staying centered is having an attitude of gratitude, as well as maintaining a healthy balance of work and play. "You really have to pull yourself back and understand how grateful you are to live another day," she emphasizes. When she feels overwhelmed, Marsai journals, listens to music, uses bath bombs, vents to her grandma, and takes walks. Oh, and having a nice sob session helps, too. "It's always OK to cry. I'm an emotional person," she says.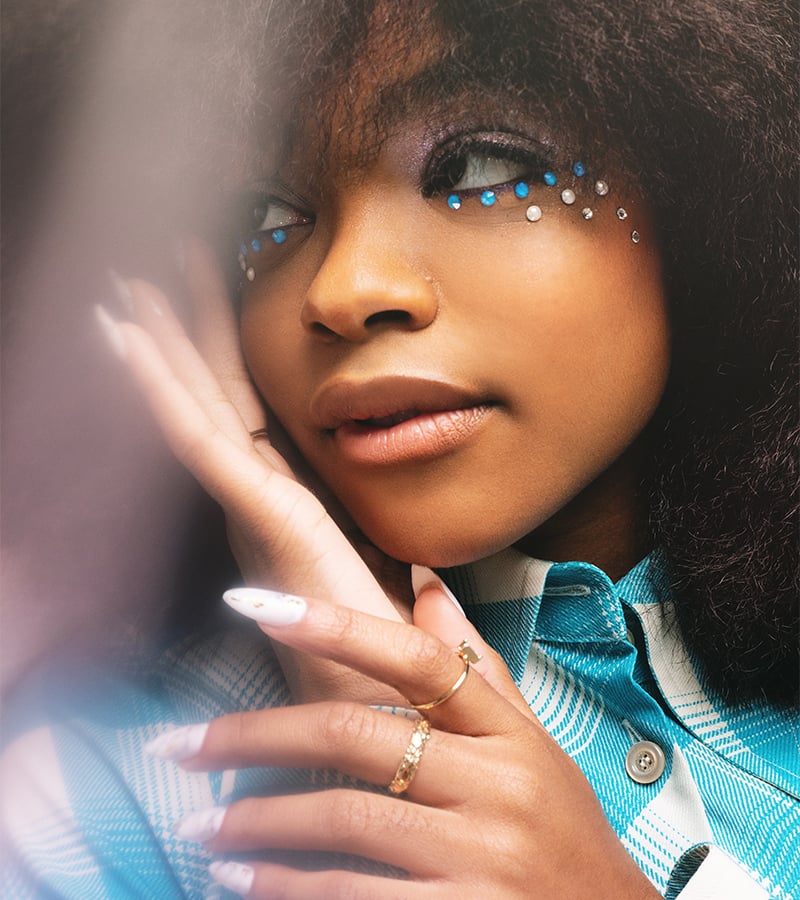 A sense of stability is especially important considering all of the ventures Marsai has on her plate, including the revival of her YouTube channel and an adaptation of the YA novel Amari and the Night Brothers. She's also set to voice animated characters on Netflix's Dragons: Rescue Riders and in the PAW Patrol movie, which she's particularly thrilled about since she'll be working with Yara and voicing a charming pooch. "People are going to love it," she says. "My dog is so adorable." Additionally, Marsai is looking forward to visiting Africa for the first time when production begins for her upcoming film Queen. On top of all that, Marsai is currently tackling her movie StepMonster, which she's starring in and executive producing under her Genius Productions banner.
And, of course, the actress is finishing up season seven of Black-ish, which returns from hiatus on Jan. 26. "We're taking safety precautions really seriously," Marsai says of the cast and crew, before teasing "a lot of funny episodes" to come in the second half of the installment. Reflecting on the onset dynamic with her costars, she adds, "They're my second family." She often teaches Tracee and Anthony Anderson about new music and even shows off her vocal chops every once in a while. "One thing we love doing is making random songs out of random catchphrases," said Miles Brown, who plays Marsai's twin brother, Jack. "She's a really good singer."
According to Marsai's onscreen older brother, Marcus Scribner, they even have a behind-the-scenes troupe. "We all love to create songs on set," Marcus said. "We're pretty talented and have a secret band going." In addition to Marsai's musical dexterity, Marcus admires her drive and kindness. "Marsai uses her platform to create stories that elevate the voices of young girls who look up to her. If that's not a leader, I don't know what is," he said. "She has grown into an amazing and caring human who I am proud to call my lil sis."
Throughout my interview with Marsai, I try to figure out what exactly makes her so dynamic. She has a certain quality that's paradoxically understated and bold. It finally hits me near the end of our conversation: it's her fearlessness. She's experienced racism in an already difficult profession, she's been the target of online trolls, and she's fallen into the depths of discouragement all before adulthood. But none of those trials bested her. "You only live once," Marsai says after I share my revelation. "You can't have regrets. Tomorrow isn't promised, so I don't want to take anything for granted."

That fearlessness is helping Marsai achieve her goals, pave the way for others, and create new dreams. Right now, she's toying with the idea of starting a line of press-on nails and a fashion brand. "I am a very creative person, so when it comes to nails, I want to go all out," she says. "Same thing with my outfits — I have zero room in my closet . . . I definitely want to work with something in that realm. We actually have a lot of things coming that are very unexpected." Unsurprisingly, the visions don't stop there. "I have a lot of wild dreams," she admits. One of them includes going back to her roots in Plano, TX, to build a studio and a ranch with an amusement park. I speculate about whether Beyoncé would ever film a music video at either of the sites, and Marsai laughs. "That's so wild!" she says.

Sure, it's wild, but some might say that a 16-year-old girl being an executive producer and the owner of a production company is wild. Some might even say that a Black girl sanguinely living her truth and walking in her glory is wild. But no one can say those things are impossible — because Marsai has proven otherwise. And that's the future of boundless possibility that she's forging for other young women. She's a girl of promise who intends to make good on everything she has set out to do.
Creative
Photographer: Grace Bukunmi Stylist: Jason Rembert Hair: Nakia Rachon Makeup: Shannon Pezzetta Nails: Eri Ishizu Creative Direction: Jae Payne, Dana Avidan Cohn Set Design: Under New MGMT Site Design: Patricia O'Connor Production: Cassie Doyle, Drew Warren, Margot Fodor Video Production: Joe Otanez Post Production: Ross Richardson, Bonnie Mills
Editorial
Editors: Iyana Robertson, Lisa Sugar, Mandy Harris, Lindsay Miller Copy Editors: Mary White, Bryce Aston Talent Booker: Kristin Harris Consumer Marketing: Victoria Pedlar, Maya Berry
Styling
Look 1: Top: Brandon Maxwell, Pant: Chanel, Shoes: Jimmy Choo, Ring: Jennifer Fisher, Earrings: Stylist's Own Look 2: Top, Skirt: Gucci, Shoes: Paco Rabanne, Earrings: Stylist's Own Look 3: Top, Coat: Prada, Shoes: Giuseppe Zanotti, Ear Cuff: Jennifer Fisher, Earrings: Stylist's Own Look 4: Headpiece, Choker, Dress: Area, Earrings: Stylist's Own Look 5: Dress: Christian Cowan, Ring: Stylist's Own