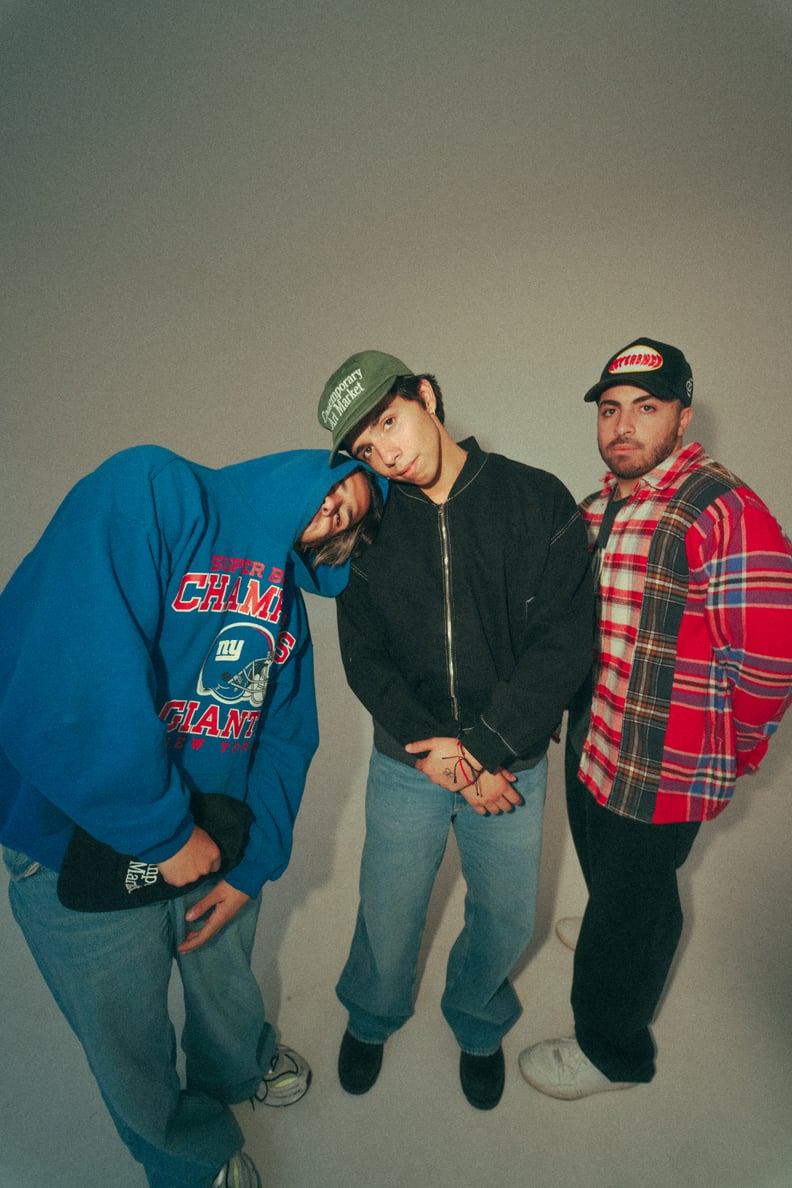 @Directony
@Directony
Without a record label or an album, Latin Mafia moved more than 11,000 concert tickets in minutes last May. With only nine songs on Spotify at the time, the band of brothers sold out the massive Olympic Velodrome in Mexico City. Moving through diverse genres like reggaetón, R&B, trap, and house music in their hits, Latin Mafia's limitless pop is connecting with its growing fan base in an organic way that major labels can only dream of.
"We wanted to do something different," Milton de la Rosa, one of Latin Mafia's three members, tells POPSUGAR. "There's no formula to the music. We're just doing what feels good to us."
The Mexico City–based act includes Milton, his twin brother, Emilio, and their older brother, Mike. The two younger siblings share vocal duties in Latin Mafia while Mike produces the music. The nefarious name comes from a Latin trap group that Mike was a part of previously. After remaining as the sole member, he kept Latin Mafia going with his brothers. Their soulful music gives everything but mafioso vibes.
"It's a heavy name, but then people tell us they actually cry to our music," Emilio says.
The guys were fans of the Mexican reggaetón group Ghetto Kids and often attended their concerts. In a full-circle moment, Luis Díaz from the aforementioned band reached out to them to become Latin Mafia's manager. Though the trio occasionally dabbles in reggaetón, like in the sexy "Mala Buena Suerte," their sound can't be pinned down to just one genre.
In 2021, Latin Mafia uploaded their first single, the dreamy synth-pop song "Más Humano," to music-streaming platforms. Then there's the Post Malone–like "Perlas," where they seamlessly blend trap beats with slick R&B influences. Emilio jokingly compares their music to the munchies chips, which include Hot Cheetos, Doritos, and pretzels inside one bag.
"We're like a mix of everything," he adds with a laugh. "We're not overthinking it. We're just having fun making music."
That unique mix is reflected in the brothers' musical tastes. Mike is a fan of EDM acts like Flume, Hardwell, Axwell, and Swedish House Mafia. Emilio considers his influences to be indie as he lists off Steve Lacy, Frank Ocean, and LANY. Mike then names artists who have been pushing reggaetón forward, like Bad Bunny, Feid, Rauw Alejandro, and Mora. When it comes to making music together, Emilio says, "We have three links that unite us: we're business partners, we're family, and we're friends. That's how we work and why everything has flowed so well."
Over on TikTok, where Latin Mafia boast more than half a million followers, they often tease their music and let followers in the song-creation process.
"TikTok is one of our biggest allies," Milton says. "It's a platform that has given us a lot of visibility for our music. Making music is important, but it's what you do with the music and how you communicate it that's also essential."
Latin Mafia proved that their massive following could translate over to big box office sales with its first major show. The concert in May 2023 was originally scheduled for the Hotel Reforma, which can hold more than 1,500 people before the guys upgraded the venue twice to meet the high demand in Mexico City.
"We crashed the website," Milton says. Eventually, Latin Mafia settled on the Olympic Velodrome and sold out the stadium-size venue in minutes. The crowd included executives from Sony Music Latin and Universal Music Latino, who are keeping an eye on the trio. What most caught Latin Mafia's attention was the supportive response from the fans.
"There was something that moved me a lot; for example, at the last show that we did, people were screaming to us, '¡Sí se pudo!' (Yes, they did it!)," Emilio recalls. "[The fans] have been with us during this whole process, since the creation of this project."
With Latin Mafia's fans being instrumental in helping them break through as an indie act, the guys feel like that's why they share a strong bond with them. "That's what made them very close to us and our project," Emilio says. "We're very grateful for what they're helping us achieve and be able to do. We have nothing but love to give back to them."
No matter the genre that Latin Mafia are exploring, there's always plenty of heart at the center of the brothers' songs. The band also shares a strong emotional bond with its fans in songs like the progressive R&B track "No Digas Nada." Emilio and Milton sing about not being afraid to wear their hearts on their sleeves, which pushes against the toxic masculinity of machismo that's ingrained in Mexican culture. "Almost no one talks about mental health," Mike says. "We want to talk about that because we suffer from that too. Every day is a constant battle with what we feel and the anxiety."
"If we can make [our fans] feel at home and make them feel good while they're listening to our music, then I think we're doing things well," Milton adds. Now Latin Mafia are getting support from other Latine acts like R&B singer Jesse Baez, who features on the bouncy "Se Fue La Luz." About working with Baez, Emilio jokes, "I was a groupie, and now we're besties." As for who the guys hope to work with next, Milton wants to manifest a collaboration with Bad Bunny. They also list off names like Rosalía, Frank Ocean, Justin Bieber, Post Malone, Feid, and Young Miko.
While working on Latin Mafia's debut album, the guys have released an extended version of their biggest hit, "Julieta." The Afrobeats-infused love song explodes with a perreo-ready outro. After fans long rallied for a version with more reggaetón, the brothers have delivered with "Julietota."
"It's going to mark the difference between what we're doing and what we want to do," Milton says about the genre-bending banger. "Changes are coming."
Latin Mafia are extending its reach throughout Mexico and beyond. This month, the band is playing headlining shows in Monterrey and Guadalajara, which have both sold out. They were also selected as August's Up Next act on Apple Music in Latin America. The Latin Mafia revolution will be global.
"We're pretty hungry, we're pretty ambitious, we want to keep growing, and we want to keep spreading our love to the people who are listening to us and connecting with us," Emilio says. "There's only love coming from us."