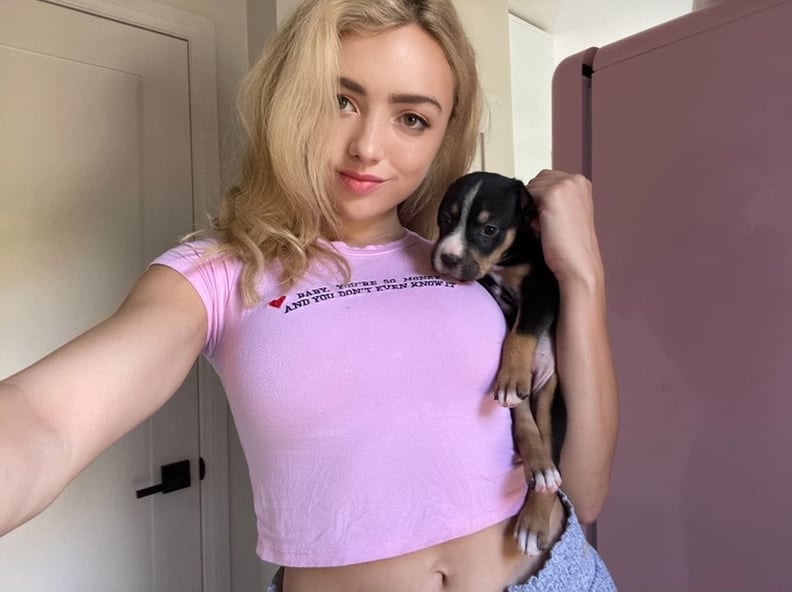 Peyton List
Peyton List
In our Q&A series Last Call, we get down to the bottom of every last thing with some of our favorite celebs — from the last thing they texted to the last thing they binge-watched. This week, actress Peyton List takes our call.
You know Peyton List from her Disney Channel days on Jessie and Bunk'd and the new-to-Netflix series Cobra Kai (which is officially available on the streamer Aug. 28!). Now, she's taking her talents to film with her new movie Swimming For Gold, which tells the story of elite swimmer Claire (Peyton), who's sent to Australia to coach a boys' swim team. Read on to hear more from Peyton about her last day on the set of the film, her latest adventure fostering six tiny puppies, and more!
PS: What was your last day on Swimming For Gold like?
Our last day, we filmed a push-up contest scene. My costar Lauren [Esposito] and I would do them every day between takes with our director Hayley [MacFarlane] to prep and get really into it — we even started taking CrossFit classes. Then I surprised everyone with an ice cream truck on set and got super emotional about it all ending. The last day always feels like the last day of summer camp.
PS: What's the last thing you watched on Netflix?
I'm currently switching off between Community and Dead to Me. Anything funny right now is my go-to.
PS: What's the last thing you ordered online?
I just ordered this tapestry. I am going to start a YouTube show from my house, so I wanted to create a fun filming space in my basement.
PS: What's the last photo on your camera roll?
My family has been hosting family dinners every other night, and my dog Potter just decided to join the party and climb up on the table.
PS: What's the last thing you do before going to bed?
I usually read a script I'm supposed to study so that all of the information is the last thing I'm thinking about and it seeps into my brain before bed. I'll watch Netflix, FaceTime a friend until I fall asleep, or also scroll TikTok (which, if you are trying to fall sleep fast, is not the move).
PS: What was the last gift you received?
A disco ball from my best friend so that I can still have dance parties in my house without leaving.
PS: What's the last thing you took home from a set?
Oh, the amount of random things in my house from set makes me so happy. The last thing was a pair of furry leopard slides and rubber lobster-claw gloves (don't ask).
PS: What's the last song you listened to?
"Do It" by Chloe X Halle, and then a lot of throwbacks — currently "Cool" by Gwen Stefani is playing.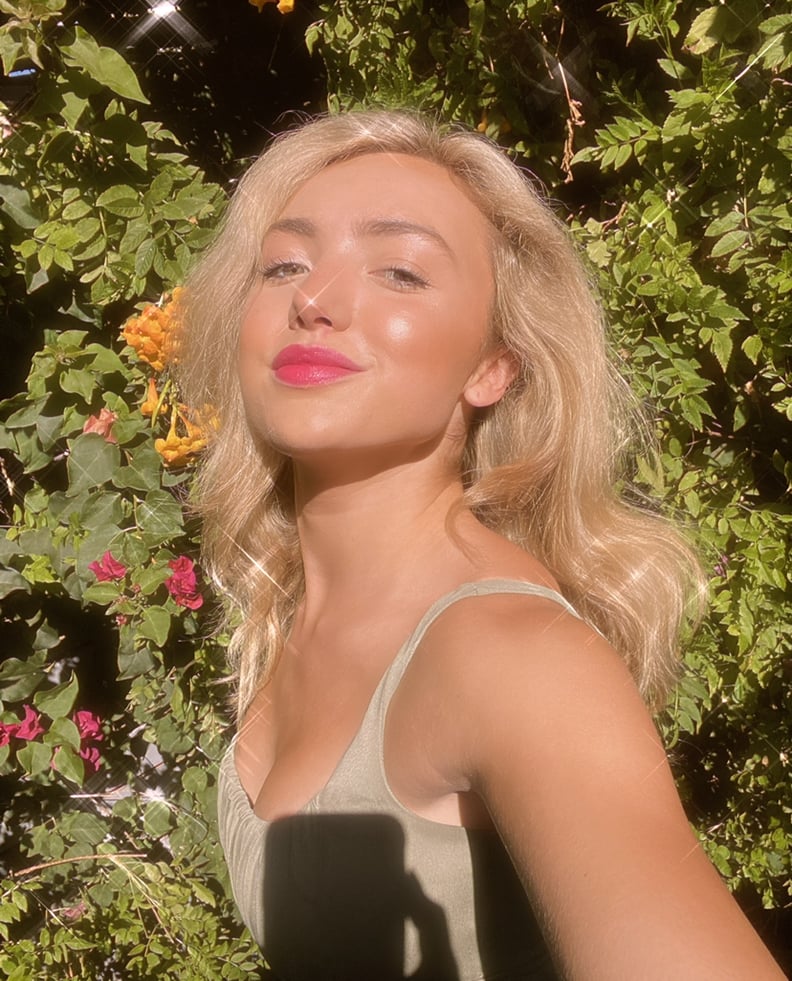 PS: What was the last song you sang in the shower?
"The Good Part" by AJR.
PS: What's the last piece of advice you received that changed your life?
Oh goodness. I think it was to take the anxious thoughts that come to my mind (just doing life) [and] to sit them across from me and say, "What's up?" To try to separate the thoughts from myself. Doesn't work all the time, but it helps.
PS: What's the last book you read?
Talking to Strangers by Malcolm Gladwell — big fan of his.
PS: What was the last thing you texted?
I'm about to foster six puppies for the Bella Vita Rescue, so it was, "When are the puppies getting here?"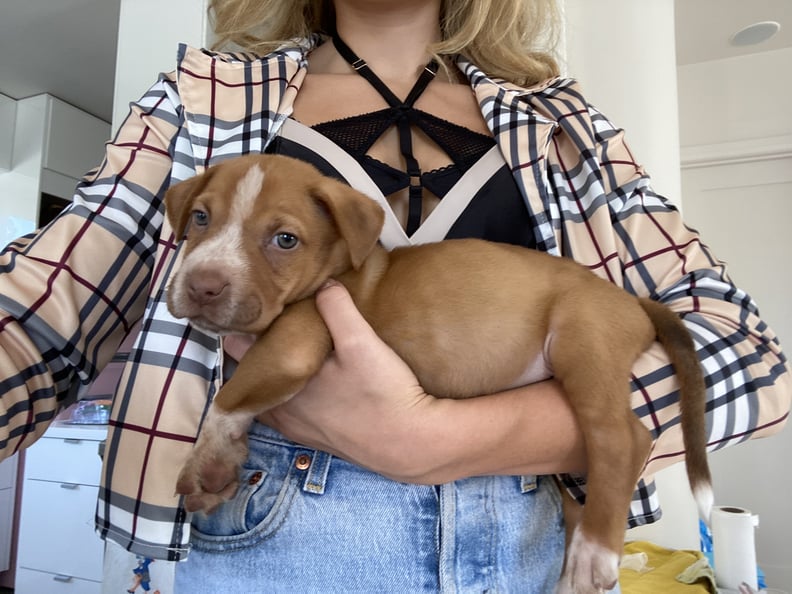 PS: What was your last workout?
I'm doing a lot of workouts to YouTube videos with sliders, bands, and dumbbells from home. I'll do burpees with the sliders and squats with the bands and dumbbells. I just blast music and go as hard as I can.
PS: What was your last audition like?
It was reading for a character in front of the producers and casting directors over Zoom. I went to say the first line and messed up because I could only see myself and not the person I was reading with [laughs]. I am still adjusting to the whole thing, but it is starting to just become the way, so I have to adapt.
PS: What was the last app you downloaded?
It's called Trash; it is my favorite app of the moment. You can upload as many videos as you want, and the app takes the best moments from the clips and edits a montage from the videos within seconds to sick music.
Catch Peyton in Swimming For Gold, now available on demand!