11 Times Princess Diana Showed William and Harry the Ropes on a Royal Tour
Prince George and Princess Charlotte have joined their parents, the Duke and Duchess of Cambridge, on their last two tours, which means they are very much following in the footsteps of their father, Prince William, and uncle, Prince Harry. It hadn't always been the case that royal parents would be accompanied by their offspring, and little princes and princesses would typically be left at home with their nannies, often for months at a time. However, when Princess Diana and Prince Charles were about to embark on a royal tour in 1983, Diana insisted they take their 9-month-old son William, and a new way of touring was born. From a young age, William and Harry accompanied their parents on many tours and engagements — here, we take a look at some of their best moments with their mom.
01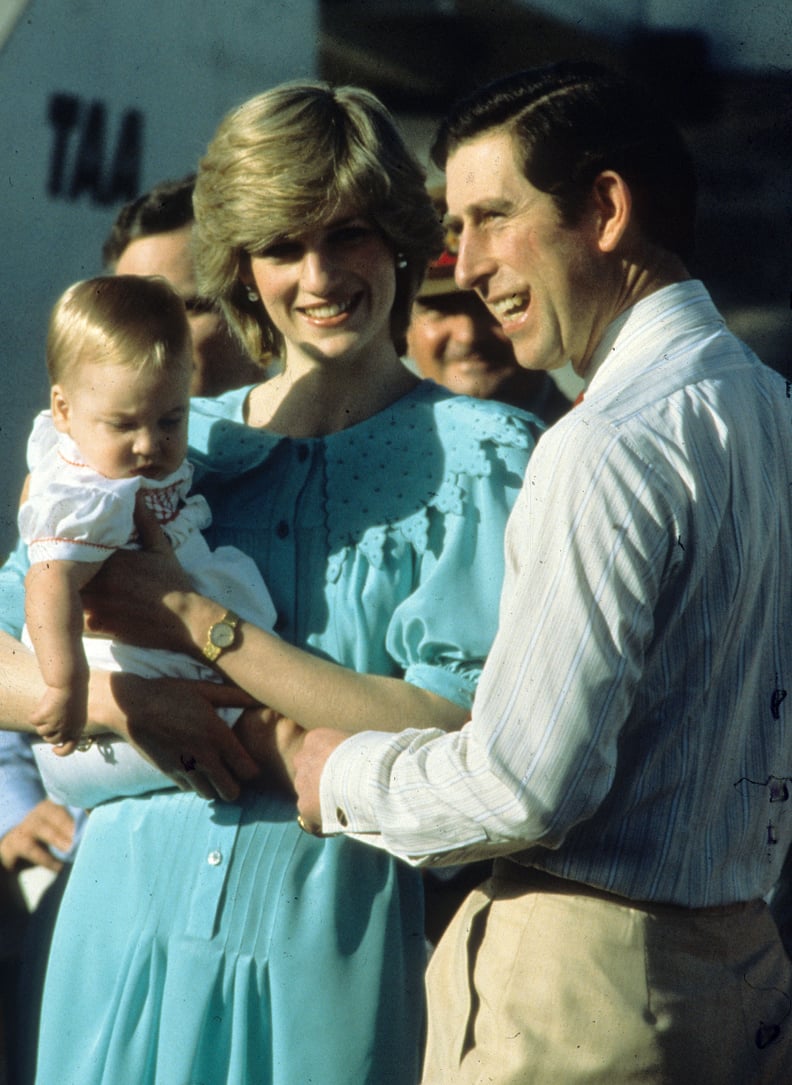 Australia, 1983
Prince William was too young to remember his first royal tour, but he accompanied his parents to New Zealand and Australia for six weeks before he'd even celebrated his first birthday. However, the pictures of their time there remain, and when it came to touring the same two countries 31 years later, William made sure his baby son George was there too.
02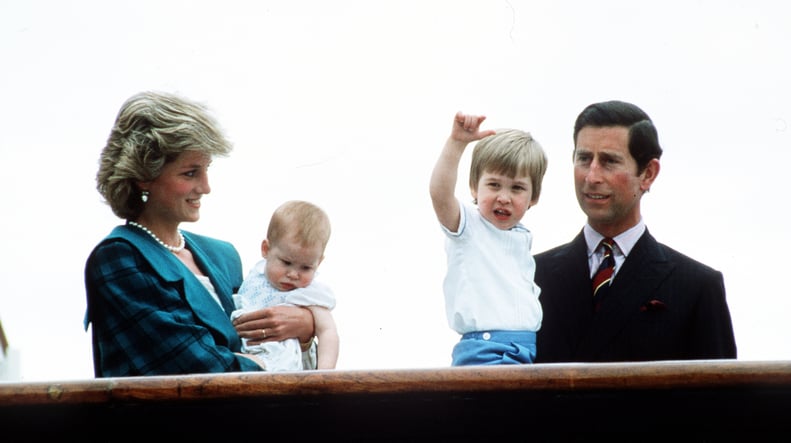 Venice, 1985
During a short working trip to Italy, Charles and Diana were joined by their young sons. We're now used to Prince George and Princess Charlotte stealing the limelight whenever they appear with their parents, but 30 years ago, it was very much the William and Harry show.
03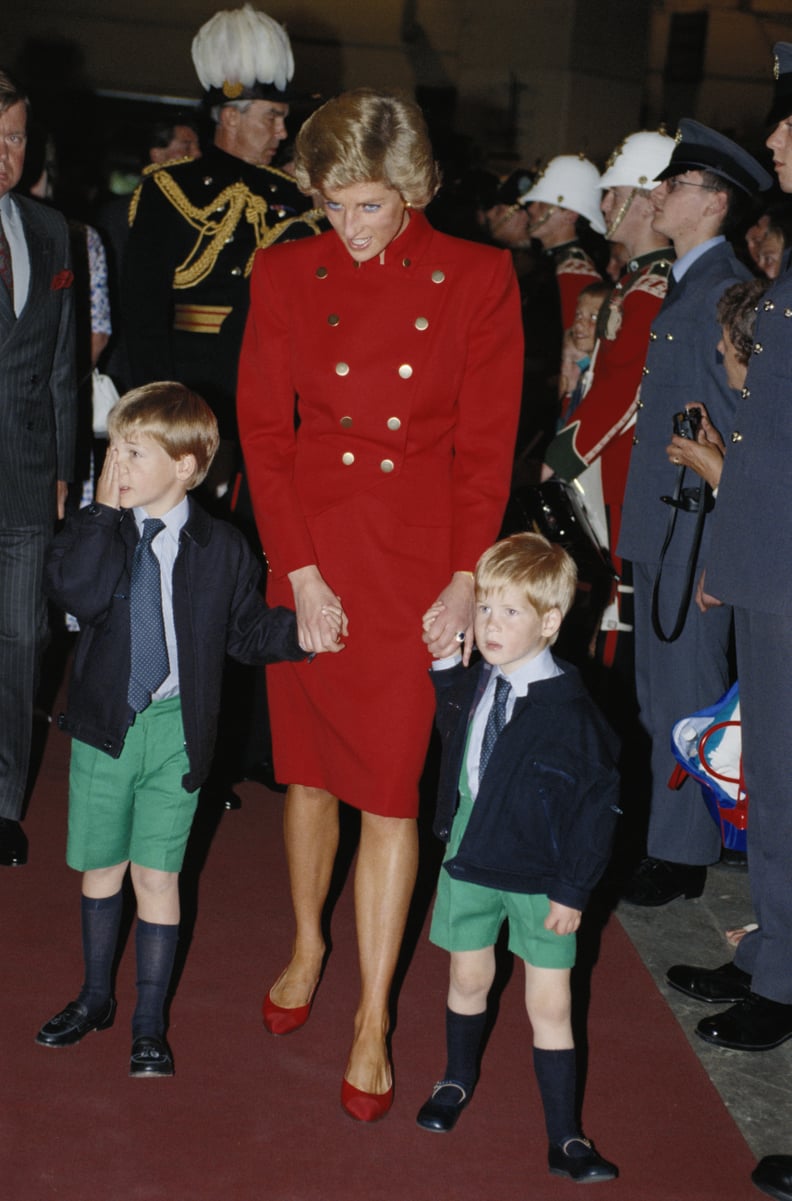 The Royal Tournament, 1988
The annual military tattoo was a natural fit for the two young princes, who by the ages of 6 and almost 4 adored all things armed-forces-related. Prince Harry recently referred to the "bizarre outfits" Diana used to dress him and his brother in. Are these matching bright green shorts worn with shirts, ties, and jackets what he was talking about?
04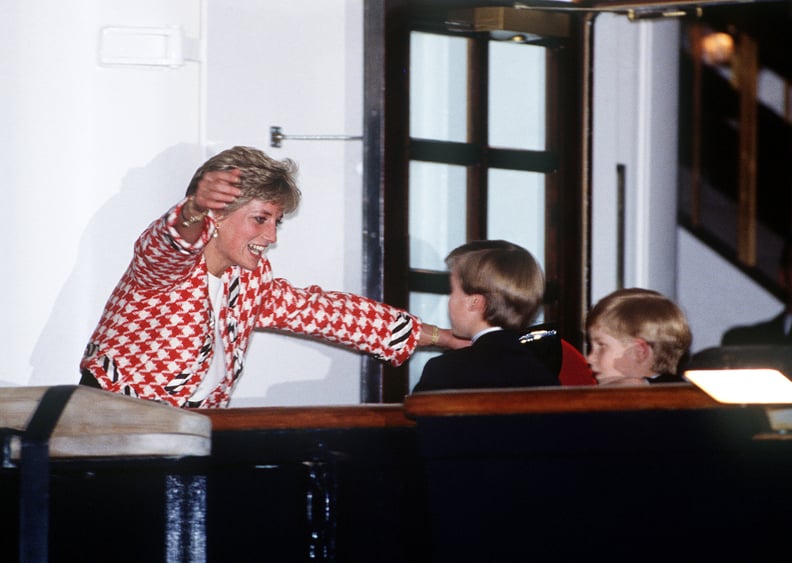 HMY Britannia, 1988
Who can forget the iconic image of Diana greeting her sons after they had been apart? The joyful reunion actually took place in Toronto on board Her Majesty's Yacht Britannia, which was one of the queen's homes from 1953 to 1997 and which the Royal Family often used for overseas travel. Charles and Diana had been touring Canada without their sons, who were in school, but during their Fall break, William and Harry joined their parents for the next leg of the tour.
05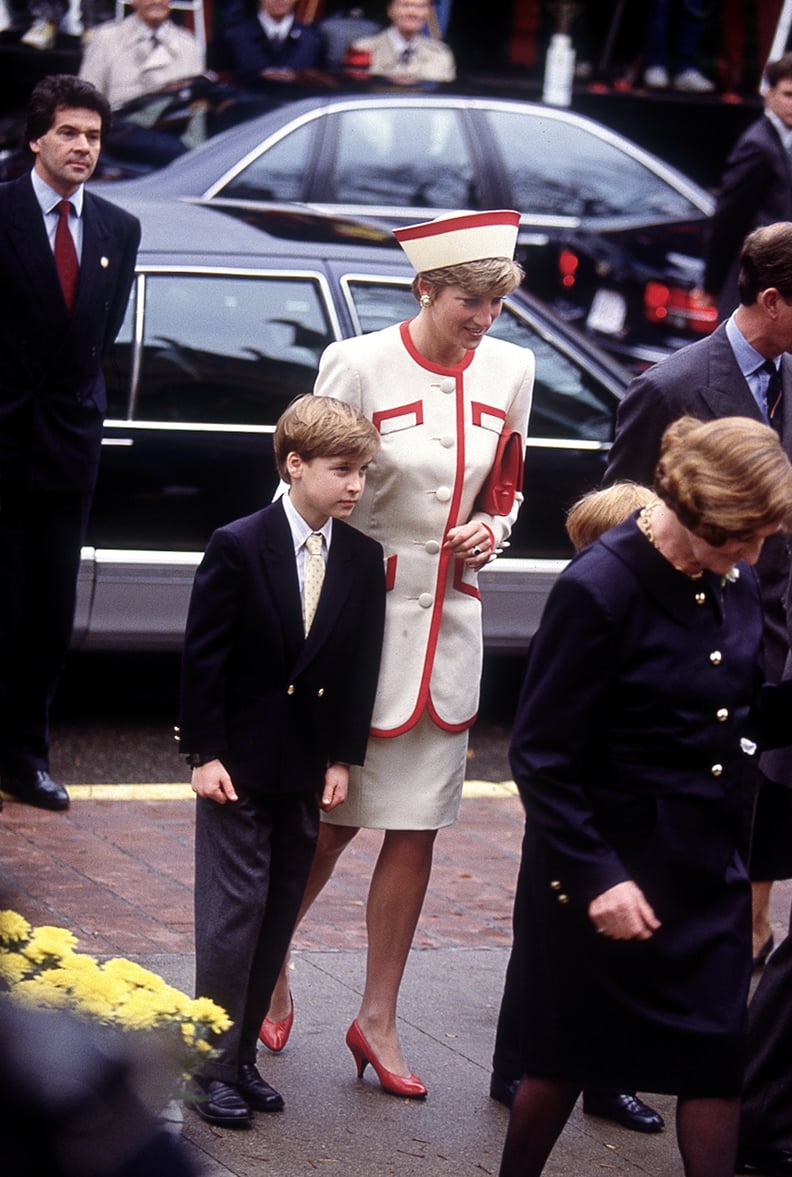 Toronto, 1991
One of their first engagements in Canada saw William and Harry accompany their parents to a church service in Toronto. Note Diana's diplomatic nod to their host country. Like Kate 30 years later, she specifically chose red and white — the colors of the Canadian flag — to pay her respects.
06
Niagara Falls, 1991
It wasn't all serious and grown-up overseas engagements for the young princes. Diana took them out for a day at Niagara Falls where they rode on a boat named Maid of the Mist.
07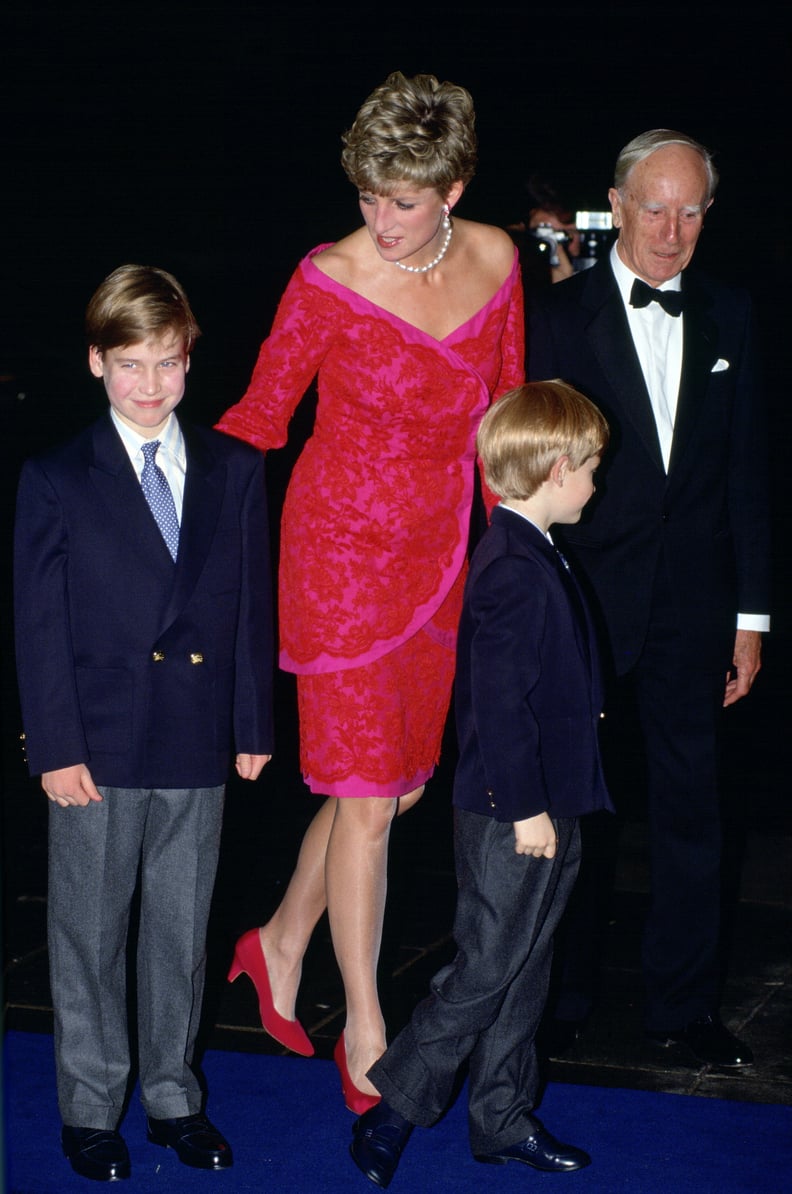 A Charity Concert, 1991
Diana was always telling her sons about the work she was doing with her assorted charities, and she took them with her to related events when she could. William and Harry accompanied her to a concert at the Royal Albert Hall in London, which was held to raise funds for The Royal Marsden Hospital. Diana was the hospital's patron, a role which William has now taken on.
08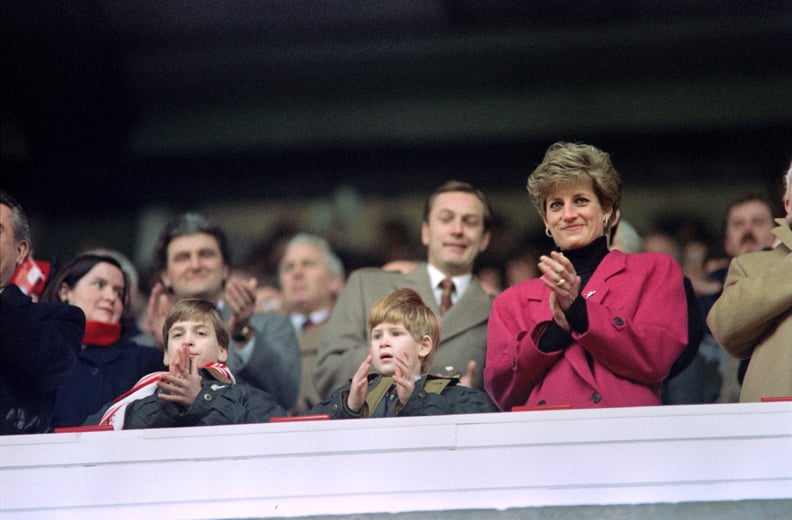 Cardiff, 1992
As sports enthusiasts, William and Harry were lucky to have prime position at major sporting events they attended with their parents. Diana accompanied them to Cardiff Arms Park for the Wales vs. France Five Nations Cup match in the year that it was announced that she and Charles were to separate. William and Harry are both still passionate about the sport — William is patron of the Welsh Rugby Union and Harry is patron of the Rugby Football Union.
09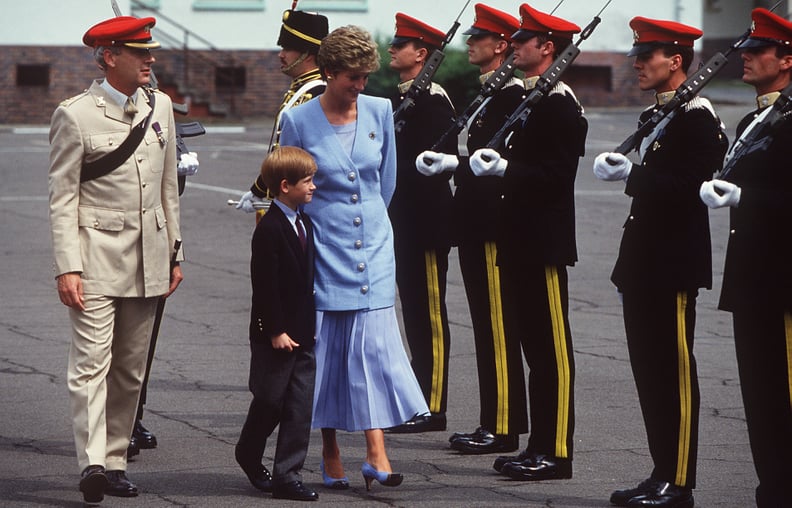 Germany, 1993
It was mom and son time when Diana took Harry with her for a military trip to Germany shortly after her separation from Charles. The princess knew that Harry was chomping at the bit for a career in the armed forces, so this was a dream come true for the excited 8-year-old. He even got to sit in a Scimitar tank and was presented with a miniature army uniform.
10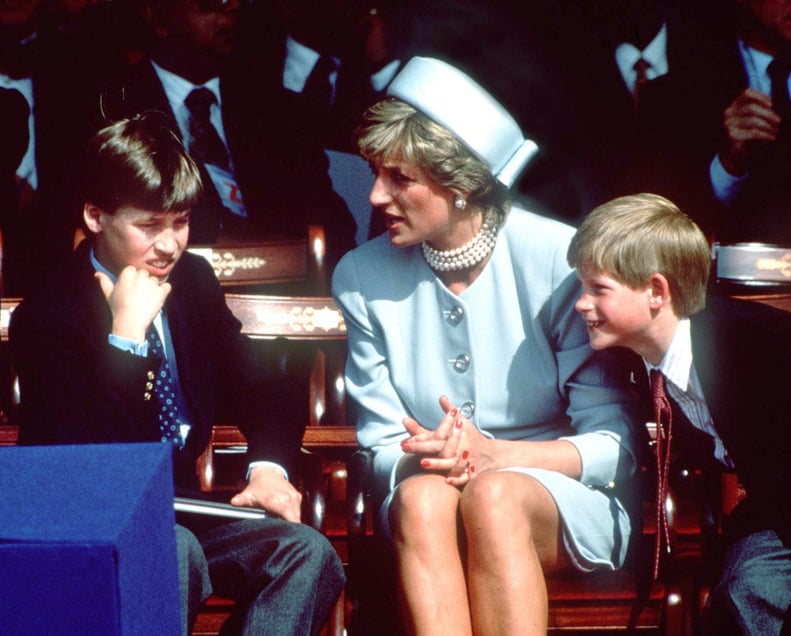 London, 1995
The little princes accompanied their parents to the VE Day commemorations in London's Hyde Park.
11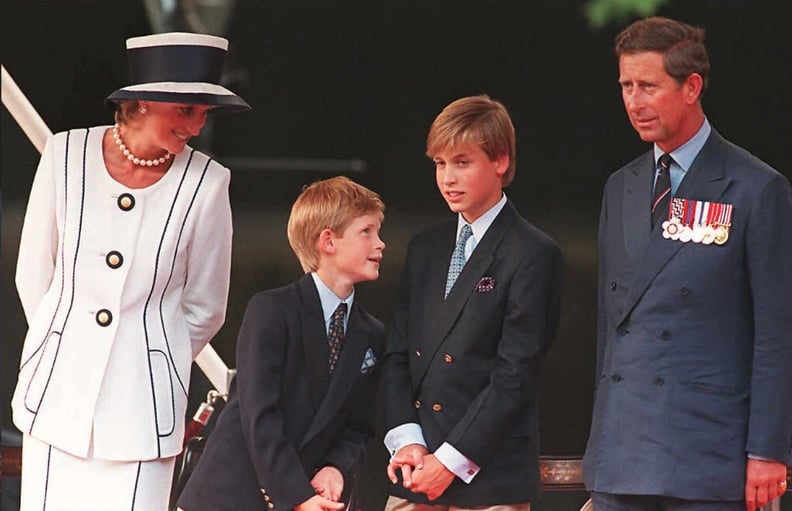 London, 1995
Although Charles and Diana had separated, they were yet to divorce and so still attended some public events together along with their sons. The VJ Day commemorations outside Buckingham Palace were one of the last events they attended as a family, and the following year, after the divorce was granted, Diana began to step away from her assorted royal commitments.