Selena Gomez Introduces Michelle Obama at When We All Vote
Selena Gomez Introduces "Friend" Michelle Obama at When We All Vote Summit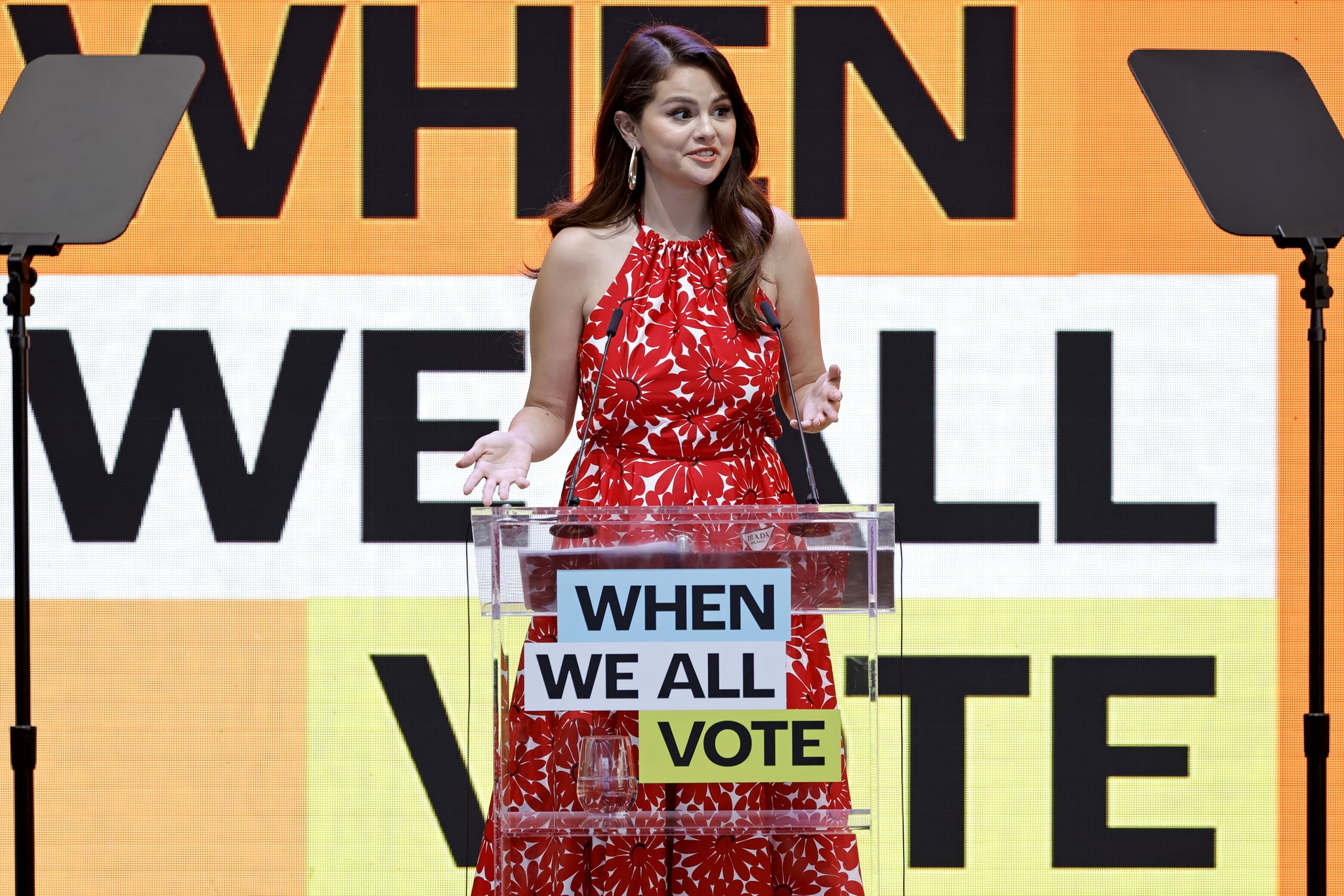 Image Source: Getty / Kevin Winter
On June 13, Selena Gomez introduced Michelle Obama at When We All Vote's first-ever Culture of Democracy Summit. "This work is incredibly important to me, especially when I think about the people who sacrificed so we can all exercise our right to vote," she said. "The people in elected positions impact all of us and make decisions on the issues that we care about, including our right to vote. This November, in our midterm elections, we will decide who serves in all 435 seats in the House of Representatives, 35 of 100 seats in the Senate, and countless elected officials at the local and state level. But we can't ignore that a lot of people don't vote in the midterm elections, and that's why we're here today — to change the culture around voting and increase participation in each and every election."
She went on to celebrate Obama's ongoing work to defend and expand American democracy. "None of our work at When We All Vote would be possible without our founder, former first lady Michelle Obama," she said. "She launched When We All Vote as a nonpartisan organization, because this work is bigger than one party, one election, or one moment. Our goal is to increase voter participation, especially among Black, brown, and young voters, and to change the culture around voting." She went on to introduce Obama as "tonight's Culture of Democracy Summit keynote speaker, and a friend."
At the beginning of her speech, Obama thanked Gomez: "Let me begin by thanking Selena for all her wonderful work," she said. "It has been great having her on my team, doing the great work of When We All Vote."
Gomez joined When We All Vote as a cochair in 2019 alongside fellow new cochairs Shonda Rhimes, Tracee Ellis Ross, Kerry Washington, Liza Koshy, and Megan Rapinoe. When We All Vote was created by Obama in 2018 in order to close race and age gaps in voting and to facilitate democratic engagement across the board.
The Culture of Democracy Summit, which ran from June 10–13, brought together a variety of leaders, organizers, brands, and coalitions in order to "raise awareness of the issues facing our democracy and to increase civic engagement," per the When We All Vote website. It featured in-person and virtual events and conversations, culminating in Obama's keynote address on Monday night.
While Gomez has been doing electoral work with When We All Vote for several years now, she wasn't always all in on political engagement. In 2020, she revealed that the 2020 election marked her first time voting. "Honestly, I'm not ashamed to say this, but I kind of — this was my first time," she said during an appearance on the Voting Power Hour YouTube series. "And I'm going to say that because I never felt — and this is so true — and I'm now like admitting it to people, like my vote counts. Every little thing counts, so I just think some people get in their head, like, 'Oh well, what does it matter?' And then once I really, really started going in and diving in to this, it's been all I can focus on." Since then, she's been vocal about encouraging her fans to participate in shaping democracy.