Tyler Cameron on Dating Tips, Cry-Watching This Is Us, and His Bachelor Advice For Matt James
In our Q&A series Last Call, we get down to the bottom of every last thing with some of our favorite celebs — from the last thing they texted to the last thing they binge-watched. This week, Bachelor Nation fan-favorite Tyler Cameron takes our call.
As soon as Tyler Cameron stepped out of the limo on night one of Hannah Brown's Bachelorette season, viewers couldn't help but swoon over his casual charm and sweet dedication to Hannah — well, and the fact that he's undeniably easy on the eyes. We caught up with the Bachelor Nation heartthrob to hear the latest on his post-reality-TV life, and it sounds like he's been pretty darn busy back home in Florida.
Between filming videos for his new YouTube channel, getting the ball rolling with his own construction company, and spending plenty of time on the ocean, Tyler also teamed up with Verizon to announce the brand's new 5G Mix & Match Unlimited Plans. Seeing as his new plan includes Hulu, he's also been getting in touch with his tear ducts while watching This Is Us. Ahead, Tyler shares the scoop on why he loves the emotional show, what advice he recently gave his friend Matt James about being the new Bachelor, what album he has on repeat right now, and more.
POPSUGAR: What's the last photo on your camera roll?
The last photos I took were pictures of me and my puppy Harley. She's a potcake. She's actually hiding under the desk right now because it's thunderstorming and she's shaking. She won't leave me alone or let me put my feet where I need to put them.
PS: What was the last song you sang in the shower?
Ooh, it's probably "Water Runs Dry" by Boyz II Men. Now that I've got Apple Music, I hit my Boys II Men playlist and "Water Runs Dry" is always the first one that comes on. I always go with R&B jams in the shower.
PS: What's the last thing you texted?
My little brother just texted me actually right before this. He just sent me a highlight clip because he's in the middle of football practice for college football . . . I was stoked for him. He's a freshman. He's balling out. So, I texted him back like, "Dude, you're killing it. I love to see this." He's playing at my old school [Florida Atlantic], so it's very fun to see.
PS: What's the last book you read?
It's been a while. I haven't been able to sit down and focus to do that. I also haven't been able to sit down and focus since [The Bachelorette] ended. But on the show, I read five books because I had nothing else to do and I was going insane. The book I could not put down and was obsessed with was The Tattooist of Auschwitz. It's a great love story of just persevering through all the concentration camps and then meeting up with each other at the end when they break free. Beautiful, beautiful story. Every time we hit an airport [while filming The Bachelorette], I would try and buy a bunch of books . . . and then if I was at a hotel that had an English book, I would steal it.
PS: What's the last thing you binge-watched on Hulu?
I haven't stayed up to date with This Is Us. I was a little bit behind, so I've been binge-watching that. Like I said, I love that show, so I've been watching that kind of whenever I've got some spare time here. I'm down to get all emotional with some wine and watch This Is Us and share some real emotions with somebody . . . it makes me know that my heart's not black. There's still some emotion in there.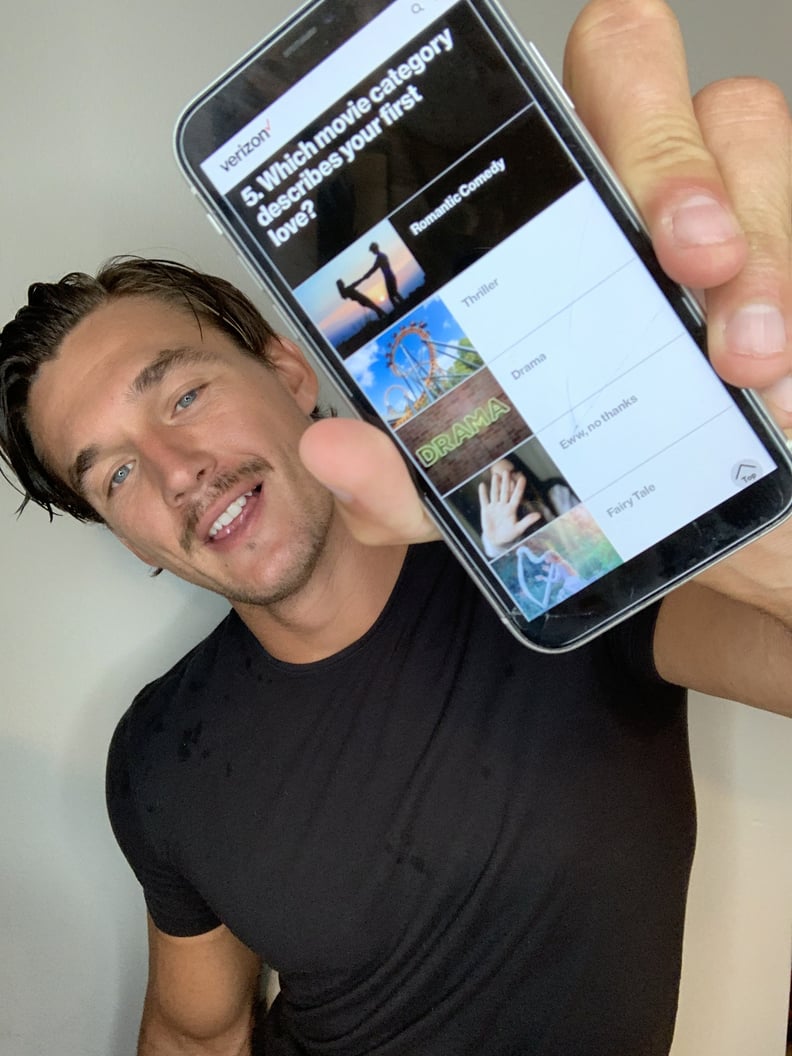 PS: What's the last thing you ordered online?
I ordered a bunch of pepperoni pizza last night. We shot a fun video last night for my YouTube channel, so we had a little local food to hold us over while we were shooting it. I also ordered a Roomba. I named it after my youngest brother, because sometimes he pisses me off, sometimes he sucks. So Ryan the Roomba is sucking up all the dirt and hair that he leaves around this house. Ryan the Roomba is my favorite purchase so far. I have an Amazon addiction now.
PS: What's the last thing you cooked?
I'm a big griller. I got a Green Egg and I did some hot dogs the other night. We got some steaks. We got some big rib-eyes with the bone in and all that.
PS: What's the last thing you do before going to bed?
It's kind of a tradition now: every time I get in bed, I go, "Harley, come here," and then she curls up right here and she's my little spoon. Then that's it for me. That's my night.
PS: What's the last dating tip you gave or received?
So, my friends Molly and Kate, they're my intel. They're the ones who I go to and I ask these questions. And I was talking about somebody and they were like, "You just need to go put yourself out there and go see. If there's someone that entices you or you like them, go for it and see what it all is. If it's not for you, it's not for you. If it is, great." They'll tell me to just go for it instead of just kind of sitting back.
PS: What was the last gift you received?
My brother's birthday was the other day. I just bought him a new camera so he can take videos and blog and all that stuff that he wants to do. But the last gift I received . . . my buddy Jack sent me the Green Egg. That's a gift that's getting a lot of use.
PS: What was your last workout?
The last workout was this morning. Me and my buddy James McGrath were doing shoulders. We switched it up and did arms again for the fifth day in a row.
PS: What's the last piece of advice you gave Matt James about being the new Bachelor?
I just told Matt to stay true to himself and follow your gut. There's going to be a million things thrown at you. It's going to be hard to make decisions, but just trust your gut. If you feel it, go for it. And I think it'll lead him in the right direction. But just be yourself, man. That's what everyone's going to love you for.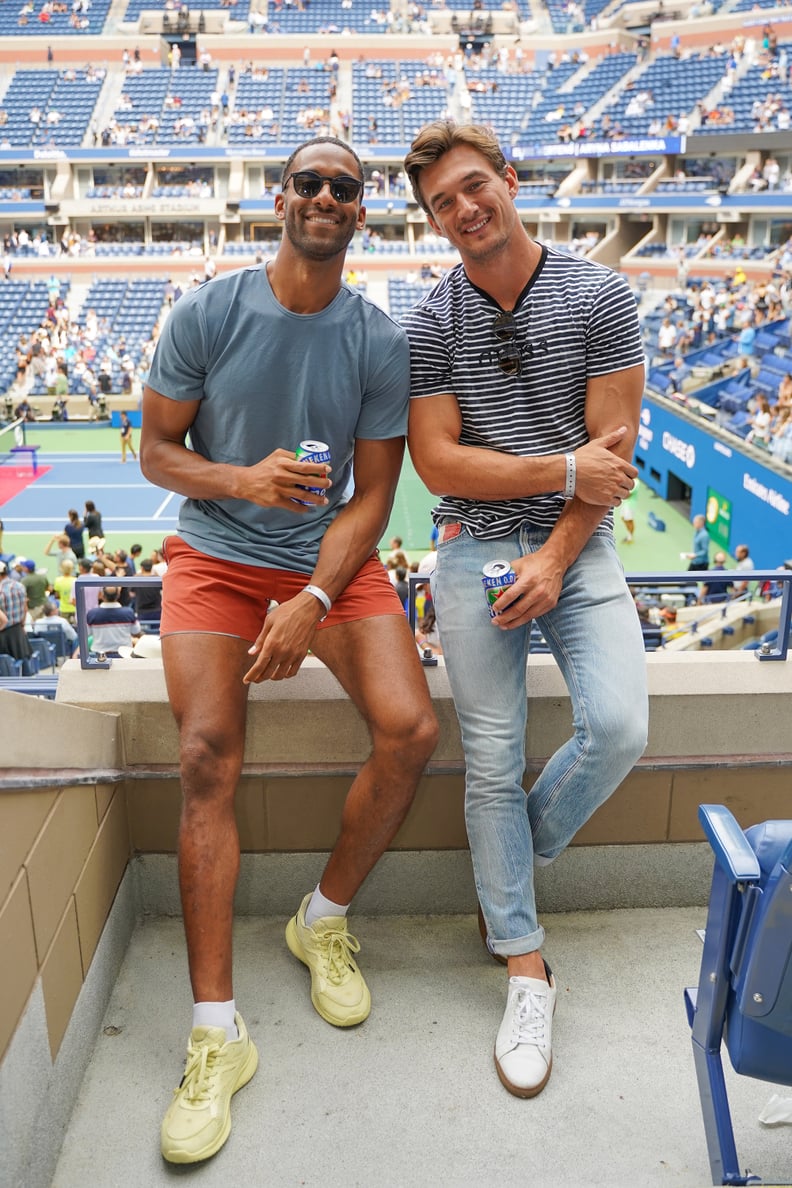 PS: What's the last song or album you listened to?
My favorite all-time artist is Juice Wrld. He had a new album come out, Legends Never Die, and I've just been jamming to that nonstop. All my buddies that are living here right now hate the album now because I play it nonstop. But I have just such a love for Juice Wrld and everything he talks about and sings about. "Man of the Year" is like my hype song on that album, and then on a deeper side, I like "Conversations."
PS: What's the last thing you did for love?
My dad has been battling a lot of health things, and he's finally really getting back in good shape and he's feeling good about himself. One of the things we love to do together is to go scuba-diving. Just the other day, we were able to go out for the first time in six years. I was nervous. I was probably more scared than he was about diving. It can be a dangerous sport. But he said, "Screw it. Let's go 85 feet." And we dove 85 feet. I'm like, "Dude, you're a nut," but he came up so energetic, so excited. It's like he was born again with a new energy. And I loved seeing that. That was pure love and passion right there.
But here's a better love story. The other day, my grandma came to town. This is the second time I got to see her since quarantine . . . well, actually since my mom passed, which was Feb. 27. I was laying with her on the couch. I'm very bad at showing affection, but I was like, I want to hold her hand, you know? And just holding her hand, that to me was such an unreal feeling and definitely brought a lot of emotions as I rode home that night. That was a great, great feeling of love.