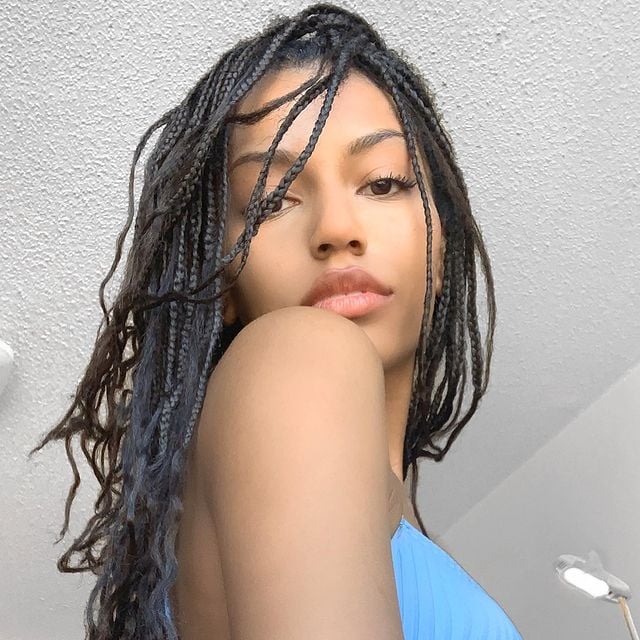 She Was an Acting Student at NYU's Tisch School of the Arts
Although we're sure that budding star Smith blew the casting directors away at her audition, we're sure her impressive education didn't hurt, either. According to Deadline, Smith studied acting at NYU's selective Tisch School of the Arts, and her Instagram shows she refined her acting chops on stage in all kinds of elaborate costumes.
She's an Incredible Musician and Songwriter, Too
Apart from her abilities as an actress, Smith is also a singer-songwriter. Posting several videos to her Instagram that show off her incredible hand-penned songs, her unreleased music touches on themes like entitlement, closure, and even the harrowing audition process (at least it ended up working out!). Smith recently told Town & Country Magazine, "music is something that's very important to me, and once the series airs, I'll get back into the studio and start to release music."
Her Gossip Girl Character is Named Monet de Haan
Although we still don't have access to most details on the upcoming Gossip Girl reboot, we do know that Smith's character's name is Monet de Haan. She is set to be one of the main characters on the show, and Gossip Girl's Instagram page captioned her photo as simply: "Monet de Haan: Power."

Before Gossip Girl Came Into Her Life, She Was Doing Cartoon Voice Overs
Before the audition for Gossip Girl that would change her life forever, Smith spent her time recording voice overs for cartoons like Lion Guard. She played the voice of Kasi for an episode on season three of the Disney Jr. show, which she said was great to "sit back and watch... with ur boo or ur kid." Now we're thinking we might just have to watch that, too.
She's Loves Nature, And Is Into Paddleboarding
It's clear that Smith is a woman of many talents: acting, singing, songwriting, recording voice overs, and yeah, paddle boarding, too. On her Instagram, Smith said "paddle boarding is my new favorite," and her balanced poses are actually super impressive! And it's clear she loves nature, too: throughout her feed, pictures of the outdoors abound, including captions like "if I could live in the trees I would."
She Likes Creating DIY Artistic Music Videos
Around the time HBO released the news that Smith would appear on Gossip Girl, the actress released a work of art of her own: a quirky, interesting look into her super-creative mind. Singing along to "Freak" by Doja Cat, both the editing and acting skills are truly unique and make us just want to see more of her creations.
Smith Suffered From Scoliosis, and Overcame It
Smith revealed that she suffered from scoliosis to the point where she needed to get surgery for the issue, overcoming it with exceptional strength. Sharing her experience on Instagram, she said: "three years ago I woke up with a straight spine, something I'd never had before. Learning how to walk again sucked but at least I set off metal detectors. I can't believe it's been 3 years, and even though I miss my snake spine. I am so grateful for the life I have."
She's Always Loved Dressing Up
When talking about her childhood to Town & Country Magazine, Smith said she always had a penchant for fashion and dressing up. She said, "even when we went to the grocery store, I'd dress up. My mom would tell me, 'we're just running errands,' but I always wanted to put my best foot forward."
She's Had a Blast Filming Gossip Girl With the Rest of the Cast
Apart from being super excited that the Gossip Girl revamp already started filming in November (we are truly counting down the days!), we're kind of nerding out about the fact that the cast members are actually true friends in real life. We're hoping we can see the real-world connections reflected on the small screen!