Aaron Paul Interview For Need For Speed
Need For Speed Let Aaron Paul Get Out of Jesse Pinkman's Clothes
Aaron Paul is moving on after Breaking Bad with Need For Speed, an action movie that's a little lighter in tone than his award-winning series. Need For Speed, which comes out this week, follows Paul's character, Tobey Marshall, a car-loving ex-con who gets out of jail with revenge on his mind, and to get that revenge, he has to race cross-country in the company of a girl (Imogen Poots). While the movie has Paul in locations all over the US, we were invited to the Detroit set last Summer with a few other reporters, where we chatted with Paul about his new film and why the car-racing movie isn't like The Fast and the Furious. We also got to see Paul shoot a driving scene out on the street of the car-focused city, so of course, we also asked him exactly how much he got to drive.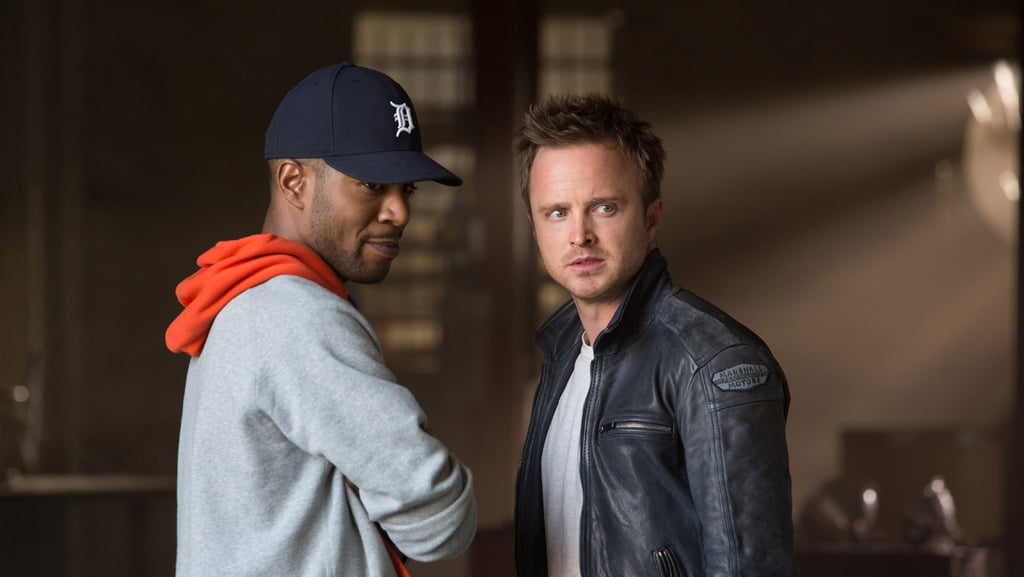 Were you trying to distance yourself from the crime genre post-Breaking Bad?
Aaron Paul: I wasn't trying to stay away from the crime genre in my future opportunities. I like crime — it's dangerous and super fun and exciting. With this film, it gives me the opportunity to drive really fast in really crazy cars, so why not?
How much driving do you get to do in the film, and what did you have to learn?
AP: In terms of driving, they had me do a stunt course outside of Los Angeles. It's really to teach myself how to get out of problematic situations if something were to go wrong. I just learned how to drift around corners, do reverse 180s, 360s — I don't know why they had me learn that, because I don't do it in the film, but it's badass.
Are you trying to go home with one of these cars?
AP: Trust me, I am trying! I think everybody wants the Gran Torino, and there are only two of them.
What drew you to this project?
AP: When it was placed in my lap, I instantly thought, 'Oh, it's going to be another Fast and the Furious film,' which isn't necessarily a bad thing, because those films are super entertaining, and that's why they're so highly successful. But I read this script, and I'm like, 'This is really interesting,' and then I read the pitch from Scott Waugh — that he really wants to do a full throwback to the '60s, '70s classic car-culture car films, more like Bullitt. That's definitely what drew me to the project.
What's the vibe of the Need For Speed set with stuntman-turned-director Scott Waugh?
AP: It's such a testosterone-driven set. He's a second- or third-generation stuntman, and he has a very specific vision for what he wants for this film. It's very gritty and edgy. I think this film's going to really surprise a lot of people. He's a wild man. He knows what he wants, and he's the perfect director for it.
What was it like coming to this movie that's based on a video game but has no narrative?
AP: That's what's so great. There's been so many Need For Speed games, but there's no narrative, so it was really truly a blank canvas for the writers. And what's so great about this film — you'll see, you actually feel like you're behind the wheel. A lot of the camera angles, you feel like you're in the car, so it kind of makes you feel like you're playing the game, in a way. In terms of the character, it's just been a blast being the bad boy, but a good guy.
Are there lighter moments in this film vs. what we normally see from you in Breaking Bad?
AP: Even on Breaking Bad, even though it was super dark, if you watch the show, it's pretty funny, and you find yourself laughing at very terrible things: bodies being melted by acid, stuff like that. It's funny, but in reality, it's really not. Here, yeah, we're having a good time. It's kind of an intense story. The dynamic between [his character] Tobey and Julia [played by Poots], the two people that are stuck in the Mustang on a cross-country adventure, is a pretty funny one because they don't really like each other.
Is there a lot of leather in your wardrobe of this film?
AP: This [in the pictured leather jacket] is really pretty much the only thing that he wears in the entire film, because it's a story of this guy desperately trying to make it across the country in a very short period of time, so he doesn't really have time to change. It's definitely a lot different than the attire I wear on Breaking Bad, so it's not necessarily a bad thing.