Abbi Jacobson Broad City Season 4 Interview November 2017
Broad City's Abbi Jacobson on Giving Back During the Holidays and That Infamous Blue Bandage Dress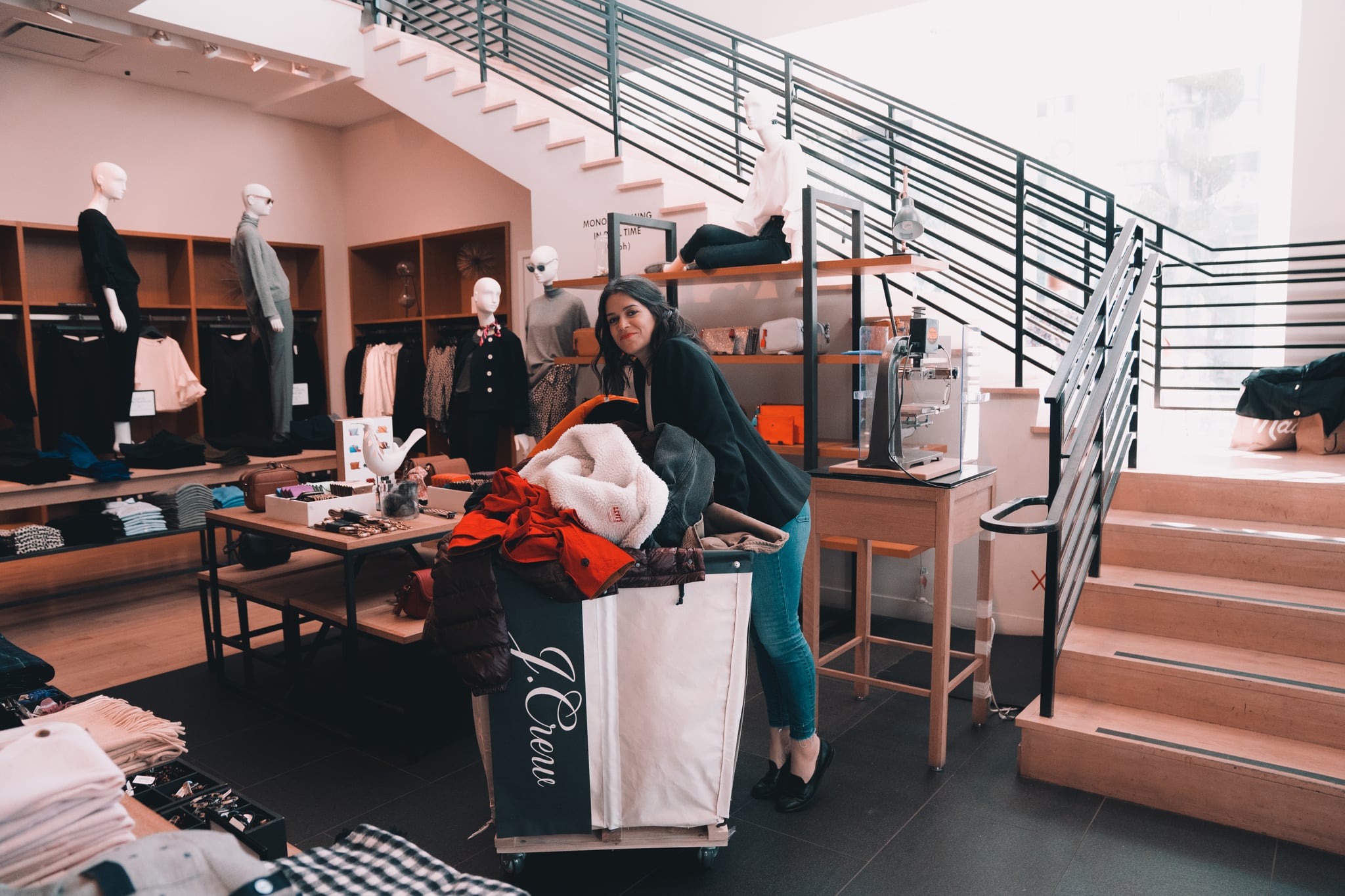 Image Source: Courtesy of J.Crew
In addition to being one half of the dynamic duo from Comedy Central's hit series Broad City, actress, writer, and illustrator Abbi Jacobson also has a heart of gold. The 33-year-old comedian, who got her start as a member of NYC's Upright Citizens Brigade Theater, is partnering with J.Crew and the nonprofit One Warm Coat to kick off their national coat drive. Abbi's goal is to encourage J.Crew shoppers to donate their gently used coats to help those in need this holiday season — and it's an initiative she has some experience with.
I got the chance to chat with Abbi about her involvement with One Warm Coat and J.Crew's Give and Get Coat event, which aims to warm 1 million people in need with outerwear this year. And yes, we talked about Broad City, which is currently it its fourth season; Abbi revealed her favorite episode to film and let me in on a few celebrity guest stars who will be gracing the upcoming episodes. As for whether or not her character, Abbi Abrams, will get back together with her former coworker Trey (Paul W. Downs)? We might just have to wait and see.
POPSUGAR: What I really love about Broad City, particularly with the fashion, is that you guys do rewear a lot of pieces. It's very realistic; it makes sense that these two girls who don't have a ton of money would obviously wear the same clothes over and over. I especially love how many times we've gotten to see Abbi's blue bandage dress. How did you guys decide to keep bringing it back?
Abbi Jacobson: We have an amazing costume designer, Staci Greenbaum, and that's a conversation that we had almost immediately — we want [Abbi and Ilana] to be wearing things that felt like the character, but we're also going to be repeating them in different, organic ways like real people do. It was something we were really inspired by actually from Roseanne, because they always did that on the show.
These characters can't afford to just completely have a new wardrobe every season. And even they are shopping at Madewell and J.Crew, they're probably shopping the sale rack. So Abbi buys that blue dress, [and] it's $430. It's a really expensive dress. Someone in their mid-20s that works at a gym — they shouldn't be buying that dress [laughter]. But it made her feel so good. And when you drop that kind of money, you're going to wear it for every event that comes up.
PS: I love that this season Abbi's mom wears it too [laughter].
AJ: Yeah. When we came upon that, that just felt really right.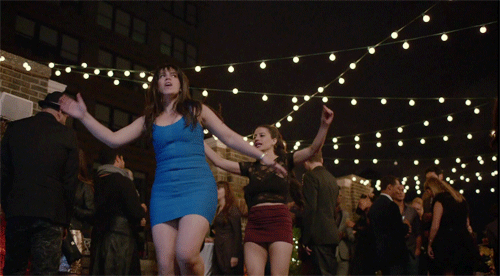 Image Source: Comedy Central
PS: What's been your favorite Broad City episode to film?
AJ: That's a good question; there are so many! The premiere this season, "Sliding Doors," was something we wrote in season one and it was full of callbacks that we'd had throughout the whole show so far. And that one just had a lot of meaning behind it, so that was really special. But I could probably tell you something special about all of them.
PS: I didn't really think that anything could top the Hillary Clinton cameo in season three, but then you guys got RuPaul. Are there more big celebrities we can expect to see this season?
AJ: The episode coming up, "Florida," has Fran Drescher in it, which was pretty unreal. She plays Ilana's aunt, which her and Susie Essman [who plays Ilana's mother, Bobbi] next to each other was pretty . . . I mean, you can only imagine. In the ninth episode, Steve Buscemi [makes a cameo]. He is the sweetest person, the most incredible actor. It was just kind of unreal to work with him. Cynthia Erivo, she's amazing. Mike Birbiglia is coming up. We'll see some more of Arturo Castro [Jaime] and Hannibal Buress [Lincoln] this season, too, which is exciting.
PS: We're very much still shipping Trey and Abby and Lincoln and Ilana. Are those relationships over for good?
AJ: I think you should watch the season. I don't want to give you any good bits.
PS: What inspired you to get involved with One Warm Coat and J.Crew?
AJ: It felt like a no-brainer to me. I come out of the UCB, which is Upright Citizens Brigade, in New York, the theater where I trained, and I used to run their coat drive. There's a community of people coming in to provide opportunities for you to bring in a coat around now, when it's starting to get cold. Those of us who are lucky enough to have more than one coat . . . we don't always need them all, so it's a great, very easy way to help people around this time of year.
PS: Why do you feel giving back is especially important during the holidays?
AJ: I think now people are really focused on giving — I mean, I hope I echo that in my community and to people in my life. There [have been] so many natural disasters, so many terrible things happening simultaneously, so I think everyone is kind of looking at their own lives and seeing how fortunate they might be. And if they can, to really try and put a lot of that toward helping other people. I think and hope that [the holidays] just bring it out in people even more. You're buying gifts for other people already, and sometimes you have to find different ways to give to people that you don't know, that really can use it.
J.Crew's Give and Get Coat event runs through Dec. 25; donate a gently worn piece of outerwear for $25 off your purchase of $125 or more.