American Horror Story Costume Designer Lou Eyrich Interview
6 Secrets We Learned From American Horror Story's Costume Designer
When it comes to fabulous costumes, American Horror Story has no shortage of iconic looks. While seasons one and two had their fair share of beautiful outfits, Lou Eyrich, the show's resident costume designer, really hit her stride in season three, better known as Coven. "Wear something black," Fiona Goode (Jessica Lange) says as she welcomes the newest group of young witches, and everyone talked about Madison Montgomery (Emma Roberts) in that red dress, saying "Surprise, b*tch." Everyone talked even more about Myrtle Snow (Frances Conroy) burning at the stake in another red dress, screaming, "Balenciaga!" And that's just the tip of the iceberg, which led to an Emmy win for best costumes. To celebrate the release of American Horror Story: Coven on DVD and Blu-ray, we recently joined a group interview with Eyrich about her creative process, during which she revealed exciting tidbits about Coven and Freak Show. Keep scrolling to see what we learned!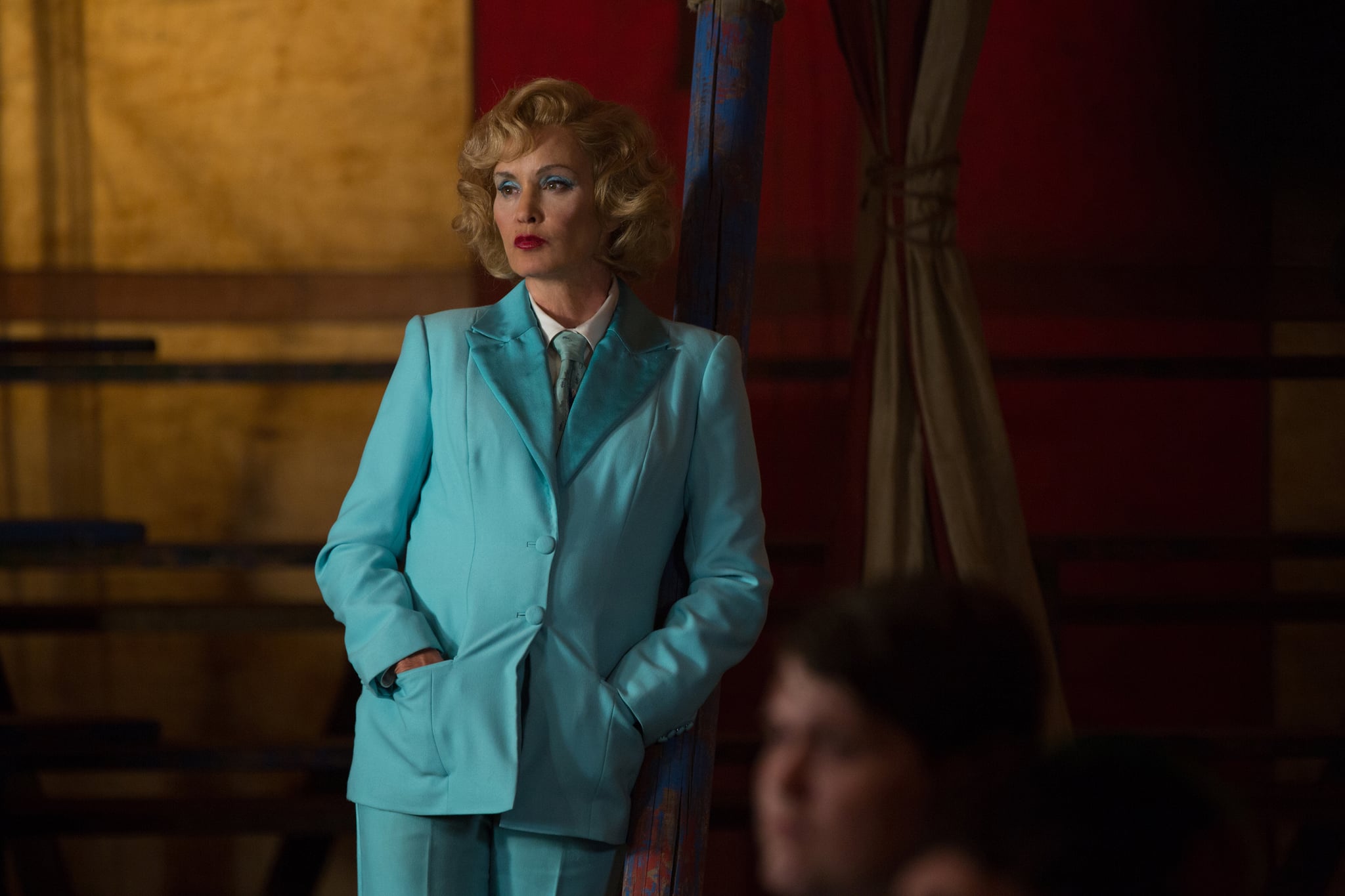 Source: FX
1. Jessica Lange wasn't originally going to wear that blue suit in the Freak Show premiere.
Even though we're only a little way into Freak Show, there have already been a handful of great fashion moments. One moment in particular that Eyrich talked about was the suit Elsa wears during that first performance. Eyrich said, "We had a different outfit designed for her, and one day on set Ryan [Murphy] turned to me and said, 'Lou Lou, we need a blue suit for Elsa and she's going to sing "Life on Mars."' It was a different song, as well. So we took the Bowie suit, which was from the '70s, and we made it '40s, and more feminine for her. We gave her the big shoulders and the big lapel and did a little Marlene Dietrich twist to it and put her in a tie. The androgynous thing. But it wasn't [Lange's] favorite outfit she wore. I think she got used to it, but at first she was like, 'Wait, I'm doing what? And I'm wearing what? And I'm singing what?' Now it's become quite the sensation, I hear."
2. Twisty the Clown has a backstory.
As it turns out, Twisty the Clown is more than just a one-dimensional, deranged killer; there's a lot that led him to where he is today. When asked who dressed Twisty, Eyrich revealed everything that went into his look: "I did, but it was a big transition from what I originally thought it would be to what we ended up on. When we found out it was John [Carroll] Lynch, I mean he's such an esteemed actor, he and I collaborated more than I maybe would have. The premise is, this is a costume he's been wearing since the '30s. Something happens, and he flees, and we don't know why. But now he's been wearing this costume for a long time. We tried to age it so it looked like it smelled. It had three pom-poms on it, and Ryan Murphy is really hands-on with the wardrobe. He came up for the show-and-tell and the camera test, and he looked at it and said, 'It's too clean, it needs to be dirtier. Let's remove that middle pom-pom like it's been lost, and he just found something and sewed it on there.' So that's why there's a yellow pom-pom."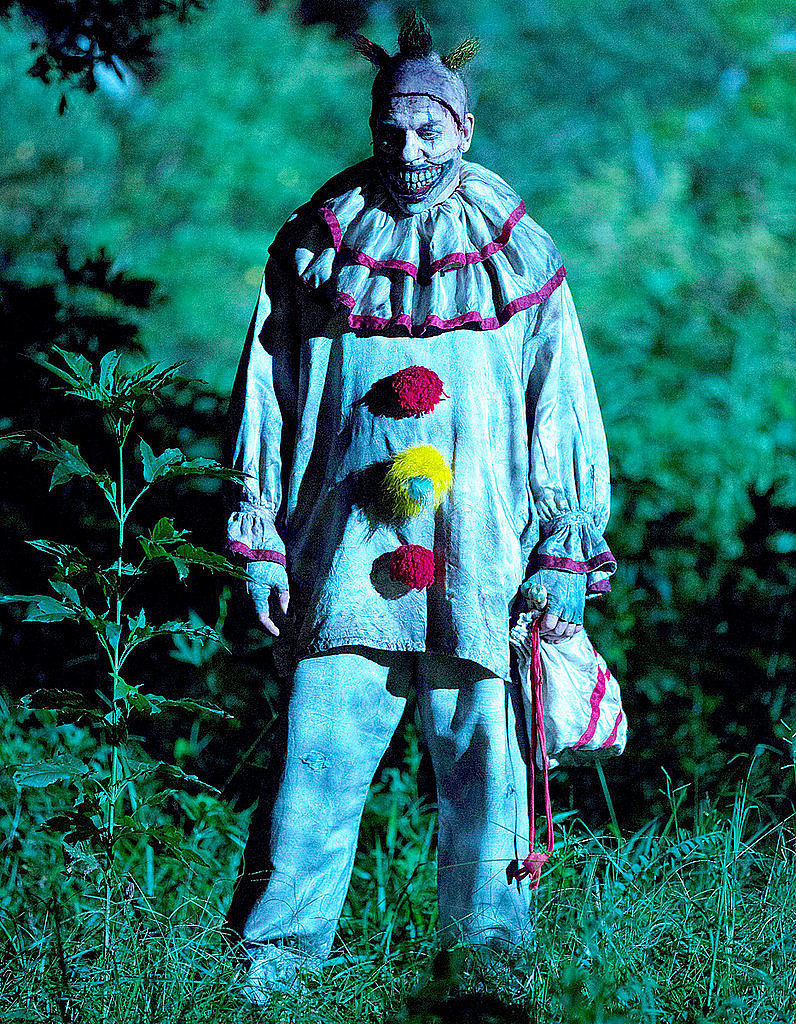 Source: FX
3. Eyrich has a theory for why fans were so obsessed with Coven.
It's no question that Coven was the show's most striking season yet, especially when it comes to the costumes. Eyrich shared her thoughts on what exactly made the season's costumes so iconic: "I'm still trying to figure that out. Maybe it's because there was something for everyone. You had your nerd, you had your popular girl, your harrowing starlet, Fiona the b*tch, and Cordelia, I think everyone had their own person that they identified with."
4. Myrtle Snow was never supposed to be wearing Balenciaga.
One of the most memorable moments in Coven, of course, is the scene where Myrtle Snow is burned at the stake for the second time. We asked Eyrich for some insight into putting that scene together, and she explained, "That was a big deal, because in the script she comes out in a red dress and says 'Balenciaga!' so we all thought it had to [actually] be Balenciaga. We started researching, and we realized we couldn't afford a Balenciaga dress, because we have a small budget. So Ryan said, it's not literal, she's just saying it as a crazy Myrtle thing, a Myrtle-ism. Then we were able to grind it out, and we actually searched town. But everything wasn't eccentric enough for Myrtle, and then we went online and actually my shopper, Bob, found it online and it was the perfect thing, and it's a Carolina Herrera. There was a lot of the stuff in the press saying, 'That's not a Balenciaga dress.' But it was never meant to be."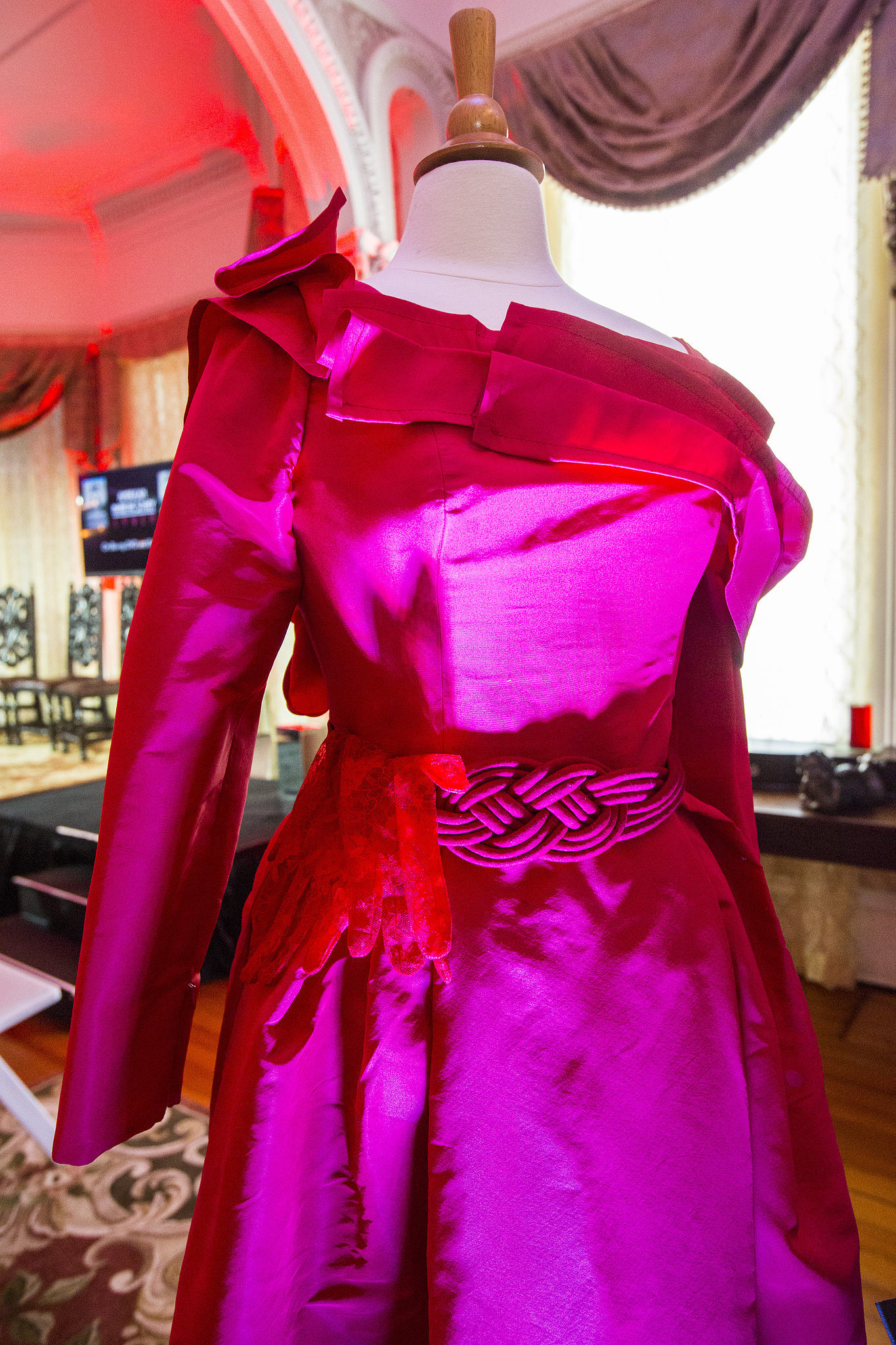 Source: Getty
5. Ryan Murphy brings Eyrich in on his ideas pretty early.
Arguably the best part of American Horror Story is that every season starts from scratch. Murphy builds every season from the ground up. What part does Eyrich play in the creative process? She explained, "It's always a challenge, and he always pushes me creatively. I've been with him since 1999, I've done most of his projects. First, we meet, and he tells me the premise of it and what his vision and overall tone of it is. I go away and I do my research and I do my tone boards for each character, and then we meet again. We go through every board and he says, 'Yes, but I was thinking this.' And I have my iPad with me and we'll quickly google it and narrow it down to something."
6. Freak Show's color palette changed dramatically.
One thing we've noticed about the new season is all the vibrant colors. It's strange, given the fact that major themes of the season include the decay and downfall of the carnival culture. We asked Eyrich what she's pulling from, and she explained that things started out differently. "Faded glamour. At one time, Elsa Mars had this great freak show carnival, and now it's a dying art. It's a dying breed. They're out of money, and they're being thrown off the land. We wanted to do very kind of dust bowl style, neutral tones. Then we started doing the fittings and found out we're shooting it here [in New Orleans]. A lot of it would be outside with the green grass, and all the colorful buildings and characters down here, so we decided to shift into a very colorful, like technicolor. Like the old movies of the '50s. We started watching those and it was so much more interesting to watch with splashes of polka dots and stripes and shiny golds and greens. I'm really glad we changed it because it's much more interesting on screen."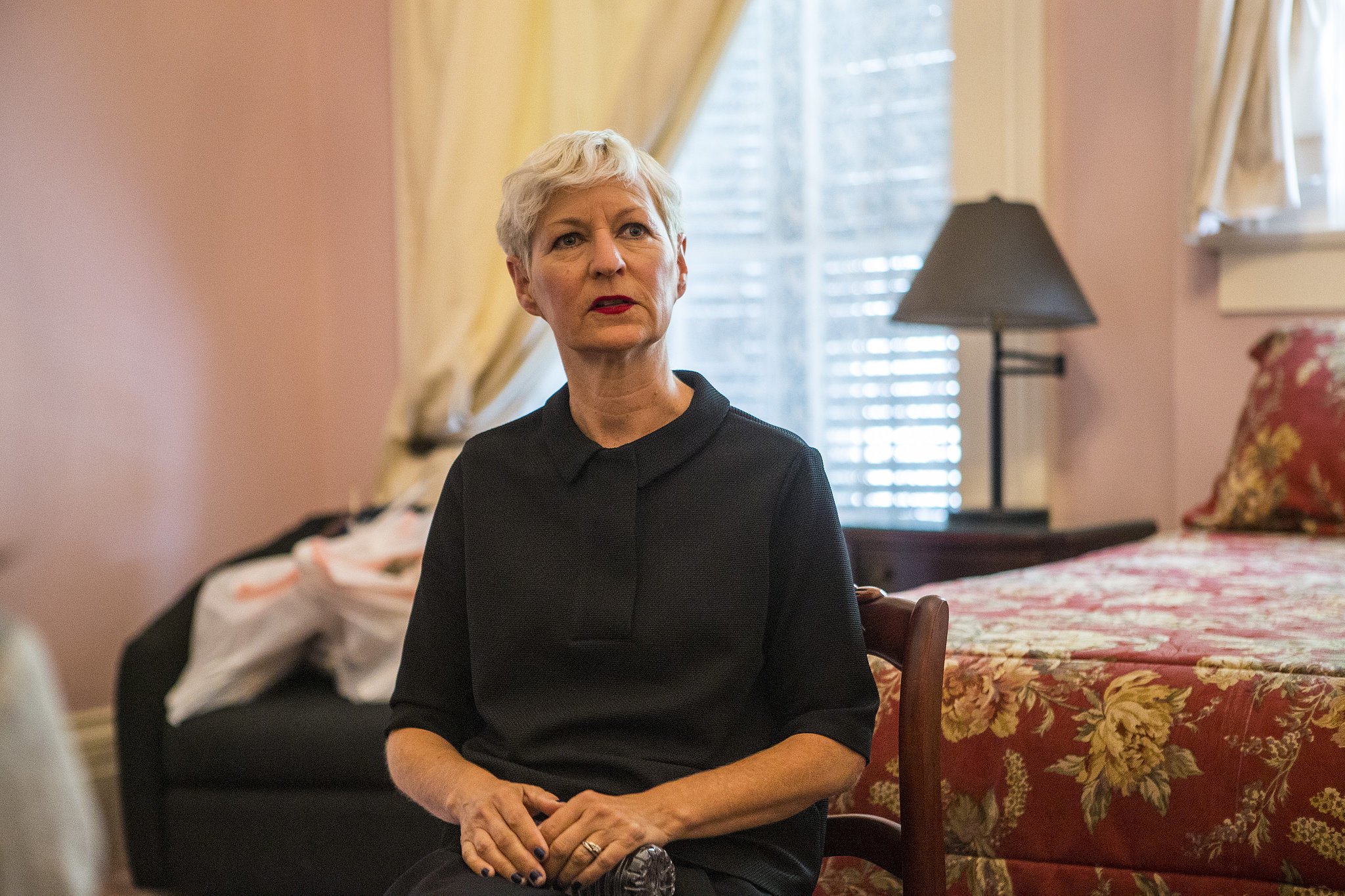 Source: Getty