Is Cher Going to Be on American Horror Story Cult?
Here's Something to Truly "Believe" In: A Cher Cameo on AHS: Cult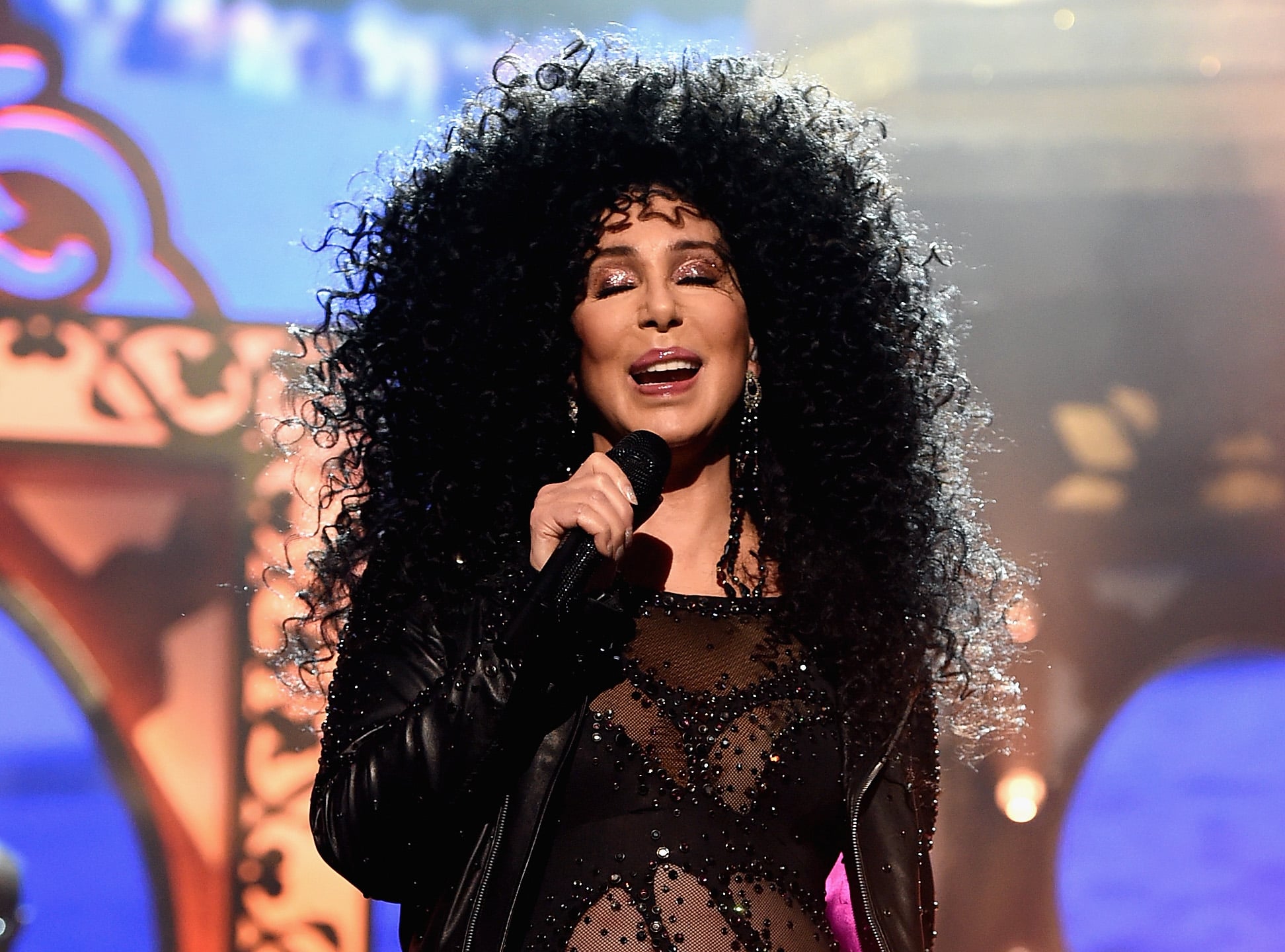 Image Source: Getty / John Shearer / BBMA2017
Look at Cher. Look at this icon with her beauty and her very big hair and her legendary pipes. Cher's legacy extends for decades and decades and decades. She won an Oscar for Moonstruck. She's penned some of the most impeccable pop hits in history. Hell, she even slays the stage at 71 years old. At this point, it's like, what else can she do? I'll tell you exactly what she can do: she can appear on American Horror Story: Cult. No, this is not some weird pipe dream I'm living out for literally no reason. Actually, I'm here because murmurs on the internet have been speculating about a Cher cameo on AHS for weeks. And as far as I'm concerned, the pile of evidence is only getting bigger. Put on your detective hat, Watson. I'm about to lay it all out.
1. The Family Connection
Cher's son Chaz Bono actually has a pretty meaty role in Cult. Of course, this isn't his first time on the show (he played a member of the Polk family in Roanoke), but as far as I'm concerned, that's more evidence in my favor. Now that Bono has established himself as part of the AHS family, it's the perfect time to get his mom in on the game.
Image Source: FX
2. The Mysterious Set Photo
For quite some time, a mysterious photo from the set has been floating around. At this point, it's hard to trace the source (who posted it and when?), but what matters more is the content. There are a bunch of actors' chairs in the shot; the names of Cheyenne Jackson, Evan Peters, Alison Pill, and other crucial cast members have already been identified.
If you look to the far right, you'll just barely be able to make out an unclaimed chair. The text is very short. It's just one word, maybe about four letters in length. I mean, it has to be a Cher chair (a Cheir?). Granted, it's not definitive proof that she's in the show. Maybe she just visited the set for a day. But I'm pretty sure that's a Cheir and you're going to have to work hard to convince me otherwise.
3. The Cryptic Tweets
Now that we've established that Cher was almost certainly on set, let's see if we can prove she's going to be on the show. At the beginning of August, the star really ignited rumors by tweeting, "My 'For Fun' Surprise Project,First wk Sept." By now, we know Cher doesn't appear in the premiere of AHS: Cult. Even so, she could have just been saying that's when the show begins airing and that she's somewhere in between.
OK, fine. I'll admit that her absence in the premiere is a glaring hole in my investigation. She does insinuate it's happening in the first week of September. And she doesn't even say it's a TV thing! But lo and behold, I have another tweet to present as evidence.
News,has pace.1.Cartoon,2. Cool-fun tv thing with gorge man & CLASSIC SONG,3. Film cameo & CLASSIC SONG. Poss Australia tour,GREAT FILM NY❤️

— Cher (@cher) August 22, 2017
AHA! Note that this tweet, from Aug. 22, confirms that she's involved in a "fun TV thing" with a "gorge man." And, I mean, I don't know about you, but there are plenty of gorgeous men in the cast of Cult. I'd also like to note that the first week of September is almost over and this supposed project hasn't surfaced yet. Cher could still appear in one of the coming weeks. Consider also this tweet from just after the premiere in which Cher says she might appear on the show one day if she's "lucky." But Cher is so tongue-in-cheek and sassy on Twitter, I'm almost reading this like she's bouncing her eyebrows at me while she's saying it.
4. The Cast Cher Concert Extravaganza
Um, can we talk about how the whole cast of Cult attended a Cher concert together? It's easy to assume that Cher's son Chaz pulled this off by himself. Maybe he just called in a favor. But it's even more possible that Cher did her little cameo and then invited the cast to her concert as a thank you for being so awesome and professional and gracious.
5. The Sound Logic, Duh
All things aside, if you think about it, it just makes sense. American Horror Story has used stunt casting in plenty of situations. Think about the impressive slate of guest stars ranging from Naomi Campbell and Darren Criss in Hotel to f*cking Stevie Nicks and Patti Lupone in Coven. Even Patti LaBelle was in Freak Show! This is a show that loves to host divas, and Cher is the perfect fit.
But we can go deeper. Cher has brilliant acting chops. She won an Oscar, damn it! She could absolutely hold her own. And with the noted absence of Lady Gaga this year, we're missing that pop queen vitality that's invigorated the past couple of seasons.
I'm sticking to my guns. I'm ready for my Cher cameo.