The Crazy Ones Spoilers
The Crazy Ones: Sydney and Andrew Are So On
The Crazy Ones is one of the funniest freshman comedies, and we were invited to the set of the show for a lively Q&A with the cast, including Robin Williams and Sarah Michelle Gellar, plus executive producer David E. Kelley. They revealed lots of juicy details about what's coming up in future episodes, like returning guest stars, how a relationship between Sydney (Gellar) and Andrew (Hamish Linklater) has been in the works since the beginning, and more from Chicago's funniest ad agency.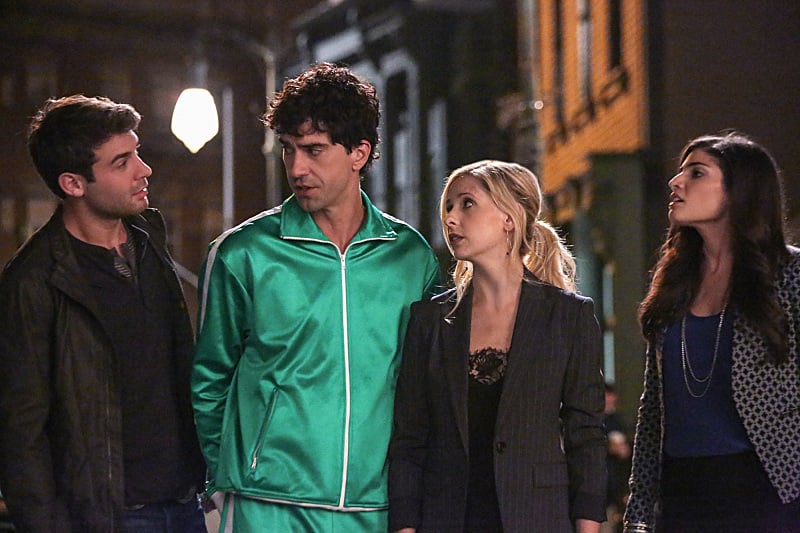 Andrew and Sydney will continue to be a thing!
The kernels of Sydney and Andrew being together are not going away anytime soon, and that's been in the works since the inception of the series. "We knew immediately that we wanted to do a romance," executive producer Jon Kinnally said, "and we thought Sydney and Andrew together would make a really fun romance." They also added that originally, Andrew tries to kiss Sydney in the pilot, but it was cut out.
We'll find out who Sydney's mom is.
Executive producer Tracy Poust told us that one of the running jokes is how many ex-wives Simon (Williams) has — and that we probably won't ever find out exactly how many. They joked that he's been married to Grace Jones, but as for the ex-wife who the audience really wants to know about — aka Sydney's mom — the mystery will be revealed in an upcoming episode.
The romantic lives of Zach and Lauren will get even more interesting.
The producers talked about how they've had fun with the personality of Lauren (Amanda Setton), who they said has "a really dark past" (a possible murder was mentioned). Also, her "fluid" sexuality will result in her being in "a throuple" in next week's episode. As for Zach, "we'll meet the girl who broke his heart," Kinnally told us, which might just explain why Zach is the way he is.
Josh Groban will be back!
The producers confirmed that Groban, who played Sydney's former co-worker-turned-jingle-writer ("Syyydney, you're one of a kind") will return after he's gotten a bit of fame. Let's hope for more songs that you'll never get out of your head.
We'll meet Andrew's sisters.
It's one of the running jokes that Andrew refers to himself as "one of seven sisters," and Poust said "the sisters are coming" in an upcoming episode. She also hinted that he has "more of an urban past" than we know of.
Bob Benson is Zach's dad.
OK, so this isn't something that's going to happen, but we had to mention that EP Poust joked that the writers decided that James Wolk's mysterious Mad Men character Bob Benson is Zach's father (reminder: Wolk also plays Zach). Wrap your brain around that. "That's in our head," Poust joked, but "it'll probably never make it to a script." It makes no sense, and yet . . . it makes all the sense in the world.