Did Ali Kill Charlotte on Pretty Little Liars?
Did Ali Really Kill Charlotte on Pretty Little Liars?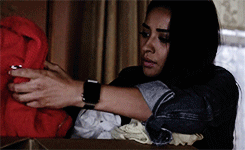 Poor Alison! The Pretty Little Liars character recently experiences her sister dying, she has an evil aunt she doesn't even know about, and now she seems to have lost her mind. Ali is now in Radley, and Dr. Elliot Rollins intends to keep her there forever. But is Ali really innocent when it comes to Charlotte's murder? The answer could be no, and here are some reasons!
1. Ezra and Aria think they saw her the night of Charlotte's murder.
The pair remember seeing a blonde in a red coat at the church on that night. First they assumed it was Charlotte, but then they began wondering if it was a suspicious Ali instead.
2. Emily finds the red coat.
We see Emily go to Ali's room to reminisce and maybe find a clue. Well, be careful for what you look for! Emily ended up finding the red coat in her room in a box of things that were to be send to Goodwill. Perhaps Ali was trying to cover something up and Ezra and Aria could be right! Caleb doesn't waste any time and runs out with the coat.
3. Elliot and Mary seem to be certain that she's involved.
Maybe they are just crazy or evil. Maybe they know something we don't know! When Hanna tried to lie and say she killed Charlotte, she was kidnapped and punished for lying. Meanwhile, Ali was pushed to the brink mentally by Elliot and went to Radley.
Perhaps the motive behind the duo's actions is that they know Ali killed her and just want the group to admit it. One possibility is that Caleb took the coat and somehow gave it to them in order to get Hanna back. But since they shut down the Hanna theory before this, there might be more evidence than they are letting on.