Does Michael Die on Jane the Virgin?
Jane the Virgin: Everything You Need to Know About That Shocking Death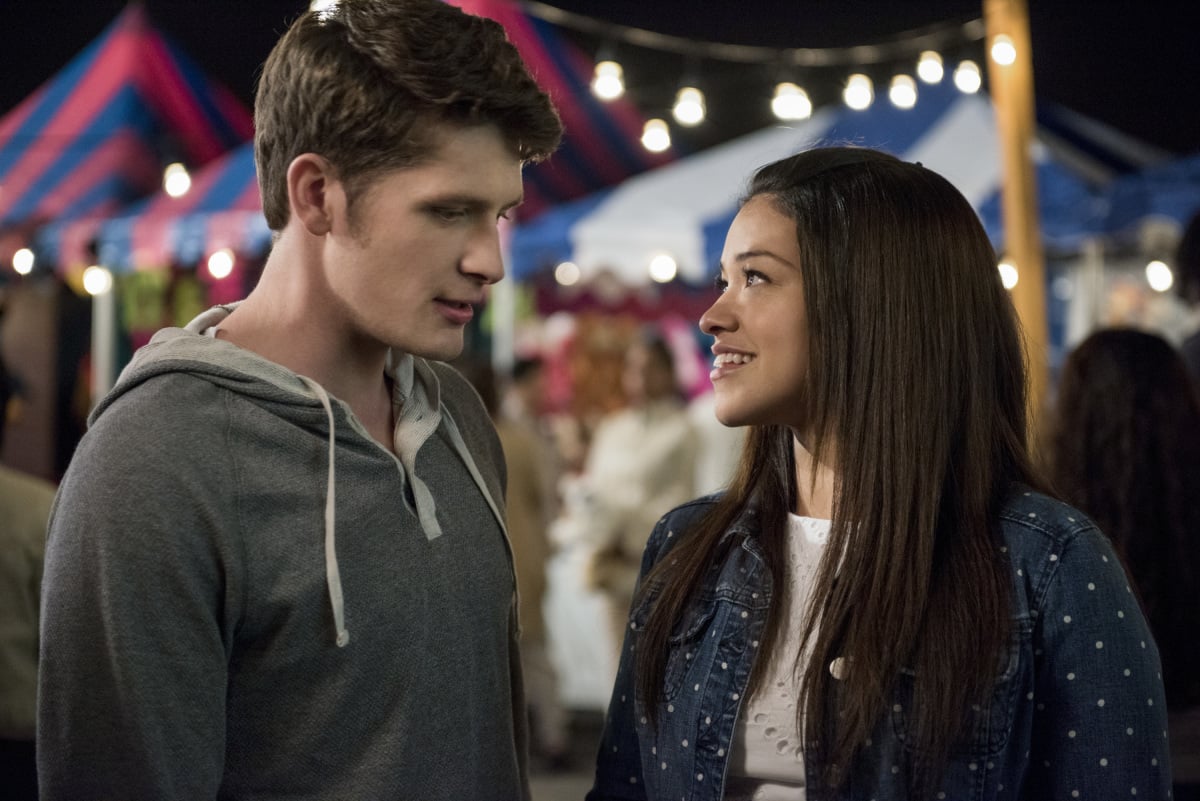 MAJOR SPOILERS for Monday night's episode of Jane the Virgin below!
Well, it finally happened. After months and months of not-so-subtle hints that it would, Jane the Virgin killed off Michael Cordero. Despite pretty obvious foreshadowing from the narrator in plenty of previous episodes, his death still ended up being one of the most heartbreaking moments in the series thus far.
Season three's 10th episode, "Chapter Fifty-Four," starts out on a hopeful note. Jane (Gina Rodriguez) and Michael (Brett Dier) are both on the cusp of major success in their respective careers, with Jane scoring an interview at a flashy book publisher and Michael taking an important law school exam. While hanging out with her mom, Jane realizes that her period is late. At first she goes into a trademark Jane stress spiral, freaking out that a potential pregnancy doesn't fit in with her and Michael's five-year plan. When she tells him the big news, however, he lights up with happiness at the thought of expanding their little family. Though a pregnancy test later reveals Mateo won't be getting a little brother or sister anytime soon, Jane and Michael's marriage appears stronger than ever. They return to a carnival where they had their first real date (full of ridiculously adorable flashbacks, I should note) and reflect on how far they've come.
Then, because this is a telenovela and telenovelas need more than just evil twins to keep things interesting, the episode nosedives into total tearjerker territory. As he finishes up his test, Michael — who'd been complaining about feeling weird earlier in the day but brushed it off as nerves — suddenly grasps his chest and falls to the floor dead, as photos of him and Jane at the carnival lay beside him. That's when the narrator steps in to reminds everyone that, "Friends, I did say Michael would love Jane until his dying breath." The episode then cuts to Jane on the phone with a doctor, who explains that Michael died from an aortic dissection as a result from the gunshot wound he sustained in the season two finale. She falls to the ground, sobbing, while Rafael rushes to console her, before the timeline flashes forward three years. Jane, not wearing a wedding ring, is seen getting ready for someone else's wedding and sporting much shorter hair, as 4-year-old Mateo comes trotting into her room. Whose wedding is it? Where's Rafael?! WHAT DID #TEAMMICHAEL FANS DO TO DESERVE THIS?
Luckily showrunner Jennie Urman posted an emotional explanation about why Michael had to die on Tumblr.
"Originally, I thought Michael would die earlier. But Brett [Dier] is such an incredible actor – he gave us such great comedy and drama and first-rate exposition delivery (!), often all in one scene. . . . So, we changed some things in the writers' room. Jane and Michael got married. They had sex. They moved into their first home. And I'm so glad we did that and I'm so glad all those firsts for Jane were with Michael. But this is a telenovela, as we so frequently remind you. And we are only at our midpoint."
Jane the Virgin has never been afraid of shocking fans with exciting and melodramatic plot twists that the telenovela style is known for (surprise murders, evil twins, and love triangles), so it was pretty clear from the get-go that Jane and Michael weren't going to get the simple happy ending that some might have wanted for them. At the very least it sets up a very interesting rest of the season, right? Rest in peace, Michael.