Is FX's Fosse/Verdon TV Show Based on a True Story?
Sam Rockwell and Michelle Williams's New Show Explores the Complicated Lives of 2 Icons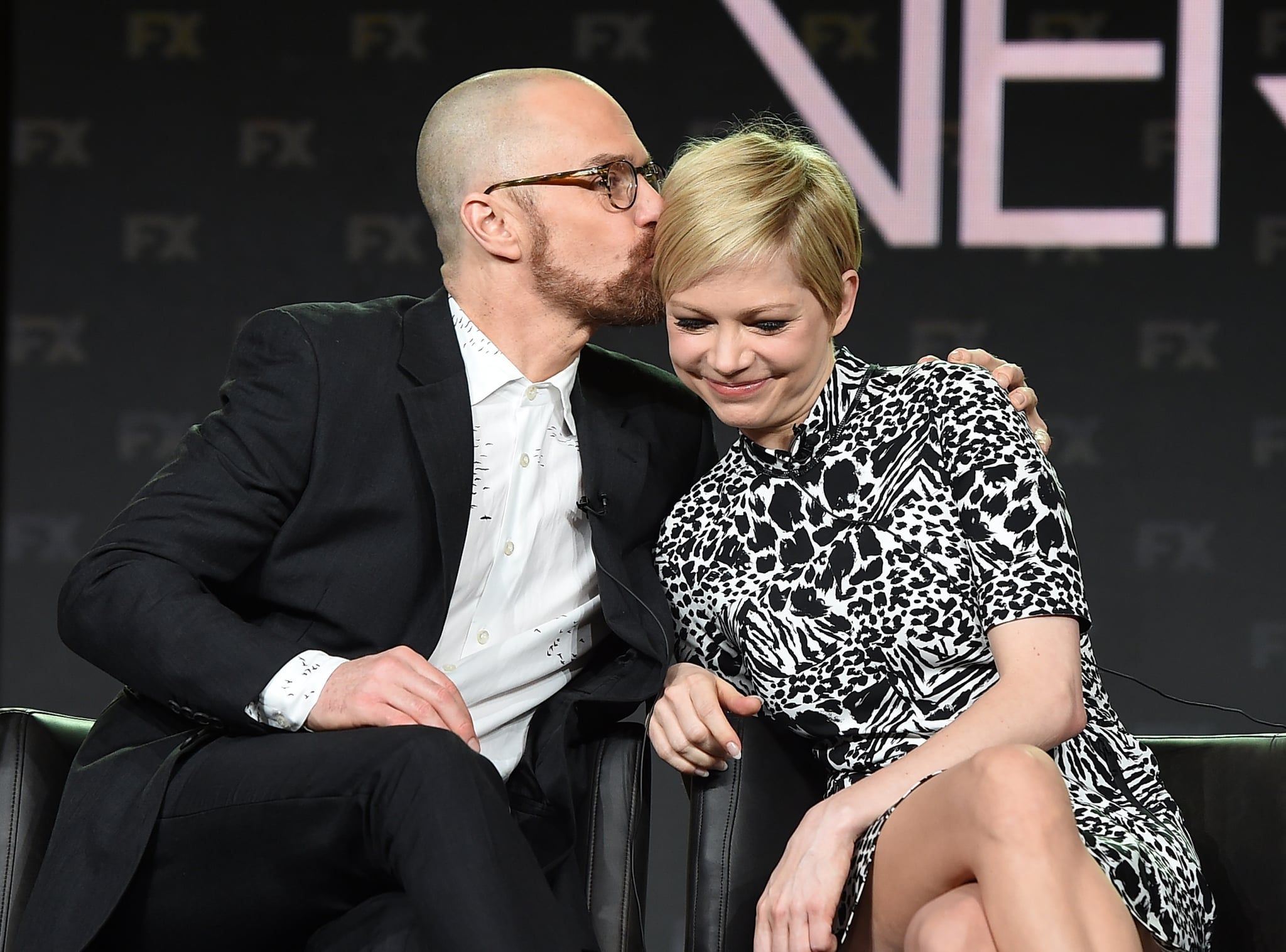 The new FX miniseries Fosse/Verdon has all the makings for both awards success and theater geek nirvana: with executive producers from stage — Hamilton's Lin-Manuel Miranda and Thomas Kail and Dear Evan Hansen's Steven Levenson — and screen — The Americans' Joel Fields — and starring Sam Rockwell and Michelle Williams, the eight episodes begin airing April 9 and tell the story of Bob Fosse, one of the most acclaimed directors of all time, and his wife, Gwen Verdon, the terrific Tony Award-winning actress and dancer who often gets left out of the story.
This project hopes to rectify that. Speaking to journalists on Feb. 4 at the show's Television Critics Association press day in Pasadena, CA, the stars and creators elaborated on the plot and characters of Fosse/Verdon, which aims to do justice to the true story at its center.
What Is Fosse/Verdon About?
Based on author Sam Wasson's biography, Fosse, Rockwell plays the chain-smoking, womanizing, Tony and Academy Award-winning savant. It opens as he wraps the film adaptation of his play Sweet Charity and as he begins to direct the film version of the musical Cabaret. Williams plays his wife and muse, Gwen Verdon, a theater legend in her own right who is grappling with both her growing place behind the scenes — and what that means to their relationship — and her changing career.
"There's this big gap in her career that was intentional because she wanted to stay home . . . to be a mother, and she wanted to be present for [their daughter,] Nicole, which is something that we all struggle with as working mothers," Williams said. "But the other thing that she faced in her career [was] . . . that as a dancer, there comes a point when you can't do what you used to be able to do."
Because of this, Rockwell said that "they're almost like twins" — two people who can read each other's thoughts and build on each other even if their personal life is combustible, but they always remain committed to one another. Levenson made sure to note that this is different from All That Jazz, Fosse's semiautobiographical film. According to Levenson, that movie embellishes and glosses over the depiction of Verdon's character. He said that they, instead, "are amending the story that he told there and reinserting Gwen, who we think is of primary importance."
How Accurate Will Fosse/Verdon Be?
So far, it sounds like the series will be pretty accurate, or at least attempt to be. For one, Fosse and Verdon's real-life daughter, Nicole, is the key creative consultant and co-executive producer on the show. With her help, executive producer Fields said, "Our goal is to explore a relationship between these two characters and to do it in an authentic way."
This means not shying away from things that are no longer politically correct or sugarcoating storylines, like the fact that Fosse was a serial philanderer. Nicole Fosse said that "it's really important to tell the truth" and that "we also need to see how far everything has come; how different things used to be."
"We're looking at what was marginally acceptable in the '60s, '70s, and '80s," she said. "It is a period piece in that sense with period ideals and period ethics and morals. And you see things clash here and you see problems created, and you see the effort made to find the gray areas."
Williams and Rockwell also worked with dancers who knew the real Fosse and Verdon to master the unique and challenging choreography and learn about their roles.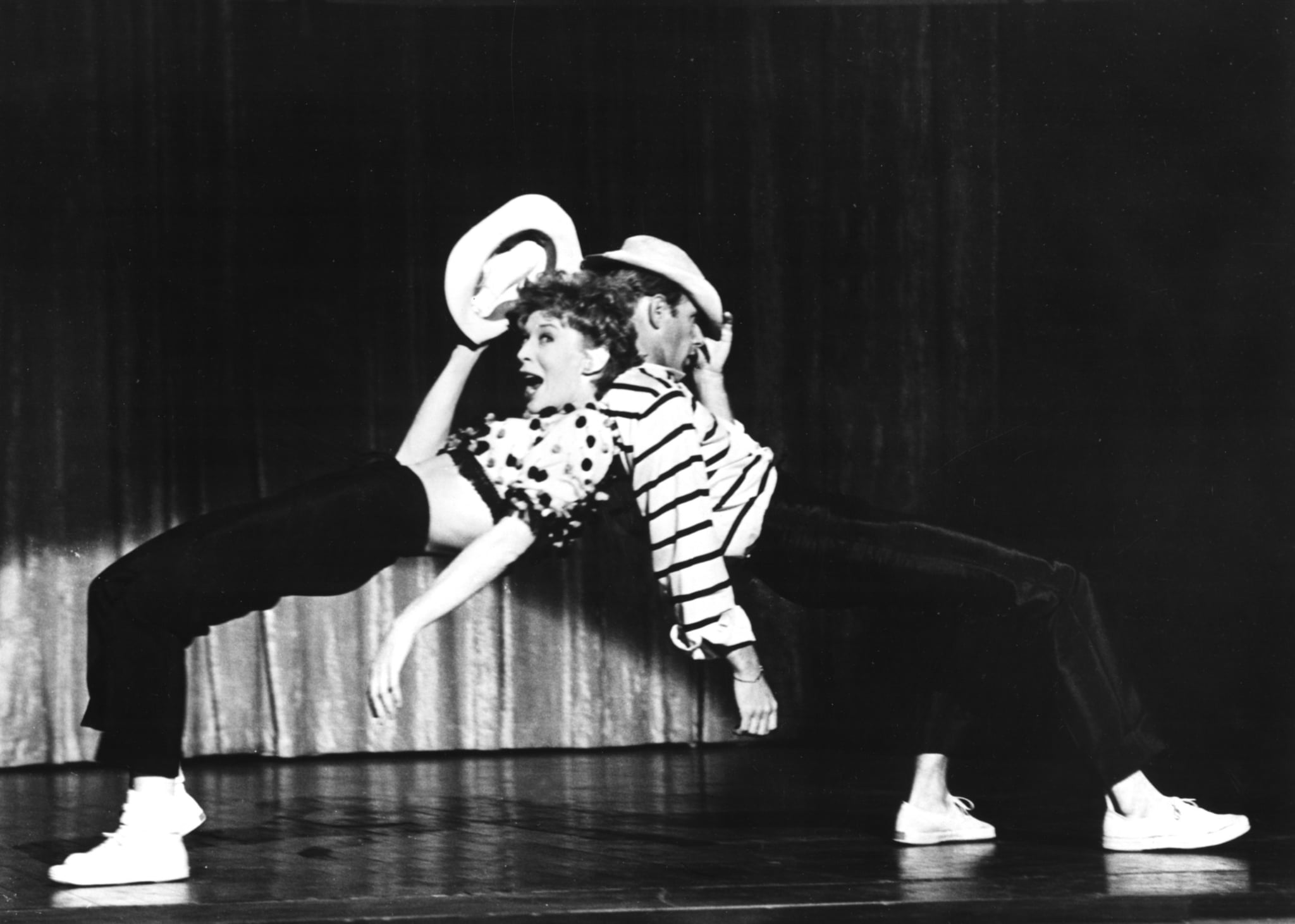 Bob Fosse and Gwen Verdon in 1958's Damn Yankees. Image Source: Everett Collection
Will Other Famous People Be Depicted on Screen?
So many others! To name a few: Mindhunter's Nate Corddry and You're the Worst's Aya Cash play playwright Neil Simon and his wife, Joan. In addition, The Punisher's Kelli Barrett will play Liza Minnelli, and Sex and the City's Evan Handler will play Hal Prince, the theater director and producer who directed the original Broadway production of Cabaret. You can also expect to see Broadway stars Bianca Marroquin and Laura Osnes playing Chita Rivera and Shirley MacLaine, respectively.
Are the Fosse/Verdon producers at all worried about how these famous people will feel about their portrayals? Especially since Olivia de Havilland attempted to sue over Catherine Zeta-Jones's depiction of her in the FX miniseries Feud?
"We don't vet that sort of thing," Levenson said. "We are incredibly careful when we talk about living people and it's certainly not our desire to impugn anyone at all."
Is This a Love Story?
During the panel, Levenson reminded everyone that despite the couple's dramatic ups and downs, there was real love between them right up until the very end. In fact, as Levenson said, "Bob Fosse actually died in Gwen Verdon's arms on the way to the opening night of Sweet Charity, the revival in Washington DC."
"It's a complicated love story," Levenson elaborated when we spoke afterward. "What's interesting to us is how do you tell this as a love story since it's also about the love for the work? Even as they got older, Gwen had enormous respect for Bob that never went away. She could separate the person from what he could do."
He adds that he also considers it a Rorschach Test for what the audience sees in this story of "love, codependency, and narcissism."
"What's interesting about these characters is they were so smart and incredibly self-reflexive," Levenson said. "They understood what their problems were and, yet, they were unable to change. And that's part of the story is they just kept doing the same thing over and over again."
Image Source: Frank Micelotta/FX/PictureGroup