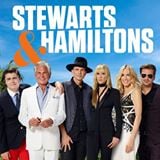 The truth is we can't get enough of reality television, which is why we partnered with E!'s
Stewarts & Hamiltons
for this post.
When looking for something to get lost in on TV, reality shows are a must. It's almost impossible not to get caught up in the drama, because what else would you talk about at work, right? Take our quiz and find out what celebrity reality TV star is your true spirit animal.
Where would your reality TV show be based?
Pick your favorite saying:
Pick your reality TV pet:
Who's your celebrity crush?
What dessert do you order at dinner?
What color nail polish are you wearing?