Hey Dude Interview With David Lascher and Kelly Brown
28 Years Later, Your Favorite Hey Dude Stars Remember a Stalker, the "Nick Narc," and Good Times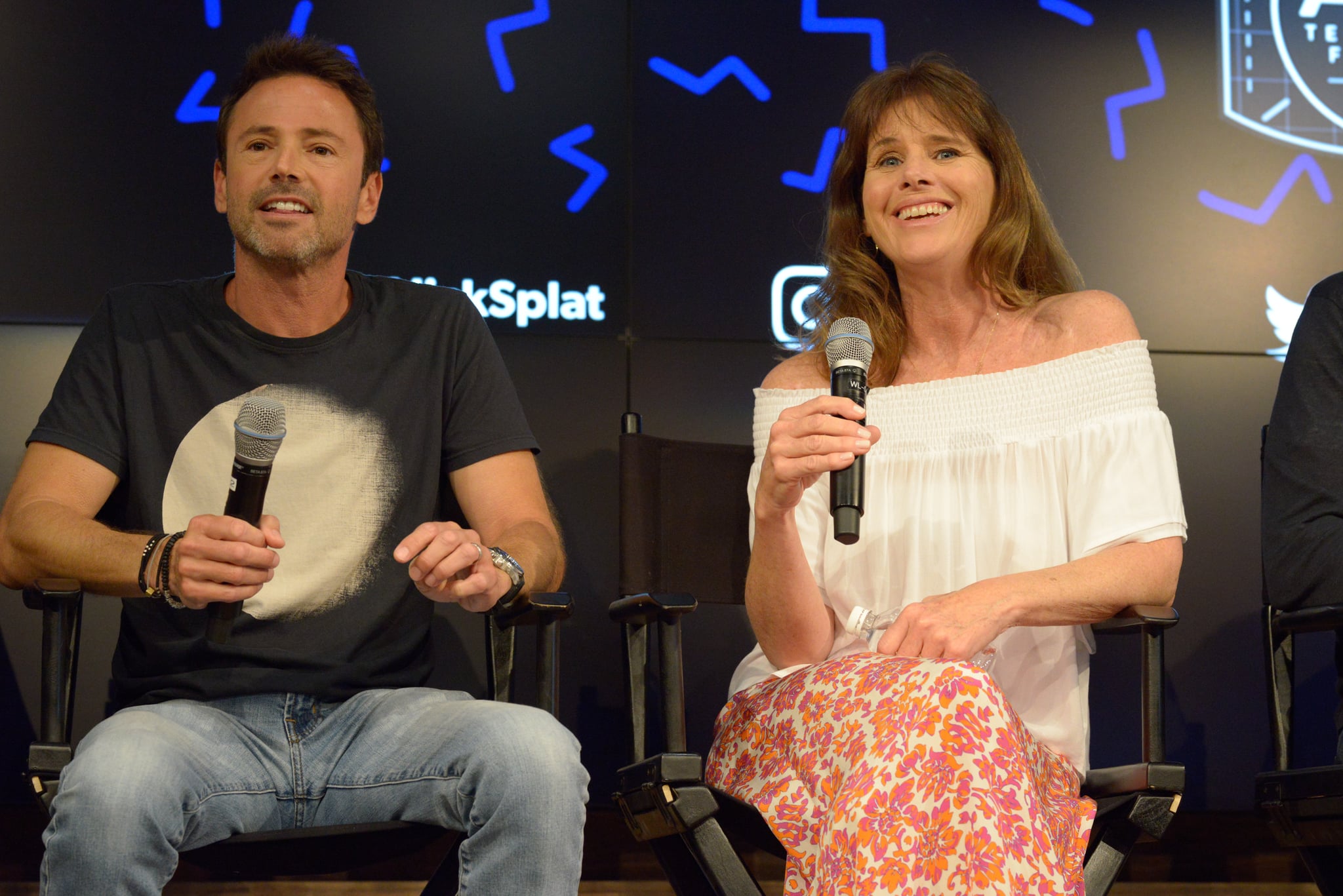 Image Source: Maggie Boyd
It's hard not to greet David Lascher and Kelly Brown with a "Heeeeeey Duuuuude," but somehow I resist. It's been 28 years since Hey Dude debuted, and Lascher is now 45; Brown is a tad older, a fact that she reiterates a bit in our interview (her exact age isn't on the internet, and I know better than to ask her). They both look great, and while their faces haven't been onscreen much lately, they're so instantly recognizable to me that it's like seeing old friends. As a rabid Hey Dude watcher as a kid, this interview feels very special.
They're in Austin for ATX, the TV festival that specializes in huge TV fandoms and nostalgia. Though the whole cast, save for Brown, reunited a few years ago at the same event, it's just these two this time, and if you watched, you know them better as Ted and Brad. Almost 30 years later, they're game to talk about their very special experience, and while there may not have been the same kind of on-set drama as some certain other '90s shows, there were some mildly shocking events that did transpire, like the scary revelation that Brown was being stalked and the crazy realization that there had been another Ted before Lascher — a fact that he tells me Brown just informed him of today.

Image Source: Nickelodeon
"I don't even remember being told," Lascher says, and Brown goes into her memory of the beginning of the show: "We had a different Ted first, and then we shot the pilot, and then we got picked up, and then they decided that that Ted, was . . . um, he was a very nice person, but he was harder; he was edgier. He was very edgy. If that's the right word to use. And then I remember meeting David on set, and he just oozed niceness and kindness."
"A little edgy," Lascher interjects. "A little edginess . . . no?" he jokes. "No, just all nice," Brown shakes her head.
After they reshot the pilot, the show went on for five 13-episode seasons, though Lascher left in 1990. It didn't matter; the actor, who also had memorable roles on Blossom, Beverly Hills, 90210, and Sabrina, the Teenage Witch, still gets regularly recognized for Hey Dude, "a surprising amount." Is Hey Dude the first thing you get? I ask. "If they're the right age," he replies. "If you were between 8 and 12 in 1989 or 1990." He laughs that his kids "are always like, 'my gosh, how many people watched that show?'" Lascher has three kids, he tells me, while Brown has four. As for where they are now career-wise, Lascher has been writing and directing — his film, Sister, got into the Tribeca Film Festival in 2014, and he's writing a comedy series. Brown quit acting years ago and now lives in Montauk, NY, where she owns a couple of clothing boutiques.
Hey Dude's 2014 reunion at ATX put a lot of former cast members back in touch, including Christine Taylor, who went on to star in Zoolander and marry Ben Stiller (sadly, the two recently separated). So did they keep in touch?
"Facebook makes it a lot easier," admits Lascher. "We all keep in touch and see each others' photos. It was so great to see everyone [in 2014]. We missed Kelly so much, but it was great. I mean, the whole cast [including] Graham Yost, the head writer," which reminds me of this fun fact: Graham Yost, now a prolific screenwriter and the showrunner who created Justified, got his start on this little Nickelodeon show.
"Right after Hey Dude, he wrote Speed, right?" Lascher asks Brown. "He was the Nick Narc, too," she says. "Ohhh . . . ratting on our bad behavior," Lascher adds. I'm confused. What's a "Nick Narc"? Brown explains, "The Nick Narc was the writer that was put on set to come live with us and keep an eye and go back to Nick and tell them what was going on."
Lascher explains, "We were on location, we were living in a hotel with no parents, and I guess to keep us in check, they had someone . . . If anyone did anything wrong, they would report back." It sounds like the kids didn't get up to to much trouble, but had a lot of fun, considering their age. Lascher says, "I was there the second half of my junior year and then my senior year. Christine was around my age, and we became really tight. It was was just so much fun, senior year in high school, living in a hotel in Tuscon, and shooting with people your own age. It was just so much fun and it was the first bit of freedom for me."
Brown adds that her experience was a little different: "I wasn't in school — I was much older, playing a teen. I didn't have to go to class every day — I went to the pool!" "We were so jealous of you!" Lascher teases Brown.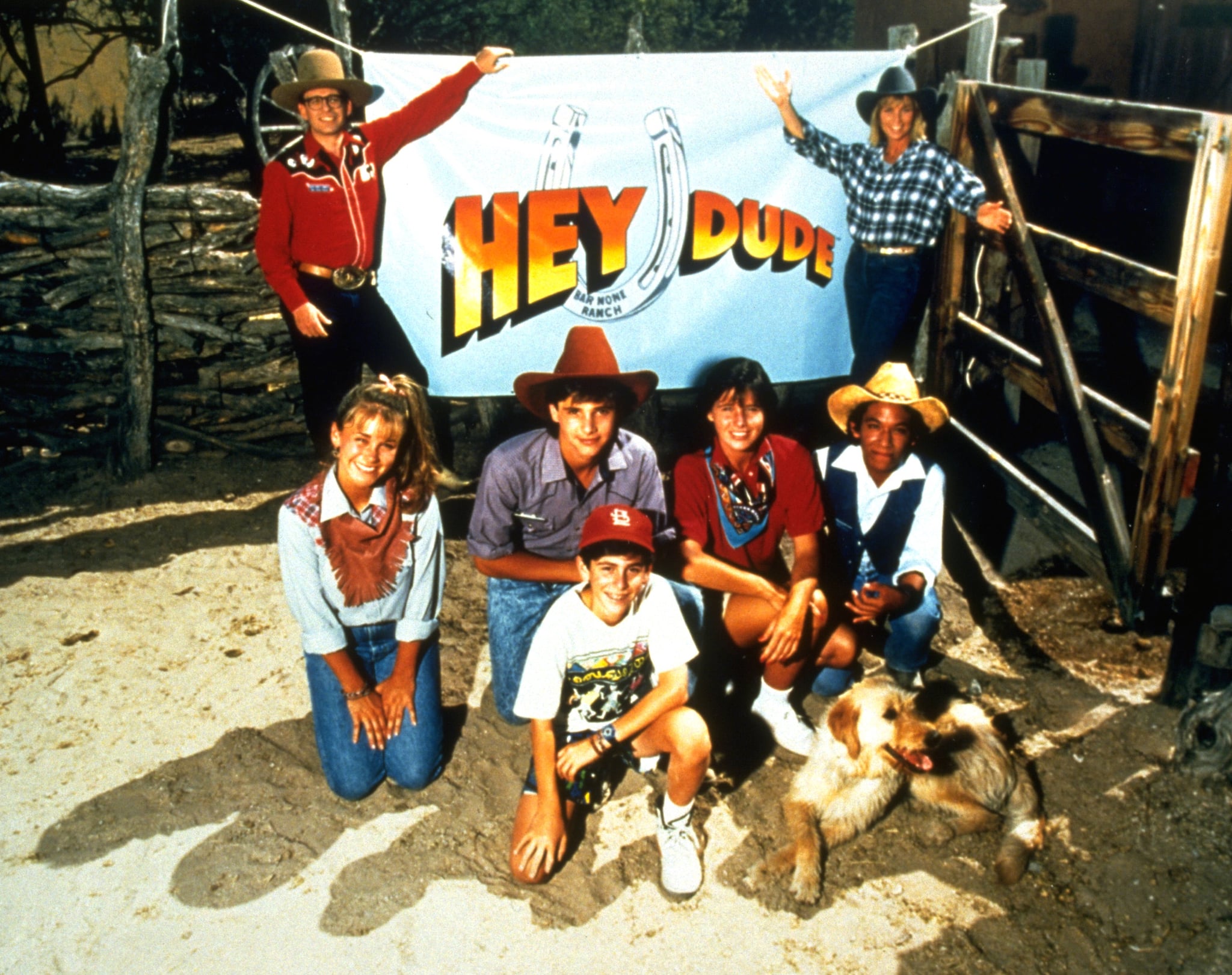 Image Source: Nickelodeon
Besides school, Brown says the tight-knit cast "did everything together," and also that the crew looked out for them — something that proved to be desperately important for her later on. "I had an incident where somebody kept showing up on the set and telling them he was my husband. We were having a real problem with him. And then he was at my hotel, knocking on the door. I was little, I was freaking out. My manager at the time also managed Rebecca Schaeffer. She opened her door, and . . . she was gone. So I called the grips and said, 'this guy's knocking on my door,' and I never heard from that guy again."
Lascher and Brown concede that the Hey Dude stalker is the most dramatic thing that happened off-screen, and unlike on other shows, there wasn't much cast dating. "I'm older than him, so I quickly felt like he was my little brother," she says, then asks innocently, "Did it come across that there was sexual tension? There was supposed to be sexual tension . . ." she says, and I confirm confidently, "There was sexual tension." "Like, we hated each other but we loved each other," Lascher says. "She's only a few years older than me, but back then it felt like she was an adult." "And now we feel the same age," Brown says. Of course, Ted and Brad, like Hey Dude, are now timeless.