How Did Dolly Parton Get Involved in Netflix's Dumplin'?
How Dolly Parton Became the Unofficial Fairy Godmother of Netflix's Dumplin'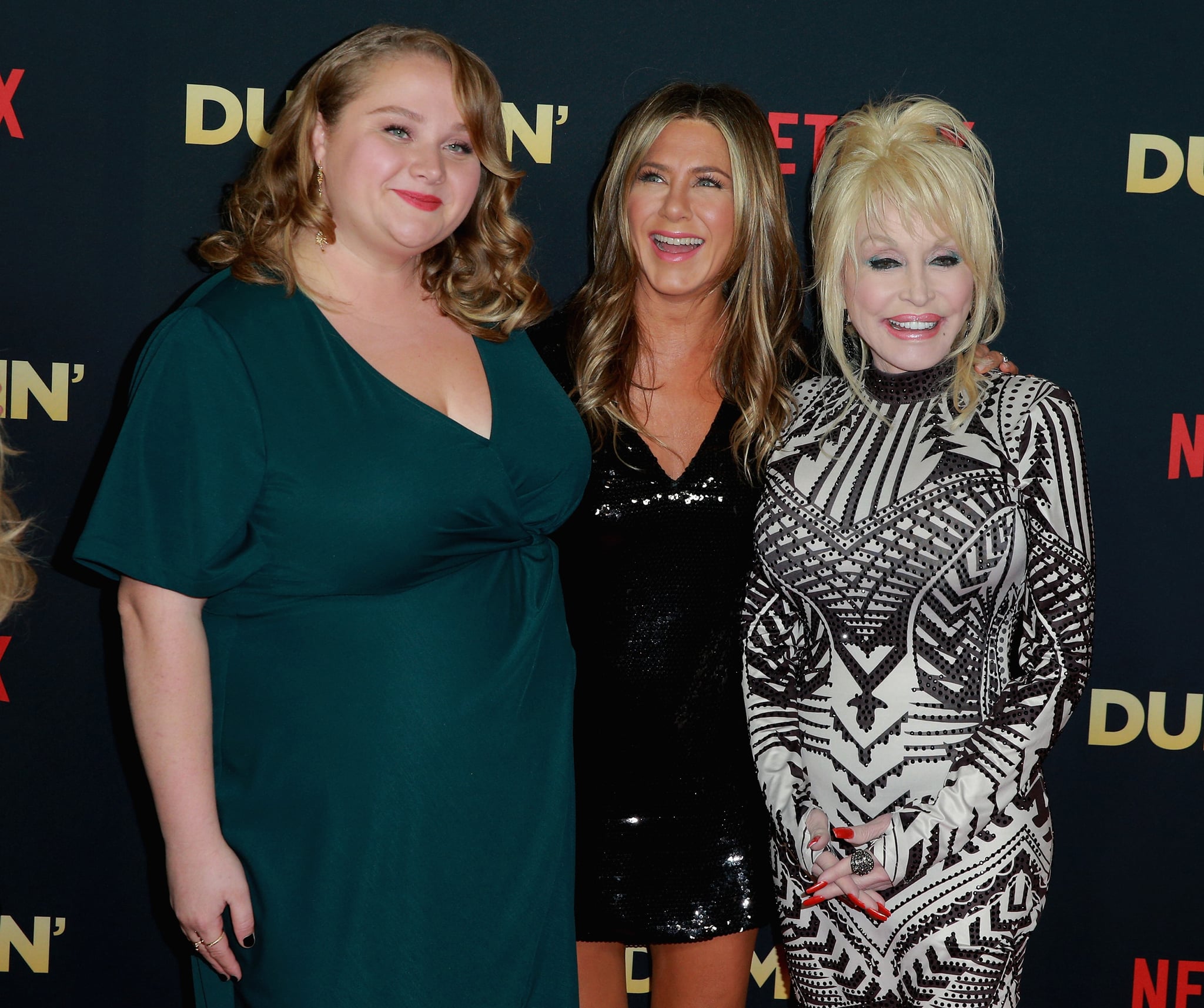 Image Source: Getty / Rich Fury
Dolly Parton is the type of celebrity who, the more you find out about her, the more impossible it is not to admire her.
The iconic singer-songwriter has not only been making music since the 1960s when she burst on the scene with her debut album, Hello, I'm Dolly, but she's also dabbled in being an actress, record producer, and philanthropist (her charity donated its 100 millionth book in February). On top of all that, she's also an incredibly savvy businesswoman, which means she's maintained ownership over most of her own songs over the last few decades, which is what allowed her to lend her music to Netflix's latest rom-com hit, Dumplin'.
The film follows the story of Willowdean Dickson (Danielle Macdonald), a "self-proclaimed fat girl" who decides to regain her confidence by entering the beauty pageant run by her thin, judgmental mother (Jennifer Aniston) in her small Texas town. Willowdean also happens to be a fierce, loyal fan of Parton, a love passed down to her by her beloved, late Aunt Lucy. On one hand, the major role Parton's influence plays in the film meant it would be impossible to make it without her music. But on the other, the indie film had a small music budget, which was certainly not enough to cover the cost of Parton's iconic melodies. Fortunately, a big fan of Dumplin' stepped in to save the day: Parton herself.
When I recently hopped on the phone with Dumplin' screenwriter Kristin Hahn, who adapted the story from Julie Murphy's bestselling YA novel, she explained exactly how Parton's serendipitous involvement in the project came to be:
"I adapted the book, and then we had a script we were feeling pretty good about, and then Jen Aniston signed on to play Rosie. That was when we hit the moment where we all looked at each other and said, 'We can't make this movie without Dolly Parton's blessing.' She ended up being, essentially, a fairy godmother to the movie. It was an independent film, so we didn't have a very big music budget, but we had dreams of having wall-to-wall Dolly music in the movie. Our aspirational thinking was only going to get us so far in terms of being able to afford this classic, iconic music. So, we approached Dolly through her manager, Danny Nozell, and thankfully he's an angel. He took the time to read the script, walked it into her house, and said, 'I think you need to look at this.' And she looked at the title, and then walked over to her bookshelf and took a copy of Dumplin' off her shelf and said, 'I already know all about this!'"
Not only did Parton agree to let Dumplin' use her existing music, but she also created a brand-new track with Sia to help the film shine.
"Dolly Parton is a brilliant businesswoman. She asked us, 'What do you need?,' and we told her we'd love access to her catalog, and luckily she owns most of her music. She was able to say, 'Yes, I will give you access to my catalog,' and then also asked, 'Do y'all want a theme song?' And of course we were like, 'Uhhh, yes! Please!'" Hahn said, laughing.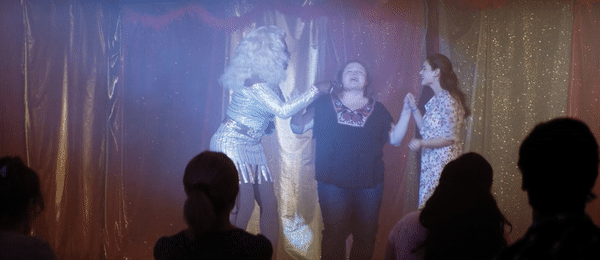 Image Source: Netflix
Parton's resulting collaboration with Sia, "Girl in the Movies," ended up being nominated for a Golden Globe, which shouldn't come as a surprise to anyone who knows Parton.
"[Parton] has this incredible work ethic. Typically when you give someone a script, it takes months to hear a response, but it was, I don't know, a day or two and we got a call back that she'd read it and she was ready to sign on," Hahn explained. "She really responded to the message of the movie, about women defining the meaning of beauty for themselves and giving themselves permission. Kind of like, 'Don't wait to be invited to the party — invite yourself.' The love story of a girl who falls in love with herself. All of these things really resonated with Dolly and spoke to her own personal musical legacy. A lot of what she's written about through the decades has been about loving who you are, the way you are, and accepting others for who they are."
Dumplin' is now streaming on Netflix.