Are Jackson and Maggie Getting Together on Grey's Anatomy?
Why We Might as Well Accept This Weird Relationship Between Jackson and Maggie on Grey's Anatomy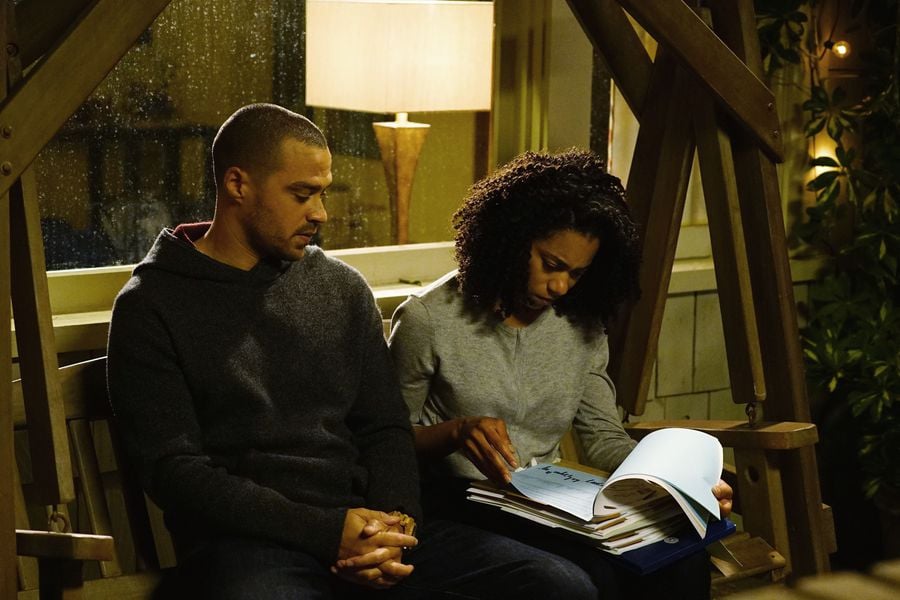 I've come to accept the weird is-it-platonic-or-romantic relationship growing between Jackson and Maggie on Grey's Anatomy. Or Jaggie, what have you. Season 14 is full of typical gut-wrenching drama. Amelia has brain surgery and must unpack her precarious relationship with her husband after removing her tumor. Meredith finds herself in an unwanted love triangle with Megan and Nathan. Jo worries about her ex-husband finding her. In this concoction of heartbreaking drama, there's the left-of-center Jackson and Maggie romance. It's awkward, silly, and maybe even uncalled for, but I actually don't resent it.
Jackson's mother, Catherine Avery, and Maggie's biological father, Richard Webber, are married. This makes Jackson and Maggie step-siblings. This causes some awkward tension. After his grandfather dies, Jackson learns that he inherited a quarter of a billion dollars. He rejects it, but Maggie convinces him to take the money during the world's most awkward family dinner. Later, Catherine thanks her for talking sense into Jackson, offhandedly telling her that's what sisters are for. It sounds like Catherine wants to see her grandchild's parents reunite.
Even Jesse Williams (who plays Jackson) and Kelly McCreary (who plays Maggie) admit that Jaggie is a weird pairing. Williams even retweeted a fan-made meme that commented on the oddness of the couple, writing, "Very good." McCreary told Entertainment Tonight how surprised she felt about the relationship and how it "came out of nowhere."
Very good. https://t.co/KbSgpsi4tA

— jesse Williams. (@iJesseWilliams) August 28, 2017
The two surgeons share an easy, opposites-attract chemistry. Jackson is laid-back and Maggie overly caring. Jackson sails through life privileged with his family's legacy money; Maggie has fought hard for everything in life. In a romantic comedy kind of way, they are blind to their feelings for each other even when it's painfully obvious to their loved ones (namely Catherine and April). If anything, their relationship makes for lighthearted sitcom-esque fodder.
But I think their relationship is more than just fluff. Jackson and Maggie share important bonds. They obviously share a family together. Jackson has also treated Maggie's late mother's breast cancer in the past and comforted her when her mother died. There are emotional stakes in this pairing. I think their relationship has a lot of potential to be one of the sweetest and most functional on the show.
Listen, I love Japril. Jackson and April have ventured through rough waters together. They're best friends. They have had a spontaneous romantic wedding. They have survived a tragic stillborn birth. They have spent time apart when April toured the Middle East. They manage to be on good terms even as divorced parents. They're as iconic as Meredith and Derek or Callie and Arizona. But even those relationships didn't last. Grey's Anatomy thrives on changing relationships, after all.
I'll play devil's advocate. We've become so absorbed with Japril that we forget who they are away from each other. I'd love to see April get in touch with her faith again and for Jackson to discover his role in his family's legacy. If things worked out with Jackson, it'd also be a bright spot in Maggie's life. She has had a lot thrown in her life since coming to Grey Sloan: she's discovered two members of her biological family, been in an awkward love triangle with her sister, and was dumped by a man threatened by her professional power. Her mother also passed away recently, and very soon after, she's had to be an emotional support system for Meredith and Amelia.
Is Jaggie weird? A resounding yes. But it'll be a fun kind of weird that won't add heartache. Right, Shondaland?