Jake Lacy Talks About Girls
Jake Lacy Talks the Upcoming Season of Girls: There Are a Lot of "Sexual" Things Going On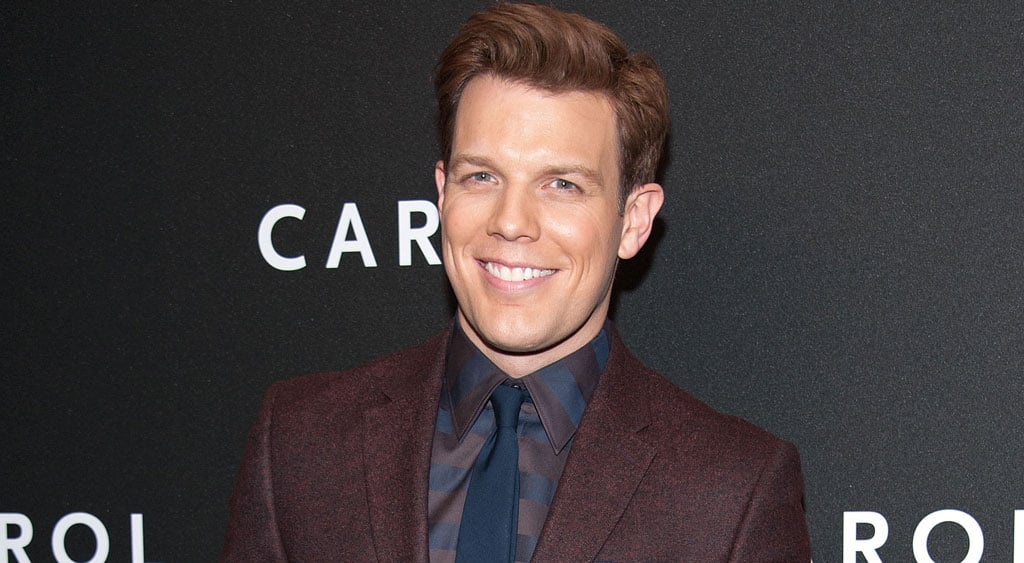 Image Source: Getty / D Dipasupil
If you don't know the name Jake Lacy, you definitely know the face. After breaking onto the scene with small roles on TV shows like The Office and The Michael J. Fox Show and movies like Obvious Child, Jake has really come into his own in the last year. In addition to being Lena Dunham's latest love interest on Girls, he also stars opposite Rooney Mara and Cate Blanchett in the Golden Globe-nominated film Carol. We recently sat down with the handsome actor at the press day for Carol to talk about everything from his exciting new roles to what it takes to win over a woman. Keep reading for his best quotes, then check out the Girls season five trailer before it returns in February.
POPSUGAR: Can you give us any hints about what your character will get up to on the new season of Girls?
Jake Lacy: It turns out Fran is a murderer and we track the trial for the entire season. There are no other characters, it's just Fran, and it's actually called Man, Formerly Known as Girls. But no, Fran is back. Fran makes a return, and I can't say too much, other than we get to see what has transpired over the Winter between him and Hannah, and we see where the complexity of that relationship goes. And over the course of the season I think you see the many layers of it teased out from what seems like a pretty stable situation.
PS: Are there a lot of "physical" scenes that fans can look forward to?
JL: Like combat? Fighting? Fistfights? Yeah, there's a little bit of a physical/sexual nature to a few different scenes. There's definitely some of that going on.

Image Source: HBO
PS: Switching gears to Carol. Rooney Mara and Cate Blanchett's chemistry is obviously undeniable, but your character also had a really sweet chemistry with Rooney. Did you guys get a chance to bond before filming began?
JL: We had a couple days of reading through the scenes, of getting to know each other, but Rooney was, you know, in the throes of this production that she's such an integral part of, and so our time beforehand was a little limited, but she's so talented and professional and wonderful in this movie that there wasn't a sort of uncomfortable period in the beginning. It was pretty smooth sailing from the start.
PS: This movie deals with a lot of heavy topics. Is it easy to have funny, lighthearted moments while making a movie like this?
JL: I do my best to goof off between scenes. I'll just get in my head if I stay focused for too long. But I'd say between takes, really, there was sort of a quiet calm in order to stay in that world and stay alert. I try to find a happy medium between the two because it's just not in my nature to be straight-laced all day. I just can't hack it like that; I wouldn't make it.
PS: Your character, Richard, really tries to fight for the relationship with Rooney's character, Therese, to work. From your own personal experience, have you ever gone all-out to win over a girl?
JL: I'd say every girl I've ever been in love with I've gone all-out to try to win, to try to woo. In this case, there's a real attempt on Richard's part to change himself into the person that he thinks Therese wants him to be. To change himself into the person that would be the right fit for her. And it's devastating, I think, because ultimately, as we see, that's not going to happen. There's no way that he becomes the right person, there's no way that he does the right thing or gets the right job, or says the right thing, or appreciates the same art. There's nothing in there for him to be the right guy. And that's probably true for love in general. If you have to change yourself to that degree, it's probably not the right fit, you know? I think that he's at a loss as to what to do. There's this unknown thing that Therese herself doesn't have the vocabulary to articulate what's happening and she can't express to him what she's experiencing. He's at a complete loss as to how to solve this problem that seemingly crops out of nowhere to him, and yet, has no defined boundaries. And I feel like maybe I've been in that experience in relationships, where there's something amiss and you can't identify it but maybe you both stay in it longer than you should in an attempt to reconcile differences that are not going to ever be reconciled.
PS: What did you make of the ending of the film?
JL: You know, I'm a sucker for hope, so for me, it's hopeful. But I am just one man, watching one movie, you know? I don't know how Rooney or Cate or Todd [Haynes, the director] feel about it, but I just always am a sucker for hope so I gotta believe something good comes out of that.
PS: Most of your scenes are with Rooney, but did you get a chance to hang out with Cate a lot?
JL: I had one afternoon with Cate, where Therese is sort of off on an afternoon with Carol. It's the first time she goes to the house and Richard escorts Therese to the meeting point where Carol's going to pick her up, so that was my one afternoon with Cate. I was in awe of her before this film, and even more so after working with her. She's so present, and it feels like there's nothing else happening in the world but this moment with her, and that's rare and really electric to get to be a part of. And she's so nice! I just saw her for the first time two days ago since I wrapped and she was immediately welcoming and warm and personable and laid back and I just, again, was in awe of what she has accomplished, what she's done, her creativity and her artistry, and then also how lovely she is as a person as well. Just really something to strive for, I'd say.
PS: This movie is about a few different love stories. What is the best piece of advice you've ever gotten about love?
JL: I would say . . . I thought I was in love with someone years ago, and I put a lot of eggs into this basket, and a good friend of mine — I was just going crazy about it, I was just obsessing — said, "This girl is not the answer. She's not the problem and she's not the answer. You're the problem and you're the answer. So once you get that sorted out, you might have a shot at that thing being special." And to me, there's something of that in the story as well, where Therese finds herself and is exploring this whole world outside of the world she knows, and upon finding herself, also has a shot at finding something special with Carol. And I think the loves in this story are the ones where the people are putting a lot of eggs in someone else's basket. It's the people who find themselves first who are able to find somebody else.