Mandy Moore's Quotes About New Music 2019
Mandy Moore Opens Up About Working on New Music: "Why Did I Deny This For So Long?"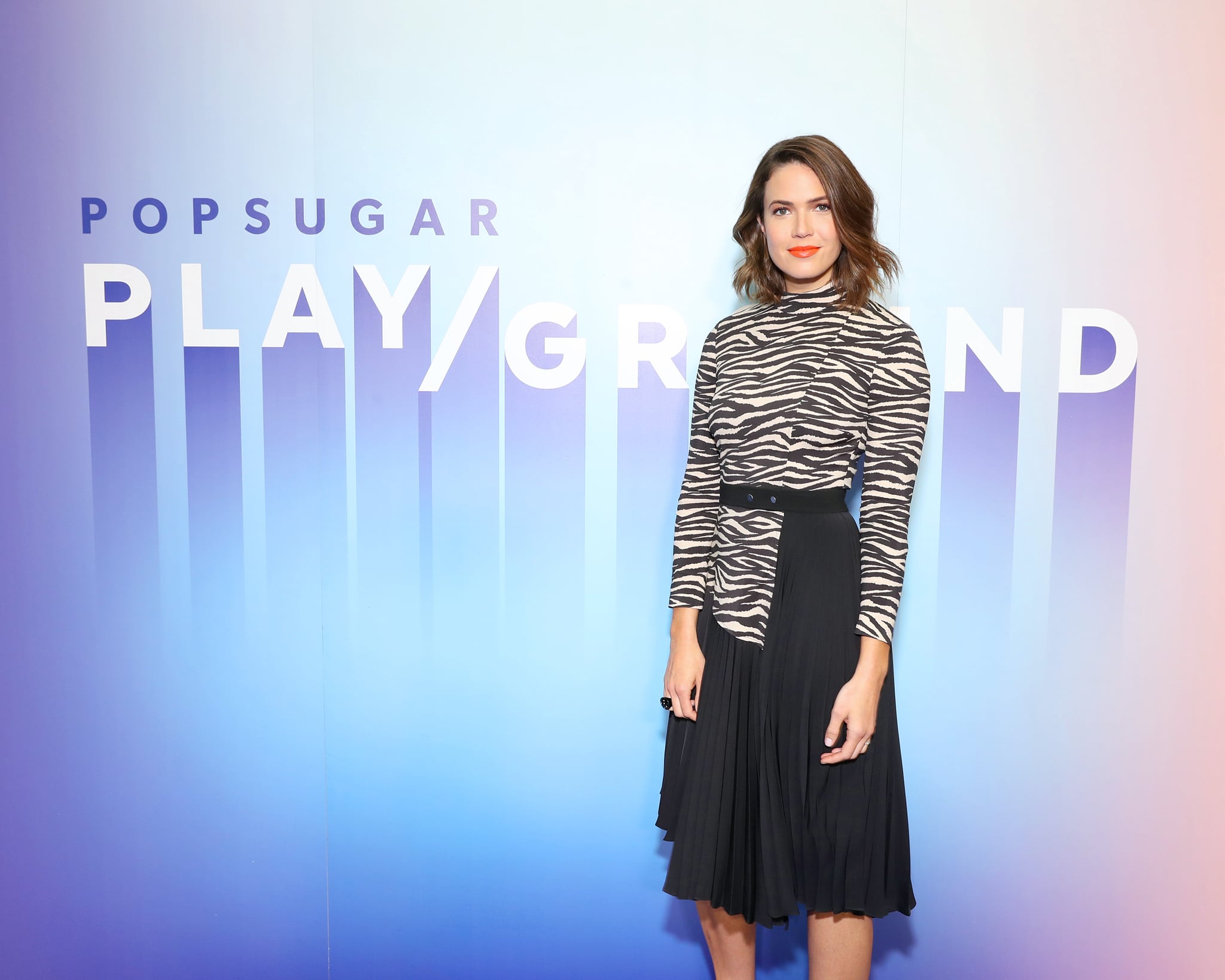 Mandy Moore admittedly didn't know what she was doing when she first stepped into the spotlight following the release of her debut album, So Real, in 1999. While recently speaking with her This Is Us costar Susan Kelechi Watson at POPSUGAR Play/Ground, the singer and actress opened up about lacking creative control in the early days of her career. That's no longer the case, however, as she prepares to release her first album in a decade.
"I literally went from doing musical theater in Orlando, FL, to having this public platform. I didn't know what I was doing," Moore said, reflecting on her first few albums. She added, "Luckily at that age, I was confident enough to know how I wanted to present myself, and nobody pushed me to look a certain way or dress a certain way or answer questions a certain way. It was very unpolished, but I was just being me."
"'I'm missing you like candy'? What does that even mean?"
Moore's first big single, if you can recall, was "Candy," which spawned one of the most delightfully late-'90s, early-'00s music videos ever made. Even after all this time, the lyrics are still puzzling to her. "'I'm missing you like candy'? What does that even mean? It's nonsensical," Moore said. "It's so funny because there's songs where I'm singing about love, and I'd maybe french-kissed a boy. I had no idea what love was."
After releasing four pop albums in just three years, Moore began to pursue a more stripped-down singer-songwriter style with 2007's Wild Hope and Amanda Leigh in 2009, which is her last album to date. That same year, she married Ryan Adams, who offered to help her with her music. According to Moore, he instead used music as a "point of control." In an interview with The New York Times earlier this year, Moore said Adams belittled her talent: "He would always tell me, 'You're not a real musician, because you don't play an instrument.'" Moore ended up filing for divorce in 2015, and she's using what she went through in her personal life — as well as the professional rejection she's experienced — as creative "fodder and fuel."
"It's joy. It's elation. But it's also knowing myself."
"I'm writing music again. It feels so good. I've been back in the studio just last week and the week before," Moore said at POPSUGAR Play/Ground. "It's like riding a bike. I'm like, I remember how to do this! Why did I deny this for so long?" On the feeling she gets from working on music again, Moore said, "It's joy. It's elation. But it's also knowing myself. It's knowing the wealth of life that I've lived in the last decade since I've made music and put out a record. I'm pouring all of that into what the music is sort of becoming."
So far, Moore has recorded seven songs and written about 15, with the goal of releasing new music sometime this year. She's also gotten help from her husband, Dawes frontman Taylor Goldsmith, whom she married in an intimate backyard ceremony in November 2018. "Making music with my husband is just so fun because I'm in awe of him as a human, but also as a musician and a songwriter," Moore said. "To be able to collaborate is everything to me."
Divulging a little more about what fans can expect from her forthcoming songs, Moore said, "Some are really hopeful. Some are talking about forgiveness." When asked about her favorite line, Moore said, "There's a song called 'Forgiveness' and it starts out with, 'Forgiveness is not a favor.' I just loved that idea."