Matthew McConaughey's True Detective Interview
Matthew and Woody "Finish Each Other's Sentences and Sh*t"
Matthew McConaughey and Woody Harrelson are the stars in HBO's True Detective, and ahead of the series premiere this Sunday, the actors, as well as costar Michelle Monaghan, director Cary Fukunaga, and writer/executive producer Nic Pizzolatto, shed some light on the show at the Winter TCA. McConaughey and Harrelson spilled on exactly what you're curious about, like how their famous friendship affected their onscreen rapport and why they decided to come to TV.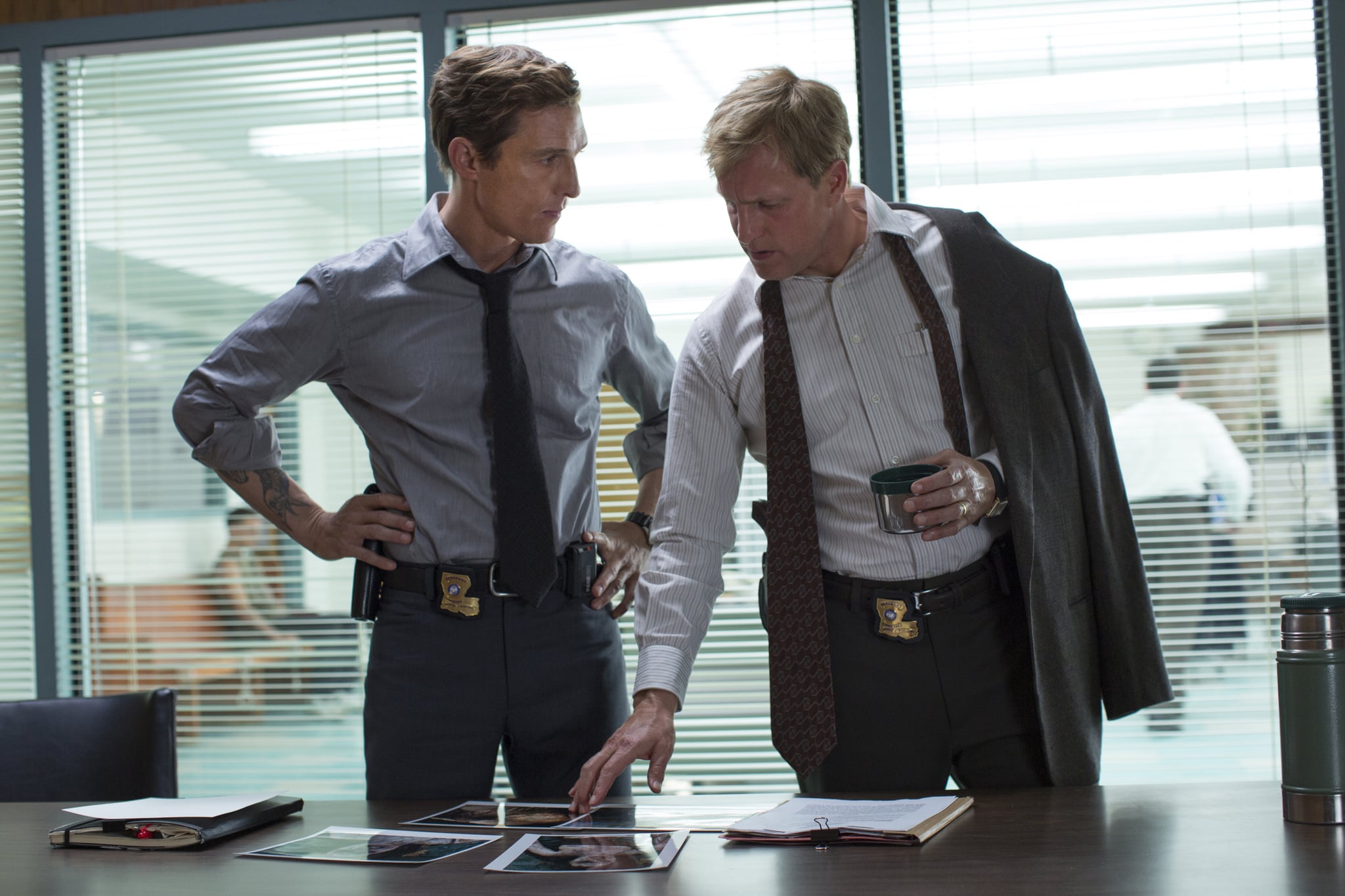 On the subject of their frequent collaboration and friendship, "we do have a shorthand," Harrelson said, but "with this project, we didn't use a lot of our normal kind of shorthand, where we kind of finish each other's sentences and sh*t. He [McConaughey's character] was an island, you know? He is one of the most gregarious, awesome guys I know, but in this, he's fully in character and he's very much an island. It was very different and part of that complication, I think, helped." McConaughey added that their real-life friendship has translated into comedy on screen before, because "we get on each other's frequency. We add on, and we affirm each other. We one-up each other and turn it into an improvisation, and it can go into the ether and then some." But on True Detective, "this was something different. There's opposition here. This was the first time we worked together and there was real opposition."
Does that mean the signature McConaughey/Harrelson humor will be missing? McConaughey doesn't think so, but it won't be a traditional kind of humor. "Early on, we said, we gotta find a place to make this funny — this is going to be a lead weight!" McConaughey explained, "What becomes the humor is that we remain on opposite sides for so long. . . . I found myself laughing in episode three. The opposition out-endured me. We found a new sort of comedy."
For the big question of why the two movie stars wanted to come to TV, McConaughey told us, "It's a different time in television," explaining that when he read the script, "I was just at the time looking for quality. I didn't know where it was going to be," saying he never thought, "I'm in, but wait a minute, it's TV." For Harrelson's part, he first credited HBO, who he worked with on 2012's Game Change, and called it a privilege to work with the network again. Then he gave it up for "the people on this stage." "I love Matthew; he's my brother," Harrelson said, while also praising director Fukunaga and costar Monaghan.
Since this is a TV series, the panel was asked if they would be coming back for another season. McConaughey was pretty direct: "It's contained. That's it."