Melissa Benoist's Letter About Andrew Kreisberg's Suspension
Supergirl and Arrow Stars Share Passionate Statements About Andrew Kreisberg Allegations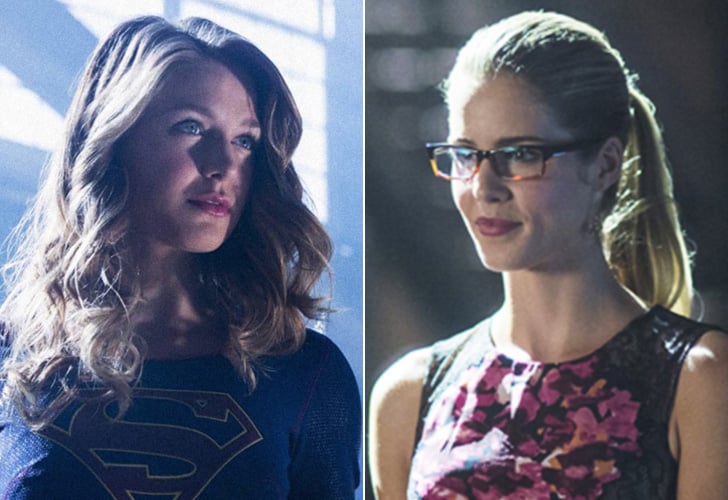 Image Source: Everett Collection
A slew of sexual harassment allegations were recently leveled at Arrow and Supergirl executive producer Andrew Kreisberg, and it didn't take long for female stars from both shows to let their opinions on the situation be known. Following Kreisberg's suspension by Warner Bros. TV Group, Supergirl lead Melissa Benoist shared a passionate statement on Twitter about how "heartbreaking" the prevalence of sexual harassment is in her industry, and why she isn't afraid to speak out about it.
"I am a woman who leads a show that supports equality and feminism, empowerment, and fighting for what is right," she began. "I have always tried to conduct myself this way personally, as well. Sadly, the show and my career are a part of an industry that doesn't always mirror these sentiments. This is heartbreaking, and at times makes me feel helpless. I know I'm not the only one who feels this way. But I'm an optimist. I believe lasting change is possible, and when people are mistreated, they should have a safe forum to speak their truth and always be heard."
Arrow's Emily Bett Rickards also tweeted a thoughtful message about the allegations against Kreisberg — which he "strongly denies," according to Variety — that directly addressed all of the women who bravely speak up against their harassers. "To the men who committed harassment, who perpetuated rape culture, who turn a 'blind eye,' and complain about 'reverse sexism': you are weak and complicit. To the women who found the strength to speak up . . . You are heroines."
In addition to Arrow and Supergirl, Kreisberg is an executive producer on the other CW shows The Flash and DC's Legends of Tomorrow. Fifteen women and four men who worked with him came forward with allegations that he "engaged in a pattern of alleged sexual harassment and inappropriate physical contact over a period of years." Warner Bros. is currently conducting an internal investigation into the allegations.
Read Benoist and Rickard's statements in full below.
— Melissa Benoist (@MelissaBenoist) November 13, 2017
— Emily Bett Rickards (@EmilyBett) November 13, 2017