Nick Carter Interview February 2016
Nick Carter Confirms That "of Course" the Backstreet Boys Will Appear on His Tour
After wowing fans with his incredible stint on Dancing With the Stars this past season, it seems like Nick Carter has caught the performance bug once again. Aside from touring and making music with the Backstreet Boys, the singer is now venturing off to make some music of his own. We recently had a chance to talk with the singer and he gave us all the details about his upcoming tour and whether or not his bandmates would be making a special appearance. Check it out below and then let him transport you back to the '90s with his brand new music video.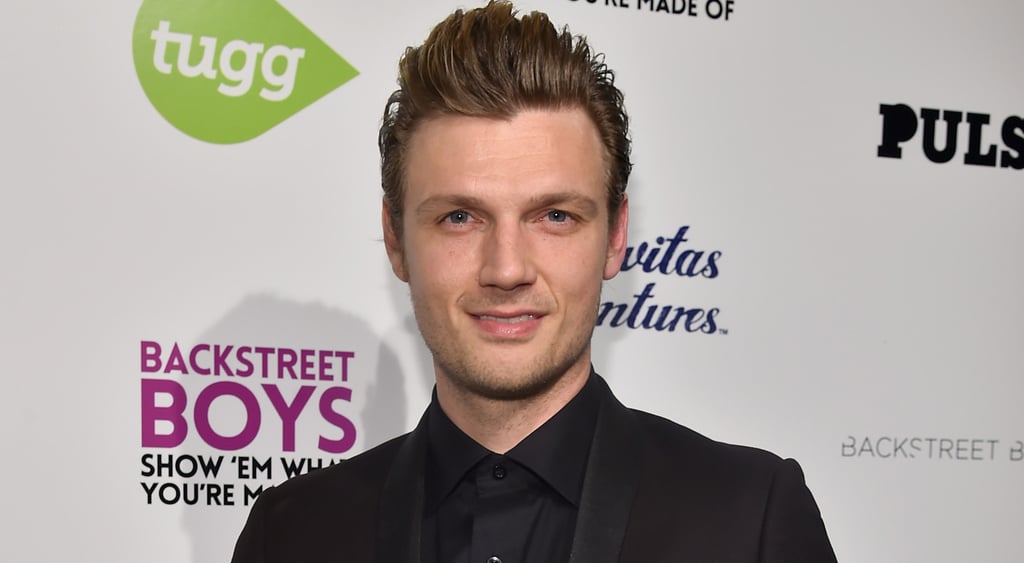 Image Source: Getty / Alberto E. Rodriguez
POPSUGAR: What inspired you to do this solo album?
Nick Carter: Well, I really enjoy making different types of music than I do with the Backstreet Boys. I never really followed the traditional route when it comes to what people probably expect as a solo artist goes, but that's just me. It's my own creative output and it's my expression. So, I'm able to do different things and go out there and pick on the guitar or rock out a little bit. That's the thing — all of us individually in this group, we encourage each other to go out and explore and be different things. That way when we come back, we're refreshed and we have learned a little something about ourselves as well. It's all of that together, but as far as what motivates me to create another album, thankfully I have a fan base that wants to see me, so I really enjoy creating music that is different.
PS: Why did you decide to name the album All American?
NC: It's funny because obviously, I'm American, but the main reason is because of the song on the album. I love the song "All American" because it's just a quirky, fun song talking about how I view some of the women in America. It's one of my favorite ones, so that's mainly the reason. It's sort of a title track.
Image Source: Getty / Amanda Edwards
PS: What would you say is the most meaningful song to you?
NC: I think "I Will Wait" is pretty meaningful because in a lot of ways, it's about how you can't turn back the hands of time. One of my favorite songs is "Time in a Bottle," an acoustic song by a guy named Jim Croce, and it really talks about how in love a person can be and how devastating it would be to lose that person. Then at the same time, what you would do if you could go back to that. It's a beautiful love song, but it also has a very '50s throwback sound to it because that's what I would listen to as a kid. I would sing to Elvis Presley when I was about nine or ten years old. I have a very old soul and old musical background, and I was able to really capture that in the song.
PS: What can you tell us about the upcoming tour? What can fans expect to happen?
NC: Over the years, I've been able to learn what our audience loves and for the most part, I just want them to be satisfied. So, I'll be performing some of my biggest songs. The more popular songs on my solo record will be a given, but I'm definitely going to be doing some Backstreet Boys songs. I'm going to break down the sound acoustically. I'll be moving around a lot, possibly doing some dancing. It's just about making it an awesome rollercoaster ride that people can come and escape for a little bit. We're even talking about going back to some '90s pop-rock songs. Just really making it a nice sing-a-long show that everyone can come and have a good time.
Image Source: Getty / Don Arnold
PS: Will the Backstreet Boys be making any special appearances at any of your shows?
NC: Well, of course they'll be coming for sure. Maybe the Los Angeles show I'll have a lot of friends show up. Right now, we're in the process of getting it all together, but all of my buddies will be there.
PS: What are you most excited about?
NC: Honestly, I'm most excited to see how I've grown as a performer. After Dancing With the Stars I really was able to evolve in a lot of ways and I'm excited to put that to use on stage.
Image Source: Getty / Jeff Kravitz
PS: Your new single is called "19 in 99." Are there any trends from the '90s that you wish would make a comeback?
NC: So many of those trends are special in a lot of ways, and a lot of those trends have evolved into something else, but I don't know if I necessarily want those things to come back. So, when I talk about reminiscing and being nostalgic, it's like, you can go back with me and remember all of this, but there is a lot of stuff that I would like to stay dead.
PS: Looking back now, what advice would you give your 19-year-old self?
NC: You know, honestly, I was living, having fun, and being a teenager; there's no advice I would give. I've made it this far, thankfully, and I think that all of the scars and all of the layers that I've built over the years made me the person that I am today, and I'm pretty happy about that person. Nobody's perfect, but at the same time, I always try to learn from my mistakes.
Image Source: Getty / Taylor Hill
PS: Now that you have your own little Backstreet Boy on the way, I was wondering if any of your band mates have given you advice about fatherhood.
NC: They've all given me advice and it's great to have them. All four of those guys are like my older brothers and I'm always able to come to them for help. They're doing a great job with their families and their children, so it's great to have them.
PS: What are you most excited about being a dad?
NC: I'm excited to just have somebody that I can protect. Someone I can make sure is superloved and never really experiences the turmoil that I went through with my family, to just have a really loving environment that grows intelligent and in love and breathes happiness and productivity. That's really what I'm looking forward to.