Real Clown Killers Who Inspired Twisty
Real Clown Killers That Put American Horror Story's Twisty to Shame
It's indisputable that Twisty, the murderous clown on American Horror Story: Freak Show, is a straight-up nightmare, but he's not real. That's right, you can all rest easy because he's not real. However, terrible news: clown killers have existed. John Wayne Gacy is by far the most infamous of the clown killers, but there have been others. Given that Halloween is approaching, now is a good time to take a look back at some terrifying real American horror stories involving twisted clowns. Warning: this post contains really disturbing information.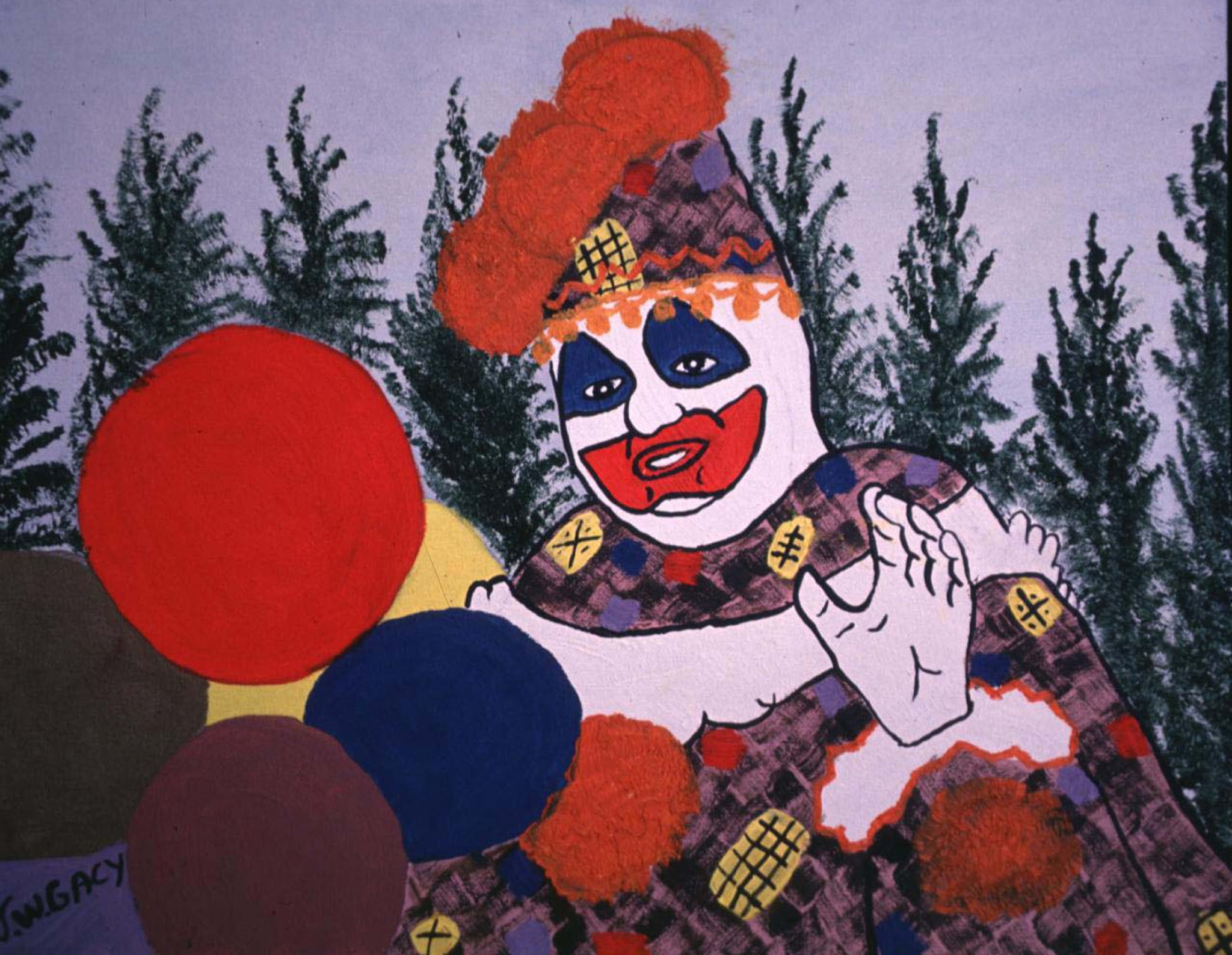 John Wayne Gacy
As I mentioned before, Gacy is a highly notable American serial killer who was widely known as the "Killer Clown." Gacy's alter ego was Pogo the Clown, and he made a living working at children's parties. In 1980, he was convicted of murdering 33 young men between the years of 1972 and 1978. Though he stabbed his first victim to death, most died of asphyxiation or strangulation, after he sexually molested or raped them. He put the bodies in the crawl area behind his home, and when he ran out of space, he dumped them in the river. Gacy spent 14 years in prison before dying of lethal injection in 1994. He was also an artist, and the picture above is a self-portrait. Sorry it's about to forever haunt your dreams.
Amon Paul Carlock Jr.
While Gacy is infamous, you may not have even heard of Carlock. He was a well-respected police officer in Springfield, IL, for years. In his personal time, he dressed like Klutzo the Clown and entertained children through the Big Brothers/Big Sisters program. He even volunteered for missions abroad to put on shows for kids. It was returning from one of these trips that he ran into trouble. In 2007, he was stopped by Immigration and Customs Enforcement in San Francisco. They found over 60 images of child pornography on his phone and laptop and more when they searched his home later. Carlock died after 39 days bouncing between jail and the hospital. To this day, the circumstances of his death remain somewhat shady.
The Murder of Francisco Rafael Arellano Félix
The most recent clown murder happened just last year. On Oct. 18, 2013, Francisco Rafael Arellano Félix was in Los Cabos, Baja California Sur, Mexico, celebrating his 64th birthday. In the middle of his party, someone dressed in a clown outfit walked up and shot Félix in the head and chest, killing him. The clown then fled the scene in an SUV. Félix was a drug lord in Mexico and could have had any number of enemies, which makes it really hard to identify a suspect for his murder. Many people are suspected, but no one has been convicted. A video of the murder was uploaded to YouTube, and you don't see the actual murder, but you can see the clown walking to his victim at 29 seconds in.
The West Palm Beach Killer Clown
On the morning of May 26, 1990, Marlene Warren opened her door and a clown with flowers and silver balloons was standing there. The clown promptly shot her once in the face then turned and drove away in a white Chrysler LeBaron. The victim's husband, Michael Warren, and his suspected mistress, Sheila Keen, were the chief suspects, but there wasn't enough evidence and they were never convicted. The case has never been solved.
Phantom Clowns
In the '80s and early '90s, there was a flood of reports about clowns in vans, usually white, attempting to lure children in with candy. Most of the occurrences happened around Chicago and Boston, but no clowns were ever caught or identified. Though some regard the phantom clowns as an urban legend, both children and adults have claimed to see them.