Scott Hoying Interview About Pentatonix November 2016
Pentatonix's Scott Hoying on Reuniting With Kelly Clarkson: "We Picked Up Right Where We Left Off"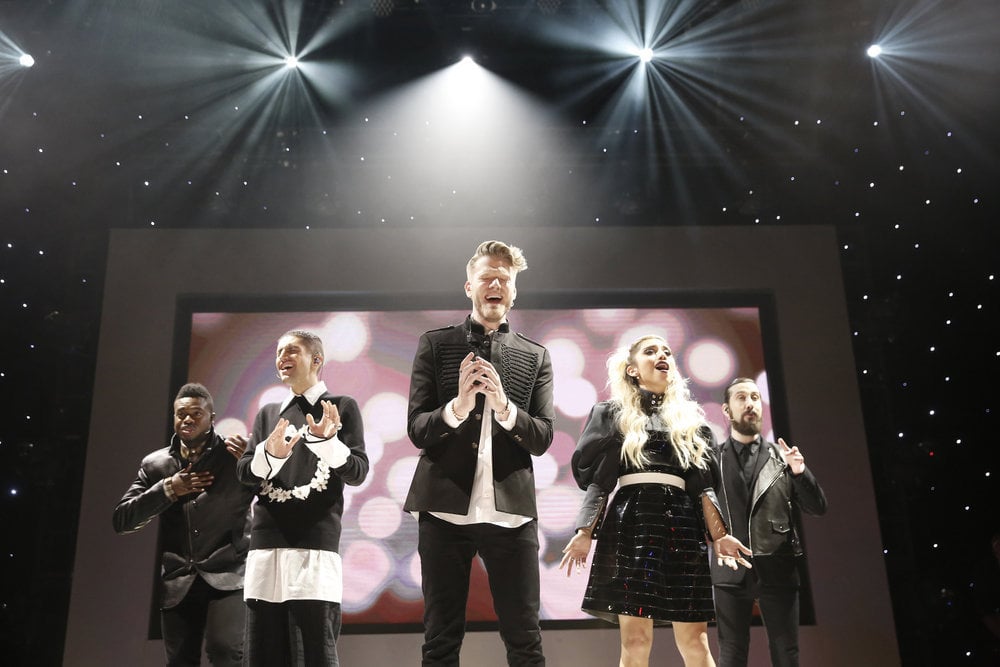 Pentatonix has certainly been at their top of their game this year. Aside from taking home another Grammy, they have been nonstop busy performing across the globe. While they recently wrapped their tour, they still have plenty of projects in store, including their upcoming NBC Christmas special, which airs on Dec. 14. As part of their partnership with Ricola, POPSUGAR recently had a chance to sit down with Pentatonix's Scott Hoying, and he got in the holiday spirit by talking about his favorite Christmas song, why Kelly Clarkson is a true saint, and how he's been blessed this year.
POPSUGAR: What has been the most memorable moment from this tour?
Scott Hoying: That's really, really hard to say. We've been to 25 countries this year and done 81 shows, so there's been a lot of very memorable moments. One memory that really sticks out, because it was so much fun, was when we went to New Zealand for the first time this year. All of us on the crew and in the band took this little road trip to the middle of nowhere and went to Hobbiton, where they filmed The Lord of the Rings movies, and I just remember everyone was in such a good mood and we were having so much fun, but honestly, that's just one of dozens of incredible moments that have happened this year.
PS: I also love your new Christmas album, A Pentatonix Christmas. Which song did you have the most fun recreating?
SH: I think that "Hallelujah" was a very special song to us. That particular arrangement and recording process was such a journey because there were so many changes we kept making to it, but I'm really happy with how the final product came out. To see that song particularly doing really, really well is really fulfilling and exciting.
PS: What is your favorite Christmas song to perform?
SH: We recently sang "Oh Come All Ye Faithful" for our Christmas special, which was really fun. "Merry Christmas, Happy Holidays" was also a really fun one to perform. Anything upbeat and Christmas-y that puts me in the Christmas spirit is definitely my favorite.
PS: I'm also really excited for your NBC special! Have you already taped it?
SH: Yes, we've taped most of it. We are really, really excited about it, too. It went so well and the fans were amazing. We just taped some more stuff yesterday and I think people are really going to enjoy it.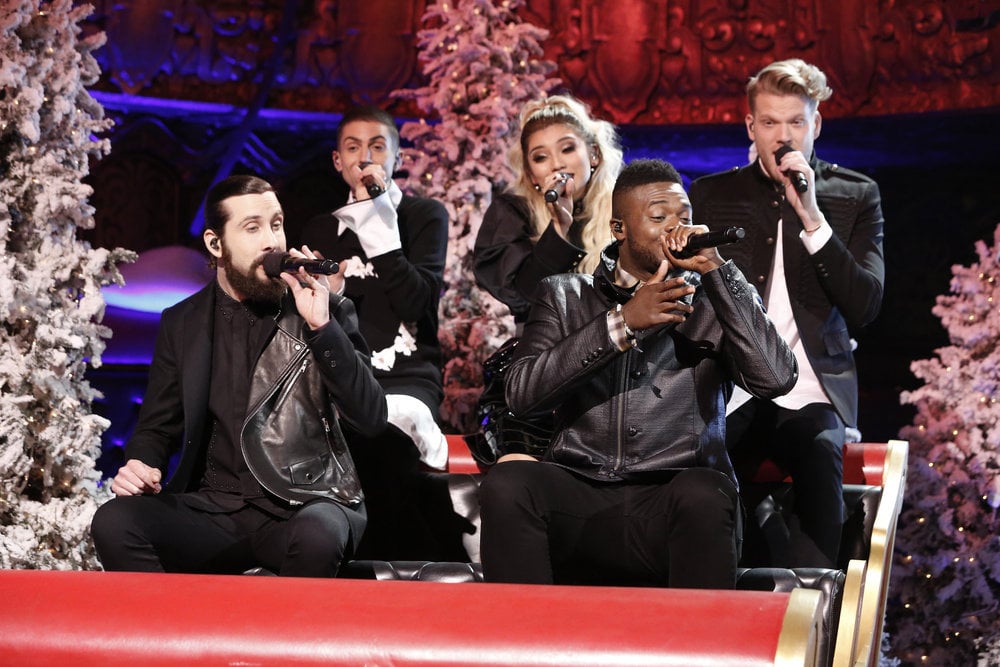 PS: What was it like reuniting with Kelly Clarkson?
SH: It was so great! We picked up right where we left off. She is the most humble, sweet, genuine, hard-working artist in the business. When we went to her house, she was so welcoming and she just brought us in. She just had so much energy and was so fun. She loves to talk and catch up. She's just so easy to be around.
PS: Does the band have any special holiday traditions?
SH: You know, it's funny, we don't as a band because Christmastime is the only time we make sure that we don't have a gig. So, our Christmas tradition is to not be together. It's our time to relax and be with family and relax and recharge.
PS: Going off the holiday spirit, how would you say you've been blessed this year?
SH: The fact that we won a Grammy this year is still hard to totally process. That was such a blessing. Also, the fact that our entire Pentatonix camp is full of really kind, loving, hard-working people has been such a positive experience. Every single person, from security to hair and makeup, is really getting along and it's such a happy environment. That's really rare with an artist or a group, so we are really blessed to have that.
PS: What are you most looking forward to about the new year?
SH: As a band, we've really found how we click as a group and musically. All of our voices are getting stronger and better and we're all maturing. It's definitely been a huge growing year for us. So, I'm just excited for the next year, and the year after that, to see where we head, because I feel like we're going in a very positive direction.