Should Award Shows Stop Categorizing by Gender?
Hey, Maybe Gender-Neutral Awards Aren't Such a Stellar Idea After All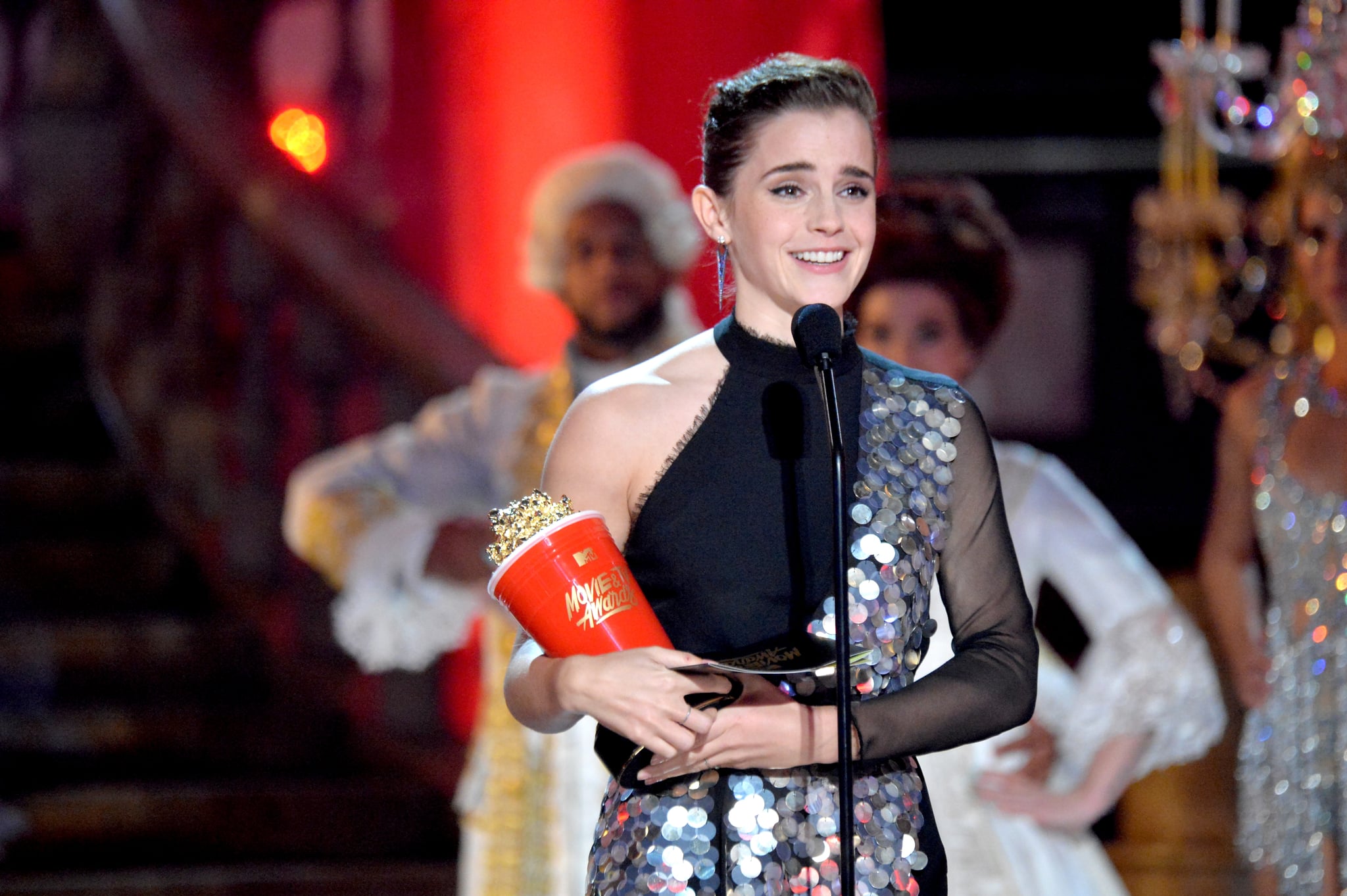 Image Source: Getty / Jeff Kravitz
At Sunday night's MTV Movie and TV Awards, Emma Watson made history. The actress earned the first ever genderless acting award for her portrayal of Belle in Disney's live-action Beauty and the Beast. As Watson noted in her acceptance speech, it's a pretty remarkable thing to be rewarded for your talent in such a magnificent way. Watson also gave credit to nonbinary actor Asia Kate Dillon, who recently prompted a discussion about genderless award categories. Now, I don't want to diminish MTV's decision to eliminate gender from their award show. I don't want to rag on Emma Watson for celebrating that, either. I also don't want to silence the experience of Dillon, who felt conflicted about whether to submit themselves for a male or female acting category for an Emmy nomination. And yet, in spite of all these hesitations, I want to explain why I think nongendered awards are a great idea that could very easily backfire.
Off screen, there are five working men to every one working woman in Hollywood.
There are two reasons a system like this just might not work in the Hollywood landscape. The first is the obvious gender disparity that exists in the industry today, which proves that women are still being marginalized at nearly every level. According to a stellar infographic of compiled data from the New York Film Academy, we have a long way to go before we achieve any sense of equality in the industry, award shows included. When it comes to onscreen portrayals of women, only 30 percent of speaking characters are female. Only 10 percent of movies feature a balanced cast of both genders; the average ratio of men to women exceeds two to one. What about paychecks? When you add up all the money made by the top 10 actors and actresses on Forbes's annual "highest paid" list, the men made $465 million to women's $181 million.
And behind the scenes? What about all the directors, writers, executive producers, editors, and cinematographers? Off screen, there are five working men to every one working woman in Hollywood. When it comes to directors in this particular data, only nine percent were women. The trend continues: 15 percent were writers, 17 percent were executive producers, 20 percent were editors, and two percent were cinematographers. In every case, on every level, the show is run by men. And now we arrive at award shows.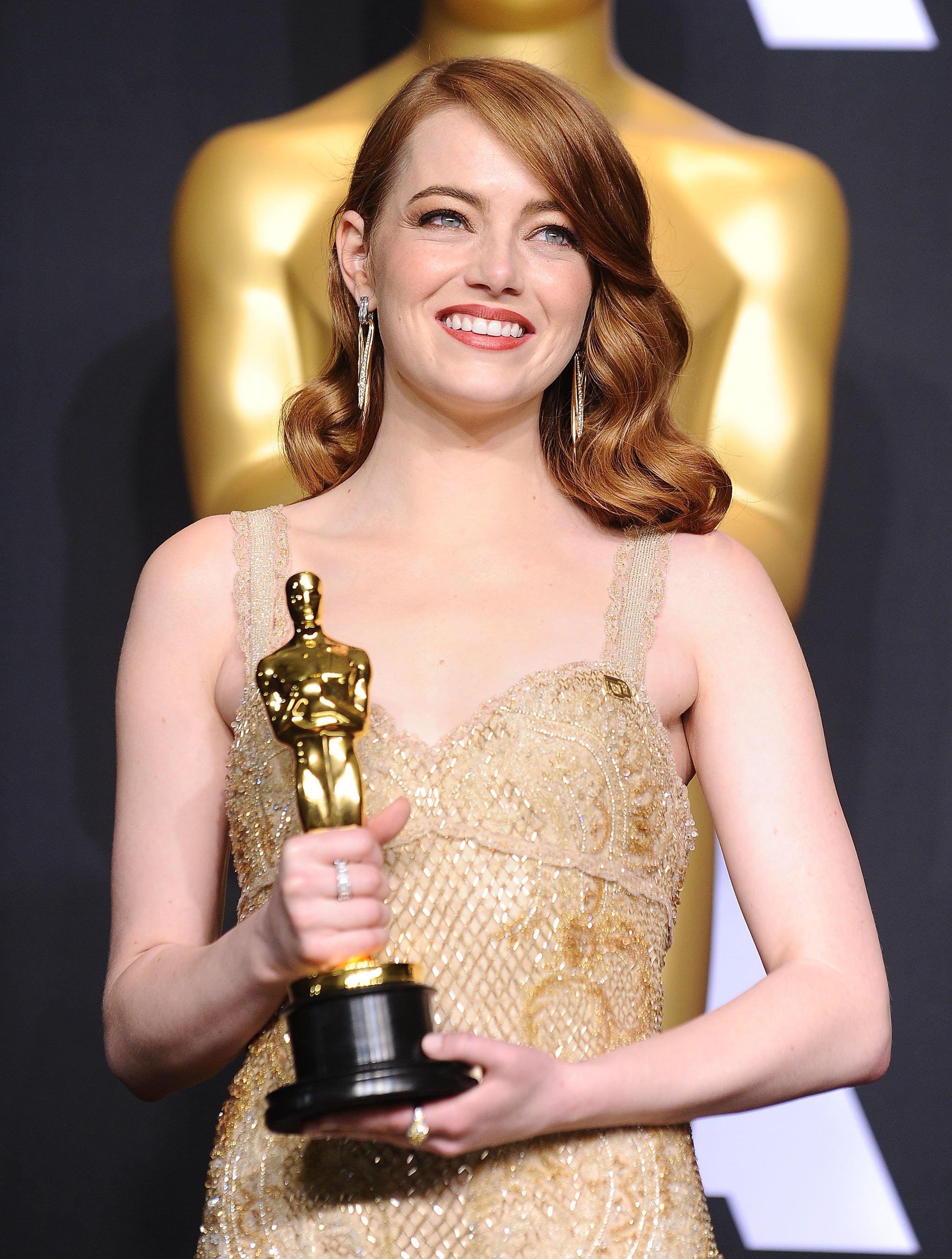 Image Source: Getty / Jason LaVeris
Let's look at some statistics from the 2017 Oscars, courtesy of the Women's Media Center. In all the nonacting categories, only 20 percent of the nominees were women. Not a single woman was nominated for cinematography, directing, or original screenplay, and only one woman was nominated in the categories for film editing and adapted screenplay. Only four female directors have ever been nominated for an Oscar. Only one of these women won: Kathryn Bigelow earned a directing Oscar in 2010 for The Hurt Locker, meaning it took more than 80 years for a woman to win the award. And what about the voters? For the past decade, the percentage of male voters has hovered around 75 percent. We must also note that these statistics apply only to cisgender men and women. When you factor in transgender individuals and gender identity, it's only more bleak.
In 2015, GLAAD released its own data concerning LGBTQ representation in film. In more than 100 films in the previous year, only 28 had LGBTQ-identifying characters, and there wasn't a single transgender character. Even when we do see transgender stories in Hollywood, they're almost exclusively played by cisgender actors and actresses. Felicity Huffman played Bree in Transamerica, Jared Leto played Rayon in Dallas Buyers Club, Eddie Redmayne played Lili in The Danish Girl, and the list goes on. Eliminating gender may foster comfort when it comes to an individual's identity, but it further slims the odds of a transgender person earning a nomination and a win.
If we eliminated gender in a major award show like the Oscars, we'd be losing two major categories and 10 potential slots for nominees. Considering the above data, with just five slots each for acting in a leading and supporting role respectively, how often would a woman or nonbinary person be able to take home the Oscar? How often would a woman or nonbinary person have the honor of getting a nomination?
Having a genderless award is a great idea, but how would we moderate it? Would we still have to ensure that a certain number of women and a certain number of men got slots? And if so, does that even solve the issue Asia Kate Dillon faced in the first place? Is that eliminating gender, or just presenting it in a different way? The industry must first catch up to the modern era, in every single way. Hollywood needs to take great strides to level the playing field for creatives of all genders and gender identities. Stripping gender from an award show is the very last step. If we don't do everything to ensure equal footing up to that point, we're simply reinforcing inequality rather than combating it.
We must keep honoring women. We must prevent the patriarchy from winning at every junction.
I believe it's more progressive to keep gender when it comes to award shows. With so much inequality everywhere else, this is one surefire way to ensure that women are getting some of the recognition they deserve. And that's the bottom line: we must keep honoring women. We must prevent the patriarchy from winning at every junction. In a world where Casey Affleck can win an Oscar in spite of sexual assault allegations and Mel Gibson can still win a nomination after that racist rant in 2010, it's clear we still need to protect and spotlight women wherever we can — including in a best actress category.