The Vampire Diaries Recap "While You Were Sleeping"
The Good, the Bad, and the Bloody of This Week's Vampire Diaries
Elena is finally back on this week's episode of The Vampire Diaries, and so are her passionate feelings for Damon. Though their interaction is the best part of this week, this episode is also good because it introduces us to another new character — and the next potential drama. I love it and want to find out more about these mysterious foes, especially if it means we don't have to deal with the Travelers anymore. We do have to deal with the Travelers this week, though, and that's why we break it all down into the good, the bad, and the bloody, people. See where this week's biggest moments landed in the breakdown below!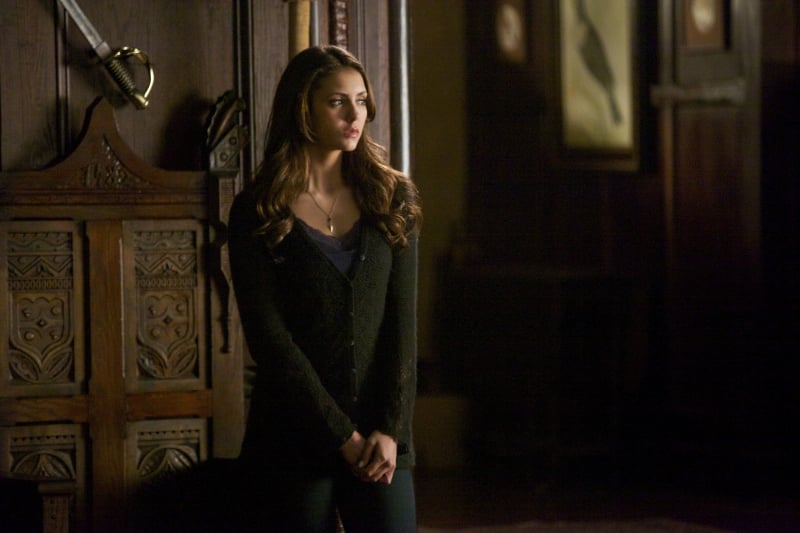 The Good
Elena is suffering from Katherine body-snatching PTSD, and she gradually gets more pissed that her friends couldn't tell someone else was inhabiting her body. I did enjoy when she finds her own diary full of Katherine's exploits as Elena. It'd be a cheesy move (and a dumb one too) if Katherine was just journaling, but I assume she did it in case Elena ever came out, just to torture her.
How cute is Elena and Damon's long catch-up phone call? It's fun, it's flirty, and there are almost no mentions of how Damon killed one of Elena's friends recently. Romance is alive! Unfortunately, they both have all that time to gab because they're both infected with the Ripper virus and in vampire jail. It turns out that Elena has a new special strain featuring werewolf venom as the secret ingredient. Right on cue, we find out what the antidote is, and there are Travelers involved.
I'll save my complaints about the Travelers for later, but I will say this about Caroline and Stefan's little trip to get the cure: I'm kind of loving Enzo. His flirtation with Caroline does not go unnoticed, and frankly, she could use some attention with Klaus out of the picture for now. Of course, the Travelers have a convoluted plan for procuring the cure, which involves linking Stefan with a doppelgänger and extracting his blood, and when things get too intense, a pained Caroline makes it stop. Such a good friend.
I was totally unmoved by Bonnie's new witch trainee Liv until this week, when we find out that her poor practice is all for show. She's actually an excellent witch, and she has a brother, Luke, who is gay and cool and also probably evil. What does he want with Elena? I love having a new villain who's this intriguing.
How good is that Damon-and-Elena scene in the end? She's suffering from paranoia and hallucinations due to her illness, and she's ultimately the maddest at Damon for not realizing she was Katherine. It's heartbreaking when she yells at him that she can't stop loving him and yet can't make it work. So why is this good? Duh, that hookup. There's so much passion there that this can't be the end.
Caroline has to go off and kill a Stefan doppelgänger for cure purposes, but who is the dopplegänger? Please let him be a whole new, fun Stefan before he's a goner.
The Bad
I feel like the show's writers built up Elena's friendship with Aaron to be more significant than it was, though it is a good scene when Damon has to admit that he actually killed Aaron, not Elena.
Ugh, the Travelers. Why are they still a thing? I can't with them, and certainly not with this new head Traveler, Sloan.
The Bloody
Liv takes a deep stabbing from Elena this week. Flying debris is not a good look.
What did you think of this week's episode?