Wet Hot American Summer Indoor Kids in Netflix Series
There's an Epic Wet Hot American Summer Cast Easter Egg
Wet Hot American Summer: First Day of Camp is the epic return of cult classic Wet Hot American Summer, with the 2001 movie coming to the small screen in Netflix's new series, which debuted Friday. While it's clear that this series will already please fans, just judging from having the original cast assembled, there's another detail about the cast that will make superfans happy.
At the Netflix day at this Summer's TCA press tour, showrunner and star Michael Showalter (Coop!) was talking about how the original cast all came together and how they wanted "every single cast member back." Even, he mentioned, the "indoor kids."
Remember the "indoor kids"?
In the movie, when David Hyde Pierce's professor character, Henry, wants to teach some of the kids of Camp Firewood about astrophysics, he goes to the cafeteria and asks where he can find such kids — calling them "the indoor kids." Several hands shoot up, and he takes several outcasts outside for their lesson. They're credited under character names like "Mork Guy," "Cure Girl," "Caped Guy," "Mallrat Girl," and of course, "Melvin." They care a great deal about astrophysics, Henry, and each other, and are one of the memorable cliques of the movie.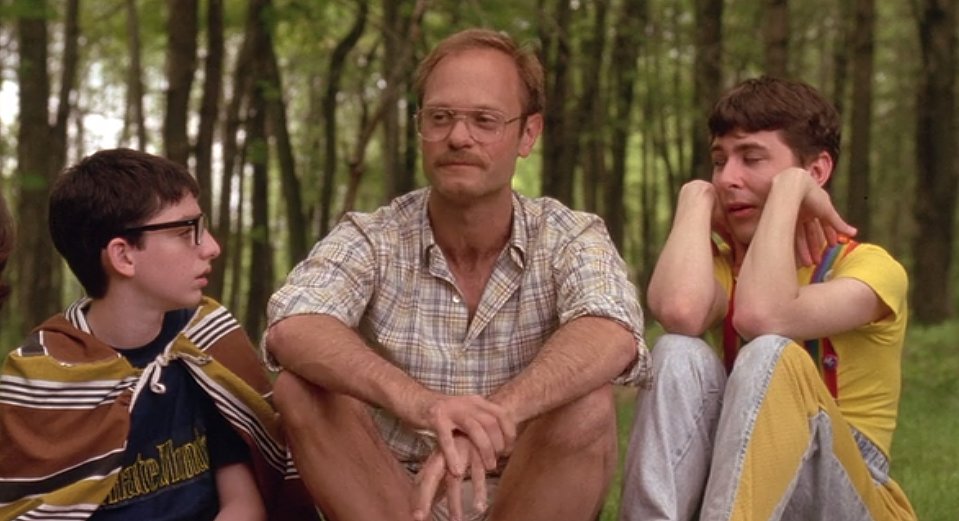 The fun part? They're all in the TV series, according to Showalter. In the spirit of having "every single person that we could" come back, Showalter says the group of actors who played the indoor kids all have roles. They're playing different characters this time around, because, as Showalter points out, it's been 14 years, and "they were kids when they made the movie, now they're adults." I think we can look for them to be a treat — Showalter added that the indoor kids "make a great appearance in the show."
Fun right? Group hug!