Who Are the Actresses Who Play the Twins in Us?
The Twins in Us Also Played Ross and Rachel's Daughter in Friends, and My Mind Is Blown
An alternate headline I really wanted to use for this article was "The One Where Emma Geller-Green Grows Up to Be Two Demonic, Murderous Lab Experiments From a Mysterious Underground Facility," but sadly that was far too long. So, instead, I'll just go ahead and get right to it: the twin actresses who play both disaffected teens and ridiculously creepy members of the "Tethered" in Jordan Peele's latest horror flick, Us, also happen to be the same twins who played Ross and Rachel's daughter Emma on Friends back in the day. Pretty wild, right?
Noelle and Cali Sheldon are now 16 years old, and although they've appeared in a number of short films since the beloved NBC sitcom ended in 2004, their upcoming role in Peele's film has brought them back into the spotlight. Without spoiling too much about Us, the Sheldon sisters play Lindsey and Becca, the eye-rolling, internet-obsessed twin teenage daughters of Elisabeth Moss's character Kitty. But because director Jordan Peele wanted to ensure that none of us would ever sleep again, he also has them playing evil doppelgängers who are prone to shrieking and doing gymnastics routines that are both impressive AND terrifying.
There's still no word on whether or not they're fans of Sir Mix-a-Lot like Emma was, though.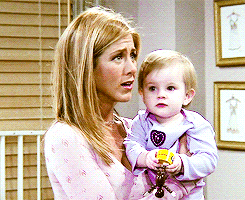 Image Source: NBC
Noelle and Cali announced their involvement in the film a few months back when they shared the trailer on their Instagram pages, detailing how excited they are to be a part of the film. They've since posted plenty of adorable photos with their costars in the film on social media and recently attended the glitzy Us premiere in New York City.
As for what's next for the girls? According to IMDb, Noelle locked down a role in an upcoming feature film titled Ham on Rye, which is due out in 2019, so you'll be able to see her on the big screen as a hopefully far less nightmarish character. But since they're just 16 and attending high school, there's still plenty of time for them to pop up in movies and TV shows in the future.
"Our girls go to a normal school, and they go on auditions once in a while," Noelle and Cali's mother Gretchen Carpenter told Bustle in 2015. "But we don't make it our top priority."
In the meantime, check out photos of Noelle and Cali all grown-up ahead!