Who Does DJ End Up With on Fuller House Season 2?
Fuller House: D.J.'s Love Life Gets Even More Complicated This Season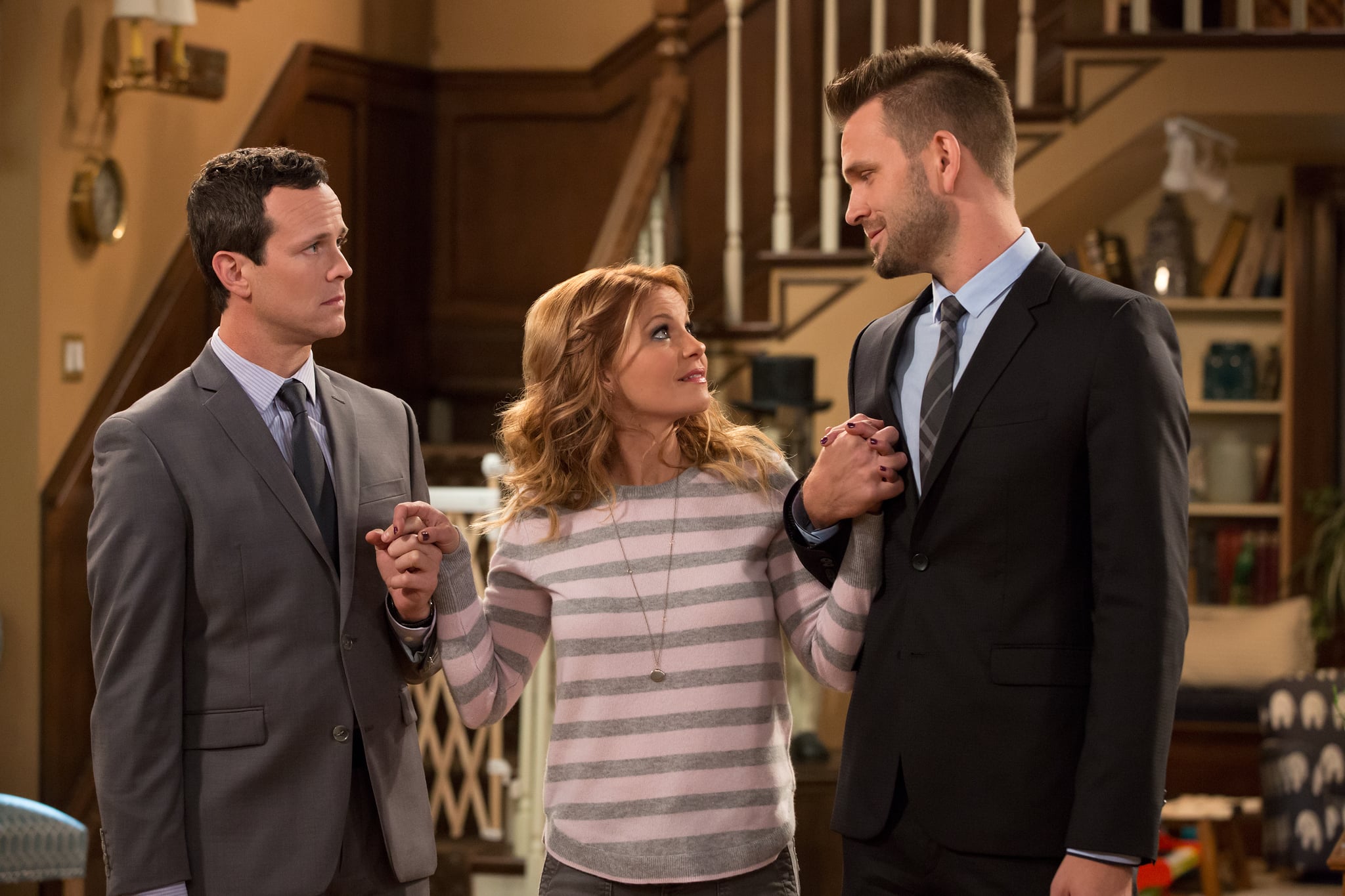 Fuller House season two was released this weekend, and for many fans, the return offered a lot of closure. Not only did we get to meet Joey's wacky family, but D.J. finally made a choice between Matt and Steve, well, sort of. While she ultimately picked herself last season, in the first episode of season two she finally makes a decision between the two men in her life. Unfortunately for her, things get even more complicated. Here's how it all goes down. Warning: spoilers ahead.
The Men Make Their Choice First
Before D.J. can reveal her choice, the men throw out some big news: they've both moved on with other women. While Matt has a young, athletic girlfriend named Crystal, Steve is dating a D.J. look-alike named C.J. Yes, really. Even though D.J. is heartbroken that she is all alone, she tries her best to shake it off.
D.J. and Matt Rekindle Their Romance
It becomes very clear throughout the season that Matt still has feelings for D.J., and the two eventually share a special moment when they almost kiss at their animal clinic. Shortly after, Matt calls things off with Crystal and professes his love to D.J. by kissing her in the middle of the Tanner living room. Even though Steve is shocked about D.J. and Matt's relationship at first, he eventually becomes okay with it since he is so happy with C.J.
D.J. Starts to Have Feelings For Steve Again
Things take an unexpected turn when D.J. attends her high school reunion with Kimmy. Since Matt is in India, she attends the event stag and winds up running into two of her ex-boyfriends, Viper and Nelson. When they try to hit on her, Steve comes in and saves the day, much like he did at her high school prom on Full House. As they dance along to their song and reminisce on the good ole days, it becomes quite clear that D.J. is still harboring old feelings for Steve.
Steve Has Some Big News
Just when you think the two will end up together after all, Steve throws D.J. a major curve ball: he wants to propose to C.J. As if that news wasn't heartbreaking enough, he enlists her help to write his proposal speech.
D.J. Reveals Who She Was Originally Going to Choose
Much to the dismay of D.J. and Steve shippers everywhere, he eventually goes through with his proposal at the New Year's Eve party — but that's not even the biggest shocker! The following day when everyone is gathering around in the backyard, D.J. tells the She Wolf pack that she was originally going to pick Steve since they share so much history together. However, now that she sees how happy he is with C.J., she is content with her relationship with Matt.
So, in some ways, D.J. actually chooses both men. Even though she's willing to try something new with Matt, she definitely still loves Steve — and maybe she always will. If the show returns for season three, this could definitely open up a whole new door of possibilities.