Zach Braff's Funniest Reddit AMA Quotes
If You Are a Scrubs Fan at All, You Will Love Zach Braff's Reddit AMA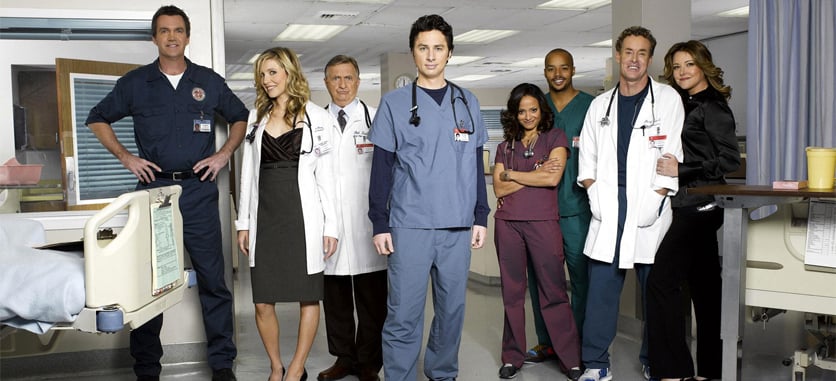 Zach Braff has been keeping busy promoting his latest film, Wish I Was Here, before it hits theaters this weekend. He has toured the country to do private screenings for the movie's Kickstarter funders, premiered the film alongside Kate Hudson in NYC, and this week, Zach participated in an Ask Me Anything for Reddit, which made for some pretty hilarious exchanges with his fans. Most of Zach's funniest quotes had to do with users' Scrubs-related questions — and especially when it came to his former castmate and BFF Donald Faison — so we thought we'd round them up here for your enjoyment. Scroll through to read them all now.
SolracAzrag: What was your favorite thing that Dr. Cox said to you on Scrubs?
"'Either this guy has a lightbulb in his ass or his colon has a really good idea.'"
JC5: What's happened to Rowdy? I sincerely hope either you or Donald has him in your house somewhere.
"I thought I was going to be able to keep Rowdy and then Disney (who owns the show) took him. They let me borrow him to put him in the background of a shot in Wish I Was Here. I picture him in a giant warehouse of Disney props like the warehouse at the end of Raiders of the Lost Ark."
PM-ME-UR-BUTT-GIRL: Does Donald Faison know you're doing this AMA? If so, how long do you expect it to take for him to show up?
"He doesn't know how to use Reddit. Too baked."
InQii: Hey Zach! Just a out of context question, what do you think about tattoos and do you ever want one?
"Yes. Want one. Still deciding between Donald's face on my balls or Donald's balls on my face."
thisguystaint What's your favorite alcoholic beverage?
"Sorry. Sit down. I hate appletinis. Usuallly drink Sierra Nevada Pale Ale or [Ketel] Soda."
petrichorE6 How would you have wanted Scrubs to end?
"Would have been funny if we recreated The Sopranos ending shot for shot, line for line, with our characters."
otofish: What's your favorite place to take Donald Faison out to dinner?
"My c*ck."
Krilky: What's the dumbest joke on Scrubs that made you laugh?
"The scrubs short shorts the janitor's wife made me with her limited fingers. Giggling now as I type this."
cgbrannigan: What is your most embarrassing on-set experience?
"Bill [Lawrence, the creator of Scrubs] secretly put a 'TV DOC' license plate on my car. I didn't notice it for a few days. Humiliating."
t0nyyy: Is Hooch still crazy?
"Hooch is out of his f*cking mind."
DownvoteBrigade80: Have you and Donald Faison ever had a romantic relationship? You can't fool us. . .
"It's not gay if it's just the tip."
mrbdog46 Do you and Donald have a favorite position?
"Eagle."
Pixel_Me_That: Hi Zach! Are you Superman?
"Wait for it. . . I'm no Superman."