Dwayne Johnson on Surprising Adele at the 2023 Grammys
Dwayne "The Rock" Johnson Reveals How the Grammys Made That Adele Moment Happen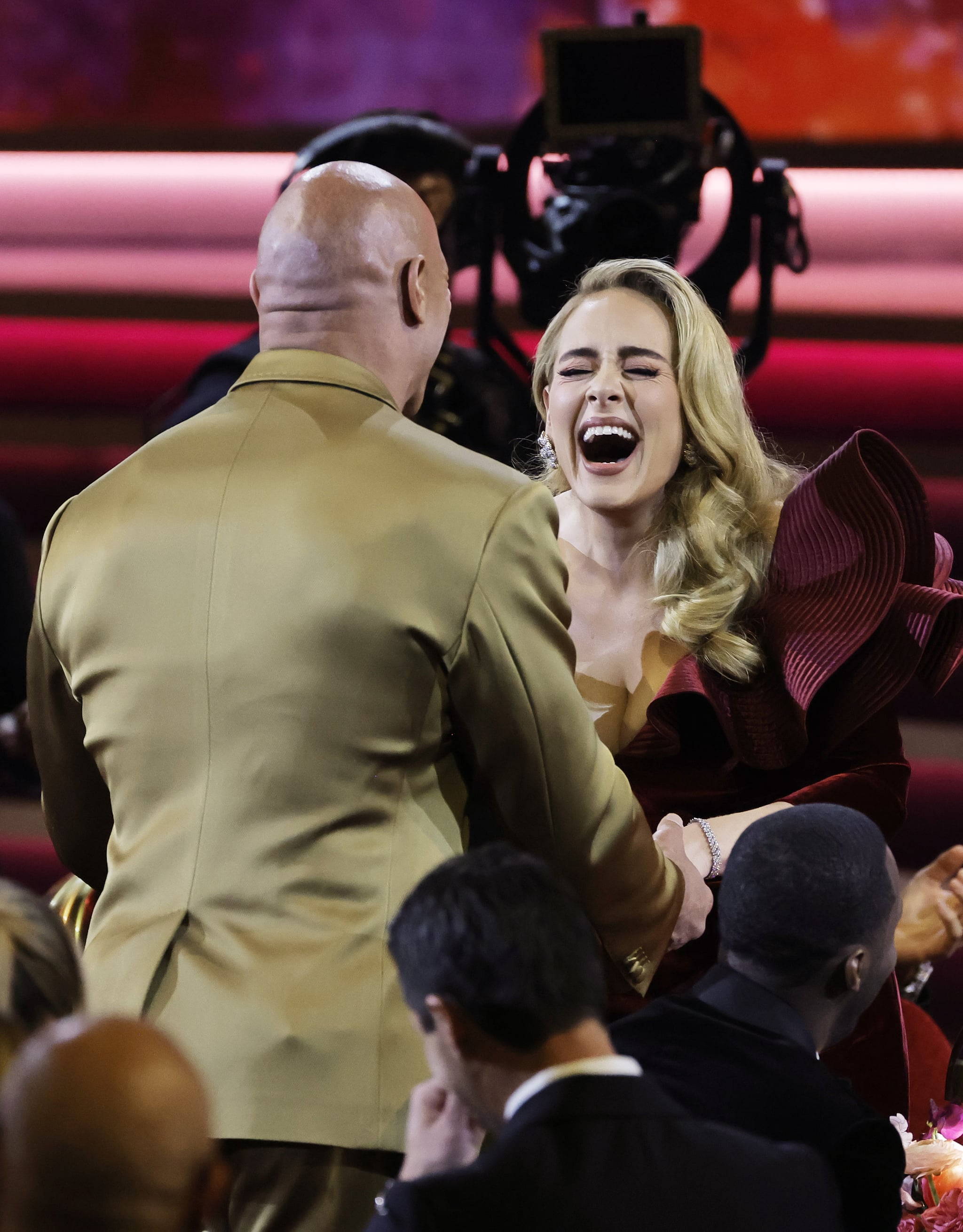 Image Source: Getty / Kevin Winter
Trevor Noah made dreams come true during his opening monologue at the Grammys on Feb. 5. Specifically, he made Adele's dream come true. Though the music superstar was nominated for seven awards at the ceremony, Noah found a way to make her night even better when he introduced her to Dwayne "The Rock" Johnson! Now Johnson is talking about how the whole thing came together and how the Grammys kept it a secret from Adele.
"We wanted to do something special for Adele," the former wrestler told Variety in an interview published on Feb. 7. "I know that she is a very big fan of mine and has made that clear publicly many times. But I've got to tell you, I am a huge fan of hers, as well — her music, her journey, her openness and directness in how she speaks. I've always admired that about her."
In case you missed it, during Noah's monologue on Sunday night, the comedian said, "The person that Adele has always wanted to meet but never has is Dwayne Johnson." He confirmed with her, "You've never met him?" and she shook her head no.
"I found out that he's a huge fan of yours, too," Noah said. "I don't have Dwayne Johnson here tonight, but I do have someone called The Rock." Johnson then came up behind Adele, who laughed and jumped up to give him a hug. The crowd cheered as they chatted. "You two get acquainted, we gotta keep the show moving," Noah said before moving on. Later in the night, Johnson presented Adele with the award for best solo performance for her song "Easy on Me."
Recently, Johnson was in production for his 2023 Christmas movie "Red One," but he and wife Lauren Hashian were able to squeeze the 2023 Grammys into their schedule. Turns out, Grammys producer Ben Winston pitched the actor on the idea of surprising Adele. Johnson explained to Variety, "The key to a surprise like that is to actually keep it a surprise. Myself and the Grammys went to great lengths to make sure that Adele was authentically surprised in the moment, and she was." He also expressed that he loved getting to talk to Adele and her boyfriend, Rich Paul, during the ceremony.
As for the moment later in the night when he gave Adele her Grammy, Johnson called it "the universe meeting our friendship halfway." He added, "It was such a special night. And she's such a special iconic brilliant inspiring artist who has inspired a generation and who will continue to inspire generations to come. I love that woman. We had a really great time tonight. I think probably the best part about it is she's just cool — and I had never met her before."
Back in 2021, Adele talked about her love for Johnson and her desire to meet him in a video with NikkieTutorials. "Someone I've never met that I think I would actually cry is The Rock, but I know he goes by Dwayne Johnson now," she explained at the time. "I was the biggest wrestling fan when I was younger." She added that he had been scheduled to attend one of her concerts, but couldn't make it last minute and sent her flowers instead.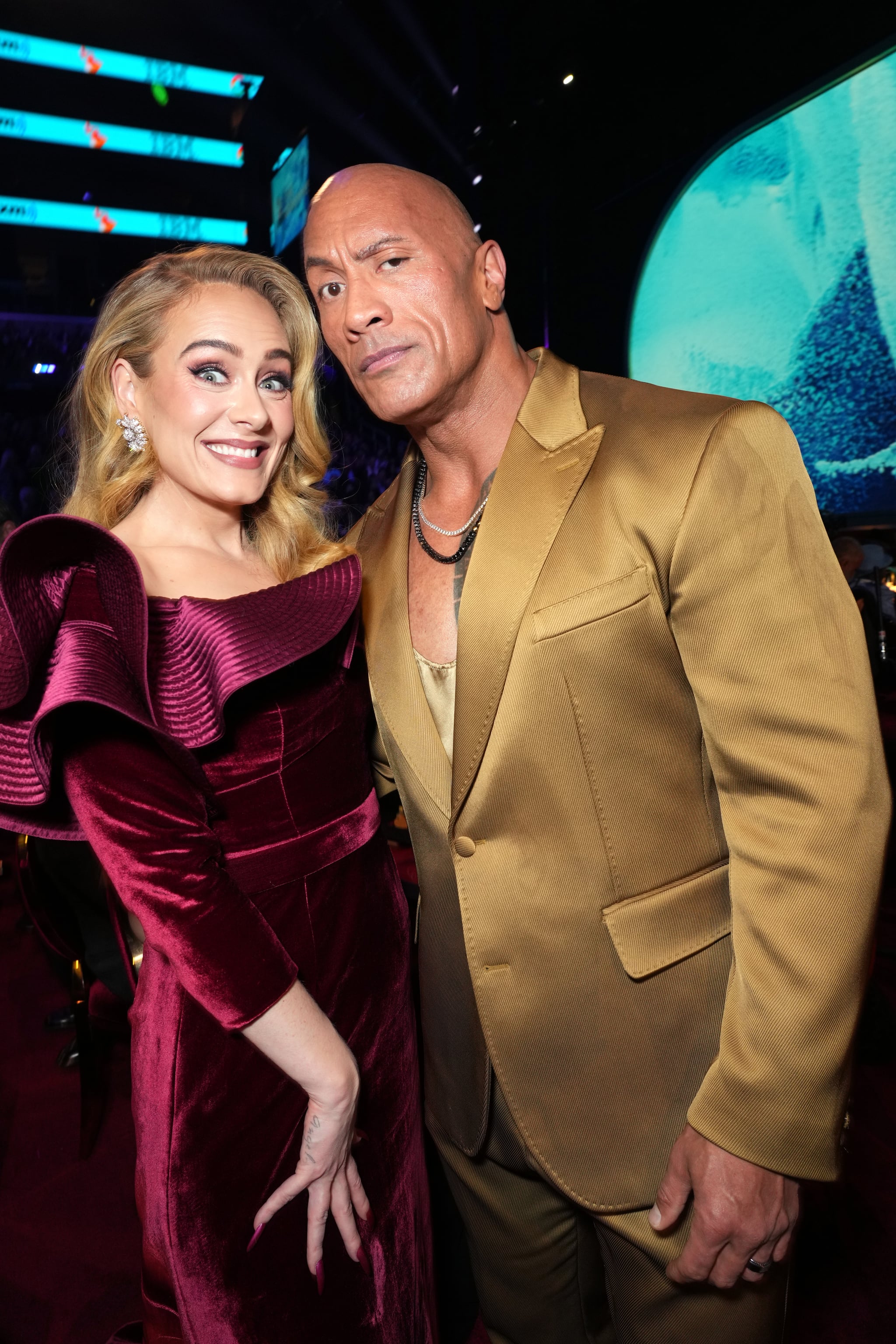 Image Source: Getty / Kevin Winter
"Literally I fell off my chair," she said of the moment she received them. "He's amazing. He's just incredible. I just want him to be my mate. I want him to be my friend." Suffice it to say she'll never forget the moment when they met.
Noah's monologue came after Bad Bunny's opening performance. "That album is so fire it makes Trump want to learn Spanish," Noah joked, referencing former President Donald Trump. He also quipped of his role as host, "My job is to be your eyes, your ears. . . . Think of me as a Chinese spy balloon."
Noah also spoke about Beyoncé's hit album "Renaissance" and single "Break Me Soul." "I was so inspired by the lyrics of 'Break my Soul' that I actually quit my job," he joked, referencing his recent departure from Comedy Central's "The Daily Show."
Noah hosted the Grammys for the very first time back in 2021, when the event was held at the Los Angeles Convention Center. It was a smaller, more performance-based ceremony thanks to the continued COVID-19 pandemic. For 2022, the ceremony moved to Las Vegas, and Noah served as host once again. This year, he led the ceremony at Los Angeles's Crypto.com Arena.