Alex Borstein Turns Emmys Loss Into Hilarious Moment
Alex Borstein's Reaction to Her Emmys Loss Is the Only GIF I Need From Now On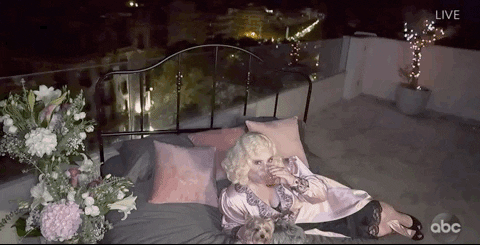 Image Source: ABC via Giphy
Alex Borstein may not have won an Emmy this year, but you better believe she still managed to bless us with one of the evening's most meme-worthy moments, as per usual. The Marvelous Mrs. Maisel actress was nominated for outstanding supporting actress in a comedy series, but Schitt's Creek star Annie Murphy wound up nabbing the award. Shortly after Murphy finished delivering her acceptance speech, the live stream cut to footage of Borstein reacting to her loss with a level of style and grace we simply couldn't make up. Her appearance only lasted all of six seconds, but that's all it took for her to make me spit out my water with laughter.
While other actors tuned into the virtual ceremony from inside their homes, Borstein was perched on a bed that was situated on a rooftop — y'know, so she could soak in the last remaining tidbits of summer, obviously. Donning a pink silk robe, lacy slip dress, and short blond wig, the star looked wholly unbothered while laying alongside a tiny pup, taking a sip of her cocktail, and cheersing to the camera. What's more is that her setup was totally color-coordinated — the velvet pillows strewn across the bed matched her robe, as did the sizable bedside floral arrangement to her right. It was truly A Whole A** Vibe™, if I do say so myself.
This isn't the first time Borstein has epitomized a multitude of my moods in one fell swoop. Anyone remember her dramatic shawl removal at the 2018 Emmys or her iconic post-win flask-chugging shenanigans during the award show last year? Her rooftop cheers just further proves she's a national treasure we must protect at all costs. Watch the glorious moment unfold toward the end of the video below.