Alex Newell Hopes Zoey's Extraordinary Playlist Role Shows Fans That "It's OK to Be Yourself"
We first fell in love with Zoey's Extraordinary Playlist for its flashy performances and complex relationships, but now the show is adding another layer with its compelling storylines. While at its heart, the show is a musical, it's also rooted in a lot of sadness and loss. Following the death of Zoey's father in the season one finale, the series hasn't shied away from tackling topics that hit close to home for many fans. For one of the show's stars, Alex Newell, who plays Mo, that's precisely one of the reasons Zoey's Extraordinary Playlist is unlike any other musical show out there. "There is so much heart in loss," Newell told POPSUGAR. "I think that's the biggest part for me. We use loss, something that everybody can connect to and everybody can understand through music, and what that's like of having a song really connect people through that loss."
In addition to exploring grief, the show also addresses racism in the workplace in the midseason finale, "Zoey's Extraordinary Reckoning." For Newell, it was a really important story to tell. "It's one of those things I always say that you have to tell a story that's uncomfortable in any facet, because it's something that someone's going through and that is something that someone's going to resonate with," Newell noted. "It's something that is true to who we are and what we're made of. Especially now that race is such a hot topic right now. Filming that, it was just like, 'Finally!' And how we did it, in particular, was not shying away from really telling it how it was."
Newell added the episode was a real collaborative process with the writers and stars to ensure the story was authentic. "If you're not Black and you don't have to go through this, you do need to listen and hear," Newell said. "I'm so happy that Zora [Bikangaga], who is Black, he is a Black male, was able to go with the tone of what the show is and his own experience with it all."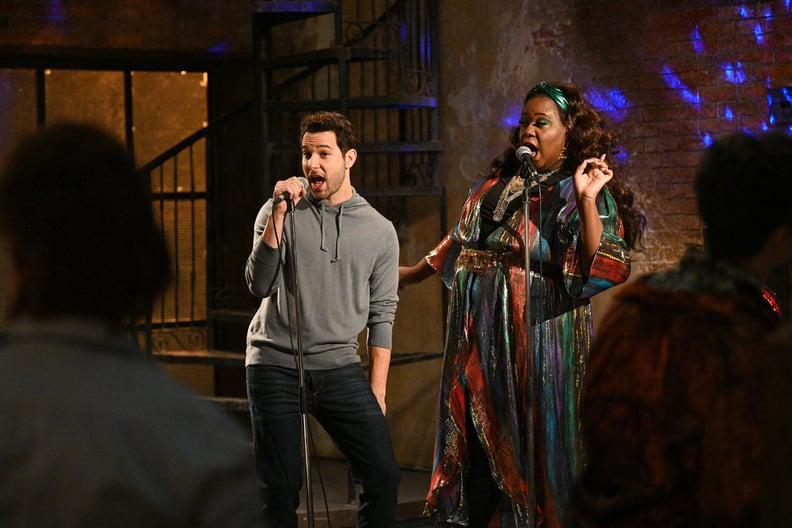 Another aspect of the show that Newell really resonates with is playing Mo. "It's a version of myself, and that's my favorite part about the role in general," Newell said. "It's something that I've always wanted to see on television. I've never seen myself on television. I know there were a lot of people that are like me that don't get to see themselves represented on television."
"You don't have to conform to anything other than who you are."
In playing Mo on screen, Newell hopes the character can inspire others to be their authentic selves as well. "It's OK to be yourself. It's your expression. How you want to live your life is unique to who you are, and people will come to you because they adore you and they want to be around you," Newell said. "You don't have to conform to anything other than who you are and be honest to yourself."
While Mo has plenty in store this season, including a potential new love interest, Newell is already looking ahead. If the show does get renewed for a third season, Newell hopes we'll learn more about Mo's family. "I would really love to see more of where this love interest is going in that relationship, but also some family things. We talk about Mo's family in such a way and how the family kind of was the make and mold of who Mo is. So I want to see that. I want to see like a sister or brother or a mother or a father that shows us where this person really came from." Plus, Newell wouldn't mind performing a Beyoncé song or two. "Right now, I've just been saying anything Beyoncé, because I'm obsessed with Beyoncé."