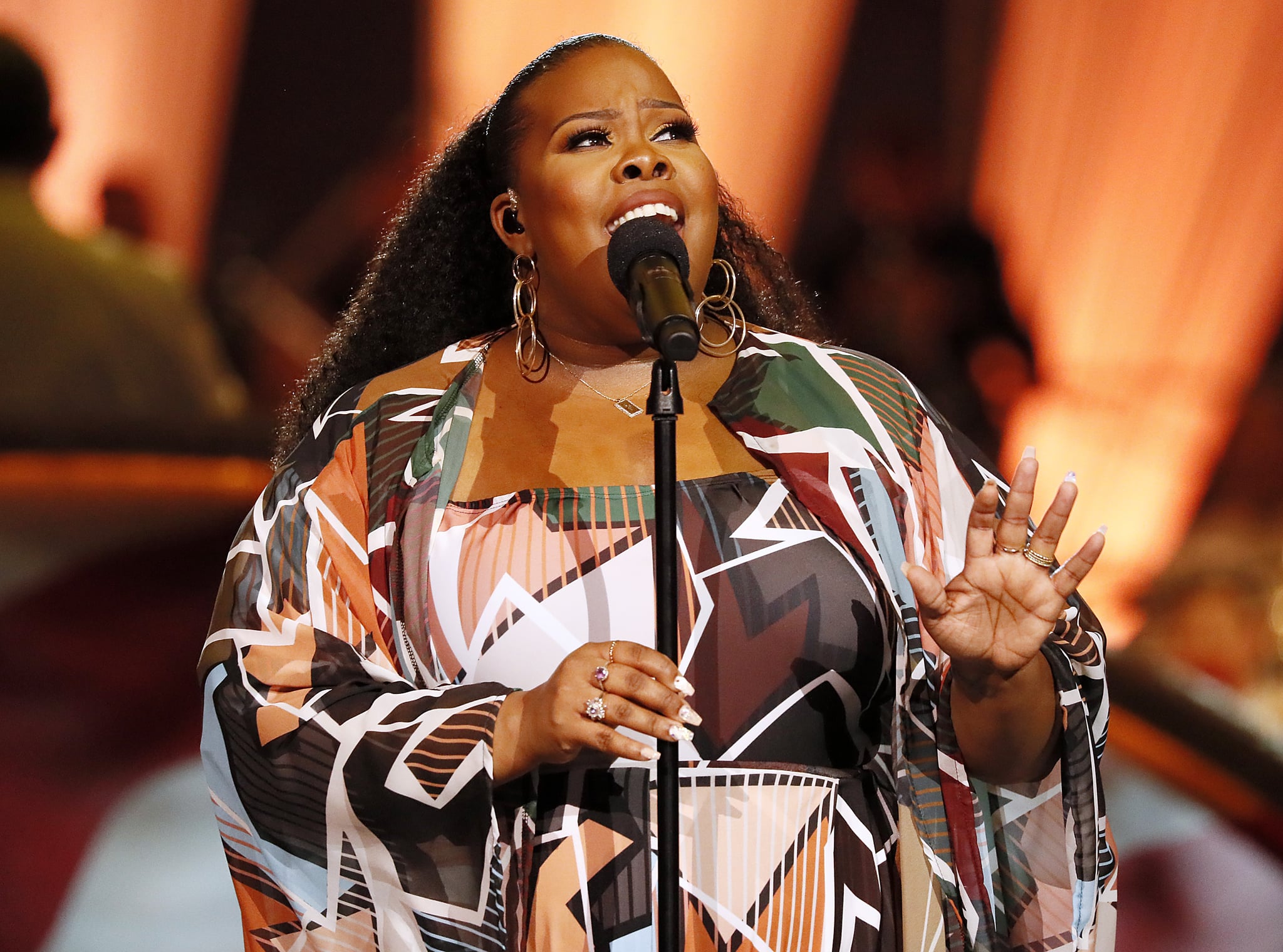 Image Source: Getty Images / Paul Morigi
Amber Riley Talks EP, Glee, and Her Journey to Finding Peace
From Glee Club to "Big Girl Energy": How Riley Finally Found Her Voice
There is something about Amber Riley that exudes an undeniable strength, even through the screen of a video call. She's humble about her many achievements and doesn't skip a beat to express gratitude to the people she's worked with along the way — her peers in music, theater, TV, and film. "Every single thing that I've done in my career has been a milestone and an amazing memory," she said to me over Zoom. "They are things that I never thought I would do or could accomplish. So, I really am grateful, and I feel extremely blessed and very, very, very lucky."
Of course, it isn't just luck that got Riley where she is today. Many fans know Riley from her role as Mercedes Jones on Glee, where her vocals regularly left viewers shook. During her run on the show, she became the winner of Dancing with the Stars' 17th season — one of the best contestants ever, in my opinion — and, when Glee aired its finale episode in 2015, she went on to star in various projects including The Wiz Live!, Nobody's Fool, and The Little Mermaid Live! So, she's been working to keep herself booked and busy!
When Riley and I sat down to talk, it'd been almost five years after her reign as Mercedes ended, and the world was near the end of a year that called for Black artists to also serve as Black activists. Riley had just dropped a self-titled EP, found the power in her voice, and showed her fans that the best is yet to come. Keep reading for insight into Riley's journey, her musical process, and how she finds peace during hard times.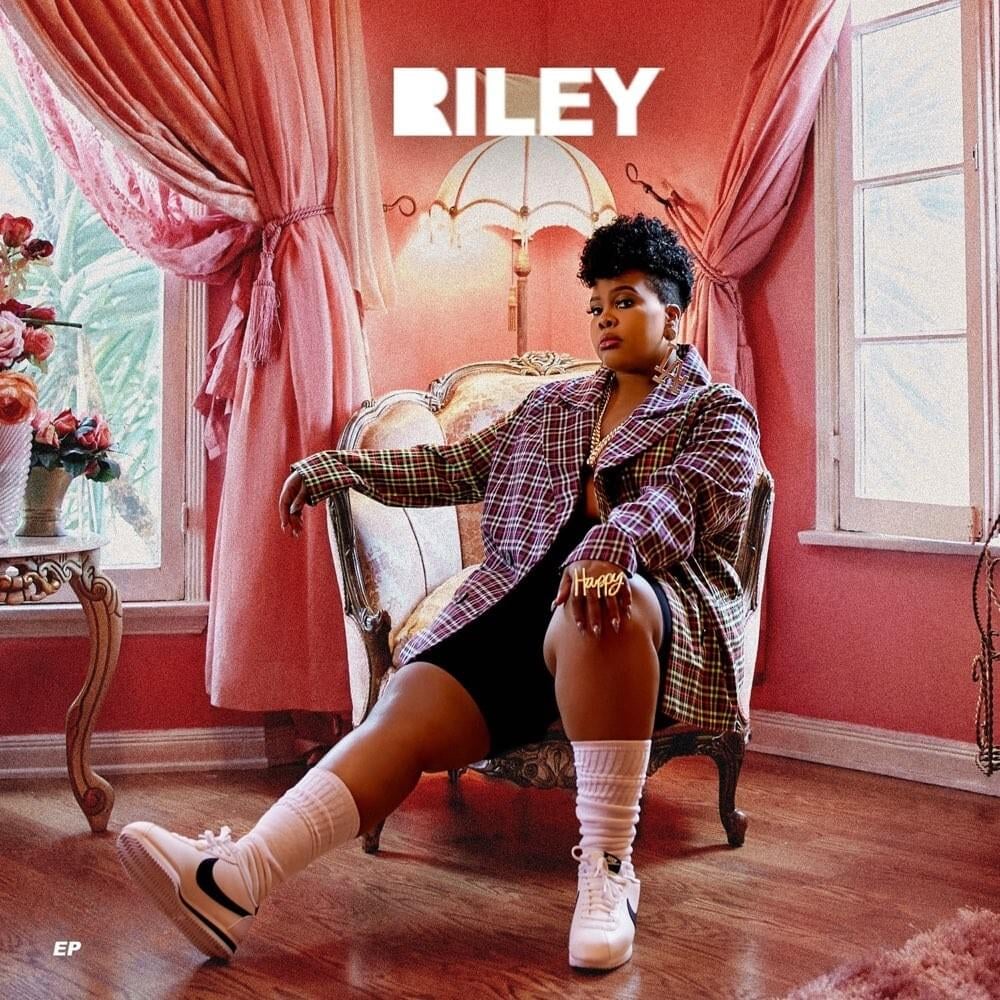 Image Source: Apple Music
POPSUGAR: Okay, I'll jump right in: how does it feel to finally put your music out in the world, under your terms?
Riley: It feels absolutely amazing. I've been waiting such a long time to put out music, and I know the people that have been so supportive of my career have been too. So, I'm happy it's finally happening.
PS: How long has this been in the making?
R: This EP took about a month to finish, but I started a year ago, took a break, and got back into it. When I got back into it, it was smooth sailing. Every time I went into the studio, we got a song done. So, it took about a month to get done, but it's definitely been about 10 years in the making.
PS: Wow! What makes Riley different from any music you've done before?
R: I don't know if Riley's different from other music I've done before, because Riley is me. I think it's just another side of me that I wanted people to meet, musically. I don't think anyone has ever really seen me in my R&B bag, my soulful, sexy bag.
PS: And we love it! We're all saying, "Hallelu!" [laughs] You said it's been 10 years in the making, but when you got in the studio a month ago, it was, "Wham, bam, thank you ma'am." When did you know what the vibe of the EP was going to be?
R: It was just a natural thing. Although I was very deliberate with what I wanted every time I got in the studio, I also had to think like producers and writers because that's what they're there for. They're there to interpret your feeling and create the sound for the lyrics that you write. I also worked with some amazing writers, like Kes Kross and Bianca Blush. And Sons of Sonix were the producers for this particular EP. So, it was a collective effort in creating a sound that complemented the lyrics.
PS: Talk me through the journey of the EP. What was it like?
R: I've known the producers since they were basically kids. They're becoming super producers now! They have a hit song with Justin Bieber, and they worked with anybody you can think of, like J-Lo and Stormzy. They're Nigerian and from the UK, and since they were kids, they've said, "We going to work with you one day." They loved Glee — and I'm also a good friend of super-producer Harmony Samuels, who's their brother, so working with them was kind of a family affair. And then, as the project went on, we started thinking about features. And my manager, who also happens to be BJ the Chicago Kid's manager, was like, "What about you and BJ doing a song?" I didn't even think to ask because I've been such a huge fan of BJ's, even before he did the song with ScHoolboy Q in the studio.
I used to be a groupie, going to hear him sing at open mics before he hit as a solo recording artist before he was even signed. So, him blessing that track . . . [laughs] I initially wrote it as solely me talking about what it was like growing up in the hood, and after listening to it, I was just like, "It needs something special." And it was perfect for BJ! I sent him the record, and he said, "Oh, I love it." We weren't even on a friendly tip or a favor. I could tell he loved it because when he got in the studio, he wrote his verse, ad-libs — all of it — and came up with his melody in 10 minutes.
PS: That's amazing! And I love that you've known the producers for so long. It's giving me, "We come up together, we grow together." It has a vibe of such comfortability.
R: Yeah, they really understood me. That has been the hardest part of trying to get music out, finding producers and a manager, basically a whole team that gets you and doesn't want to put you in a box.
PS: I know asking this question is like asking a parent who's their favorite baby? But do you have a favorite track on the album?
R: Oh, it changes all the time. For a long time, it was "A Moment." And now, I feel like my favorite track is "Temporary." But it changes all the time, I really can't just pick one.
PS: I hope my mother would say the same about my siblings and I. [laughs] What would you say you've learned about yourself while working on Riley?
R: I think I've learned that I am a pretty good writer, honestly. I always felt built to write; I write short stories, I like to write scripts, and I love to write poetry. Writing has even been a part of my mental health process, with journaling. So, I've always loved to write. And I think I've always been great, lyrically, but I never had the kind of confidence to go in and write on my own. I finally did that on this EP, and I wrote "Ride" on my own. I shocked myself because I didn't want to write that song on my own! The writers that were supposed to come in with me that day had to cancel.
PS: Oh my god, what?!
R: Well, they canceled for a great reason. Beyoncé was in town, and she needed them. So, who am I to argue about Beyoncé needing anything? But it ended up being a blessing in disguise!
"Riley is me. I think it's just another side of me that I wanted people to meet, musically. I don't think anyone has ever really seen me in my R&B bag, my soulful, sexy bag."
PS: Would you say that was the scariest part of the entire process, writing your own stuff?
R: Honestly, all of it was cathartic for me. Writing "A Moment" was probably the hardest session I had because that song is so soul-bearing, but everything kind of flowed. Even in that session, everything felt amazing when I left the studio.
PS: And speaking of a moment, that was the first song you performed live. How did that feel? Getting ready for it, actually performing it, and afterward.
R: It was a catch-22 given the circumstances around why I was singing it on Jimmy Kimmel Live, but it didn't feel like I was releasing a song because of that. It felt like I was tributing a friend. But then I got to release the whole EP live on The Terrell Show. I don't know if a lot of people know, but that's in my garage. And that felt amazing! That was a moment that I've always been waiting for.
PS: That episode of The Terrell Show is one of my favorites. I love you two together!
R: He's my favorite. He's such an awesome human being in general. He's just so great.
PS: He is! Even though you stay cheating at Song Association. It's fine.
R: I did not cheat! He's cheating.
PS: I mean, sure. I'm just saying. Now that you've released Riley, what do you feel about possibly putting out a full album?
R: I definitely want to. I recently recorded another song that I wrote a couple of years ago that I didn't know if I wanted to keep or give away because some other artists wanted it. But now I'm looking forward to releasing more music and, hopefully, we make it past this pandemic — knock on wood — and I can finally tour. That's what I'm looking forward to the most, touring, meeting people, and having that moment where people are singing my lyrics back to me. I haven't had that moment completely yet.
PS: You know, I feel like some people don't realize just how much you've done over the years. Not to sound like a stalker, but you've been doing truly amazing things since you made your debut. How would you describe your journey getting to this point?
R: Oh man, I would describe it as a blessing. A lot of people don't get to do the things that I have done. I may not have done an abundance of things in my career yet, but every single thing that I have done has been such a milestone and an amazing memory. So, it's just a blessing. My mind is blown every time I get to do something like The Wiz Live!, or when I got to sing at the White House in front of our first Black president, or do Dream Girls on the West End and win an Olivier, and be the first Effie that they've seen on that stage. These are milestones and memories that I'll have for the rest of my life. Even winning Dancing With the Stars, these are things that I never thought I would do or could accomplish. So, I really am grateful, and I feel extremely blessed and very, very, very lucky.
PS: I wouldn't sell yourself short. You have definitely done an abundance of things!
R: [laughs] Thank you.
PS: What made you start going by Riley?
R: I wanted people to get it out of their heads that they completely know who I am. But Riley is me, it's not like I'm putting on some kind of character. I think people have gotten used to seeing me as an actor and the girl that belted the high notes on Glee. I wanted to separate — well, not necessarily separate, I think that's the wrong word. I wanted to clearly identify who I am, as an artist. And I felt that a name change was the perfect way to do that.
PS: I get that. You once said that people choose to be a celebrity or a role model, which would say you are at this point in your career?
R: I mean, I never asked to be a role model, but I take that responsibility very seriously. I honestly think being a role model is about being a good person. Just always being considerate of your platform and the message that you're putting out. I don't necessarily think it's about being perfect because no one is perfect. But there are a lot of Black girls and Black women looking up and depending on me. That's not something that I take lightly at all.
PS: I've always found it interesting that you auditioned for American Idol, and they were stupid enough to let you go. How do you feel, looking back on that experience?
R: I think it was still a great experience. Much like a lot of girls that sing well, that may sing in church or maybe in a theater group or whatever, especially in a small town, you're told that you're so great all the time. And I needed that disappointment. I needed it to understand there's always someone working hard. There will always be someone that may be better. You're going to have to deal with rejection. The question is, how are you going to move forward from it? It helped me grow, to be honest. So, thank you, American Idol, for saying no. Plus, I ended up on Glee and getting paid by Fox anyway, so . . .
PS: Bag secured.
R: Yeah, I think it worked out.
PS: Speaking of Glee, how did that experience shape who you are today? Did it change how you felt about music?
R: Well, I've always loved music of all genres. I'm also classically trained. But, I think that it opened my eyes to so much music, and it opened my eyes to different people. I've never been around such an eclectic group of people. And I love the message of the show, which was basically, "Be yourself, love yourself, and f*ck everybody that don't really f*ck with you." I've carried the message with me throughout my life. Glee changed my life and meant a lot to me, as much as it meant to all of the fans.
PS: And Mercedes Jones spoke to a lot of Black women's experiences, both adolescents and adults alike.
R: Mm-hmm.
PS: But I always felt she didn't get nearly the air time she deserves. Looking back, would you have done anything different with the character?
R: No, I think my character served her purpose. It was my first job, and I'm grateful for it. I had a lot of fun, I made friends that turned into family, learned a lot of lessons, and got to do a lot of shit that I don't think most actors or singers ever get to do. I lived the life of a rockstar and a TV star at a young age. And Mercedes was fun, and she was loud, and she got to be bold and colorful, and Black girls got to see that. And I think I still have a chance to surprise people. I didn't show all my cards on that show. I've gotten to do a movie where I'm not singing, and people are figuring out, "Oh, she can act. She can actually act." So, I'm grateful for the position that I played on the show.
PS: Would you do a TV series again?
R: Absolutely. I love television. [About a week after our video call, it was announced that Riley is set to star and co-executive produce NBC's upcoming single-camera comedy, Dream. It follows a former teen mom — Dream Morgan — who turns her life upside down to pursue her dream of becoming a singer. Cheeky, Riley!]
PS: And would you head back to the theater again and earn yourself another Olivier?
R: Eventually. Right now, it's just not a passion that I have. But absolutely, I love theater.
"I love the message of the show, which was basically, "Be yourself, love yourself, and f*ck everybody that don't really f*ck with you." I've carried the message with me throughout my life."
PS: And, since you mentioned Dancing With the Stars . . . You won season 17, one of the best seasons ever! How do you look back on that experience?
R: Oh, I watch the YouTube videos whenever I need a little kick in the pants and some motivation! Like, "Look, girl, you did that. You actually did that. That's you." That show is a big reason why — and I know it may sound silly because it's just a celebrity dancing show — but it's a big reason why my confidence skyrocketed the way it did. I was terrified to do that show. And after I did it, I felt invincible, like I can do anything. It was a fun season, and I had a great time. I was actually very sad when it was over.
PS: One thing that I've appreciated as a fan is that you have always been pretty private, not letting everybody in your business. Have you ever been worried about alienating your fans?
R: Not really. And I think it's because I know I have to come first, that my mental health comes first, and my family comes first. I have to make sure that I'm okay first. As grateful as I am and as thankful as I am, I don't owe people my whole life. You know what I'm saying? I share what I want to share and what I want people to be in on. And I share certain things because I am grateful for people's support and that they even want to know what's going on in my life. But at the same time, everybody's not a fan, and you have to think about that, too. So, I'm very careful with what I share. I think people that are fans of my work understand that.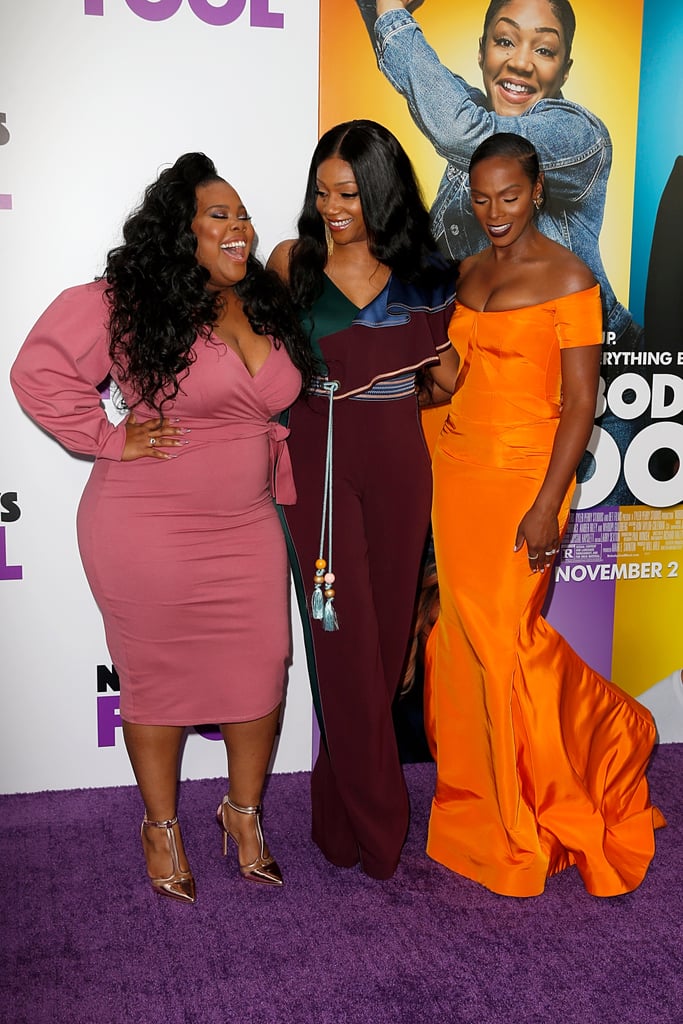 Image Source: Getty Images / Dominik Bindl
PS: You've been very open about your mental health journey, and we're living in a time where the idea that Black women need to be protected is particularly emphasized. What advice would you give for a Black woman looking to protect their spirit, their peace, and their sanity right now?
R: Learn to say, "No." Learn to be okay with being by yourself. We live in a world where people do not care about the pain and the struggle of Black women. So, you've got to care about it yourself. I always say that if you don't have an amazing group of women around you, you're not living a life in power. So, get you some good girlfriends that will encourage you, keep you grounded, and push you forward. Because if anybody knows how to encourage, and if anybody knows how to be there for you and pick you up when you're down, and give you a kick in the ass when you get lazy, it's a Black woman. So, get you some of those in your life.
PS: Preach! Okay, this is the last one, and it's a thinker. What do you think it means to be a Black artist right now? Especially when the Black Lives Matter movement is so essential to us right now, and it's so prominent in everything that Black artistry is.
R: Man, that's such a hard question, because what I don't feel in the artist community, as a Black artist, is community. So, I don't even know how to answer that, because we're not all walking the same walk and talking the same talk. What I can say is, as Nina Simone said, "It is our responsibility, as artists to reflect the times." I would pray that artists will start to record the minutes of what is happening in our society with their music. It doesn't mean everything has to be deep, but I hope we take that responsibility a little more seriously.
PS: Mmm. And I say once again, preach.