20 Little-Known Facts About Anastasia on the Movie's 20th Anniversary
If you grew up in the '90s, there's a good chance Anastasia is one of your favorite animated movies. It might not be a product of the Mouse House, but Grand Duchess Anastasia Nikolaevna of Russia might as well be up there with iconic Disney princesses like Cinderella, Belle, and Ariel. In honor of the feel-good movie's 20th anniversary — it first hit theaters on Nov. 21, 1997 — let's take a look at a few little-known facts that might surprise even the most diehard Dimitri fans.
So, like we said, it isn't a Disney movie. Although the animation is reminiscent of Disney favorites like The Little Mermaid and Aladdin, Anastasia actually hails from 20th Century Fox. With Disney in the running to buy part of Fox, however, she might end up a part of the Disney family anyway.
Anastasia was Fox's first animated film. The 1997 classic marked 20th Century Fox's first and only 2D animated film; it began using computer animation shortly after.
Kirsten Dunst voiced young Anastasia. Meg Ryan provides the speaking voice you know and love for Anastasia as an adult, but 15-year-old Dunst is who you hear in the earlier scenes at the palace.
One of your favorite Mean Girls stars is Young Anastasia's singing voice, though. Gretchen Wieners (aka Party of Five's Lacey Chabert) lent her impressive pipes to the film for musical scenes.
Dimitri bears a startling resemblance to a few other animated characters. Both the dad in A Troll in Central Park and Prince Cornelius in Thumbelina look a hell of a lot like Anastasia's Dimitri. Coincidentally, Don Bluth directed all three films.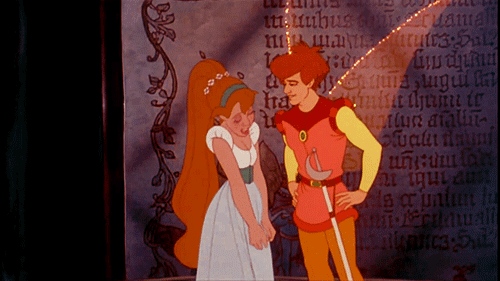 Of all of Bluth's films, Anastasia was the most popular. The movie went on to gross $139,804,348 at the box office worldwide.
Anastasia's dog in the movie was inspired by the Romanov's real-life pet. The adorable, floppy-eared spaniel that follows after the princess is very much real. The dog was actually named Joy and was the pet of Crown Prince Alexei, Anastasia's brother. Miraculously, Joy survived the massacre of the monarchy at the palace and lived out the rest of his life in England after being taken in by Colonel Pavel Rodzianko.
Bernadette Peters reportedly wasn't thrilled about how her character looked. The legendary actress voices the sultry Sophie, who has curves for days. According to codirector Gary Goldman, Peters was disappointed Sophie didn't look more like her own slim figure.
It was John Cusack's very first time voicing an animated character. Like Dunst, Cusack had never worked as a voice actor before Anastasia.
The woman behind adult Anastasia's singing voice has plenty of practice playing cartoon princesses. Liz Callaway filled in for Meg Ryan during the music numbers and has voice credits for Odette in Swan Princess, Jasmine in Aladdin: The Return of Jafar and King of Thieves, and Kiara in The Lion King 2: Simba's Pride.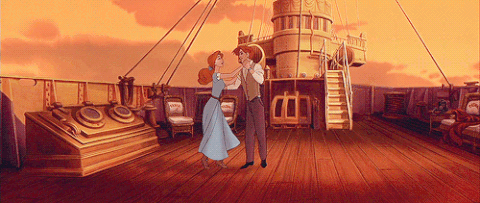 Bartok's voice was almost completely different. Who doesn't love sassy bat Bartok?! Apparently the crew didn't at first, all because of Hank Azaria's voice. He explained how he won them over during a Reddit AMA in 2013: "I kind of went out on a limb with that voice. It was also based on a family member of mine. I really had a strong feeling that it would be fun and it would work. I'll never forget the look on the producers and director's face when I did it. I think they really thought I was insane. . . . I think that after they got in the editing room and starting [sic] cutting it together, they really liked it. . . . It must have been so different from what they imagined the character originally, that they must have thought I was just nuts."
Anastasia was nominated for two Oscars. The film scored nominations for both best original song (Stephen Flaherty and Lynn Ahrens's "Journey to the Past") and best original musical or comedy score.
The way Rasputin originally dies is much closer to how it actually went down. In real life, Rasputin suffered a number of fatal blows — he was beaten, poisoned with cyanide, shot, and stabbed — before he was finally thrown in an icy river.
Anastasia's iconic yellow dress also has roots in reality. The gorgeous gown and crown she wears at the end of the movie is based on an ensemble worn by the IRL princess.
There's a Broadway musical adaptation. Yes, "Journey to the Past" sounds just as incredible, if not more so, on stage.
The scenes in Paris are inspired by famous French artists. The background that appears to be done in delicate brushstrokes during the "Paris Holds the Key (to Your Heart)" number is a nod to artists like Claude Monet and Edgar Degas.
There are some noteworthy historical cameos. While we wouldn't recommend basing your book report on Anastasia, the movie does feature quick shots of historical figures like Josephine Baker, Maurice Chevalier, Isadora Duncan, Auguste Rodin, and Sigmund Freud in the "Paris Holds the Key" montage.
The role of Rasputin almost went to Sir Patrick Stewart. Back to the Future's Christopher Lloyd landed the role of the creepy character, but Sir Patrick Stewart, Game of Thrones's Jonathan Pryce, and Tim Curry were also in the running.
Anastasia's name holds special meaning. In the film, Vlad tells Anya that the name Anastasia means "she will rise again." In other translations it also means "resurrection."
The Spanish version of the film features a huge star. Mexican pop star Thalía sings "Journey to the Past" in the Spanish version of Anastasia.