Anne Hathaway and Jeremy Strong Push Their Son to Reach For More in "Armageddon Time" Trailer
We're finally getting a first look at Anne Hathaway and Jeremy Strong's coming-of-age film "Armageddon Time." The trailer for the period drama, set in the 1980s and an autobiographical look at director and writer James Gray's life, was released on Sept. 6 after the movie screened at the Cannes Film Festival earlier this year. The film was well-received by critics at the time, earning a Fresh rating on Rotten Tomatoes.
According to a description from Focus Features, the movie "is a deeply personal story on the strength of family, the complexity of friendship and the generational pursuit of the American Dream." In the first trailer, Hathaway and Strong appear as Gray's real parents, renamed as the Graffs for the film, and Anthony Hopkins stars as grandfather Aaron Graff. Speaking to his son (played by Banks Repeta) in the trailer, Strong's character offers unflinching advice: "I want you to be a whole lot better than me. Life is unfair; be thankful when you get a leg up. You make the most of your break and do not look back."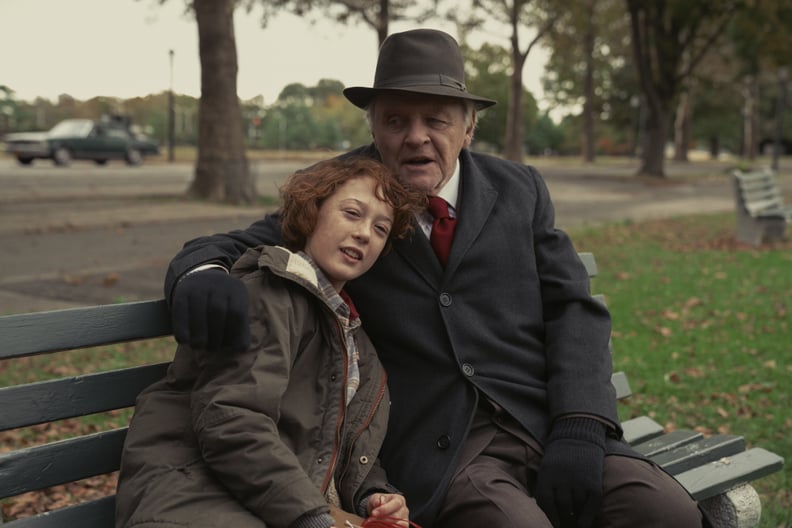 In an interview with Deadline back in May, Hathaway and Strong spoke about portraying Gray's actual family, with Strong explaining that the director "wasn't interested in a portraiture of his parents or some sort of documentary or reality version of his parents." Hathaway said she tried to be "sensitive" to Gray when asking questions about her character because they were "also questions about his mother . . . they're very personal questions."
Here's everything we know about "Armageddon Time" so far, including when the movie will hit theaters.
"Armageddon Time" Trailer
"Armageddon Time" Cast
In addition to Hathaway, Strong, Repeta, and Hopkins, "Armageddon Time" also stars Jaylin Webb, Tovah Feldshuh, Jessica Chastain, and Ryan Sell.
"Armageddon Time" Release Date
"Armageddon Time" comes out in theaters in select cities on Oct. 28 before getting a nationwide release on Nov. 11.