5 Moments From Beyoncé's Homecoming Documentary That Every Beyhive Member Needs to Watch
To say that Beyoncé's 2018 Coachella performance was transformative would be an understatement. The artist ditched any concept of convention and turned the stage into the biggest celebration of blackness that the deserts of California have seen in ages. Not only was Beyoncé the first black woman to headline the festival, but she also outsold any of your faves by putting on an elaborate tribute to HBCUs (historically black colleges and universities) and black Greek life, complete with her own drumline (known as the Buzzzz), about 100 dancers, and a stage fit for Nefertiti herself. And, of course, everyone was dripping in custom Balmain costumes, because Beyoncé doesn't do anything without looking damn good.
But the show didn't just come together with wishes and some superglue. To give her fans a true look at the undertaking that was Beychella, Beyoncé released a concert film, Homecoming: A Film by Beyoncé, on Netflix in the wee hours of Wednesday morning, along with a surprise live album of the same name. The documentary is a mixture of footage from the actual Coachella performance and video-diary-style footage of everything that went on behind the scenes. Beyoncé recounts the arduous journey through voiceover, revealing how she did it all less than a year after giving birth to her twins and made something her daughter Blue Ivy could be proud of.
Check out the best moments from Homecoming ahead, and watch it immediately! Even if you have to do it at your desk. Beyoncé is always worth it.
01
Months of Preparation Went Into the Show
Beyoncé prepped the music design of Beychella with the band for four months to achieve the sound she wanted. Then came an additional four months of dance rehearsals. "The music and those vocals rehearsals — that's the heartbeat of the show," she explains in the documentary. "I wanted it to feel like I felt when I went to battle of the bands, because I grew up seeing those shows and that being the highlight of my year."
But that wasn't the only bit of work that went into the collegiate-focused show. "I studied my history, I studied my past, and I put every mistake and all my triumphs of my 22-year career into my two-hour homecoming performance," the artist says. "The hours were unbelievable."
02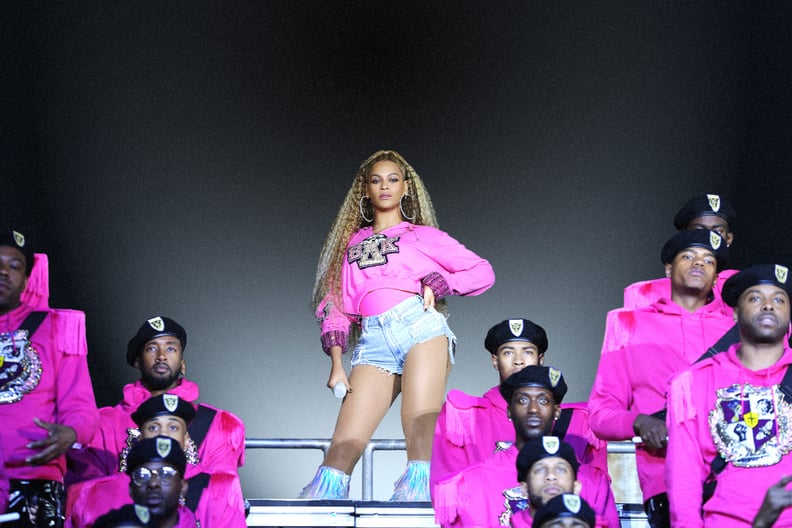 Beychella Was Inspired by the HBCU Experience
"I always dreamed of going to an HBCU," Beyoncé reveals in the documentary. Instead of enrolling at Howard University in Washington DC or Spelman or Morehouse in Atlanta, Beyoncé says that her college was Destiny's Child and traveling around the world with life was her teacher. Obviously, the multihypenate came out at the top of her studies, because nearly everything she touches succeeds.
Regardless of her personal attendance, Beyoncé wanted to bring the pure celebration of blackness that is the HBCU experience to the desert of Coachella. "When I decided to do Coachella, instead of me pulling out my flower crown, it was more important that I brought our culture to Coachella," she says. And she was very specific about her vision. "I wanted a black orchestra. I wanted the steppers, I needed the vocalists. I wanted different characters; I didn't want us all doing the same thing." And in the end, it paid off. "The amount of swag is just limitless. The things that these young people can do . . . It's just so much damn swag."
Beyoncé explains that her desire is for everyone who has ever been dismissed because of the way they look to feel like they are on the stage with her, "Killing em!" And considering the response to Beychella, we can say that she succeeded.
03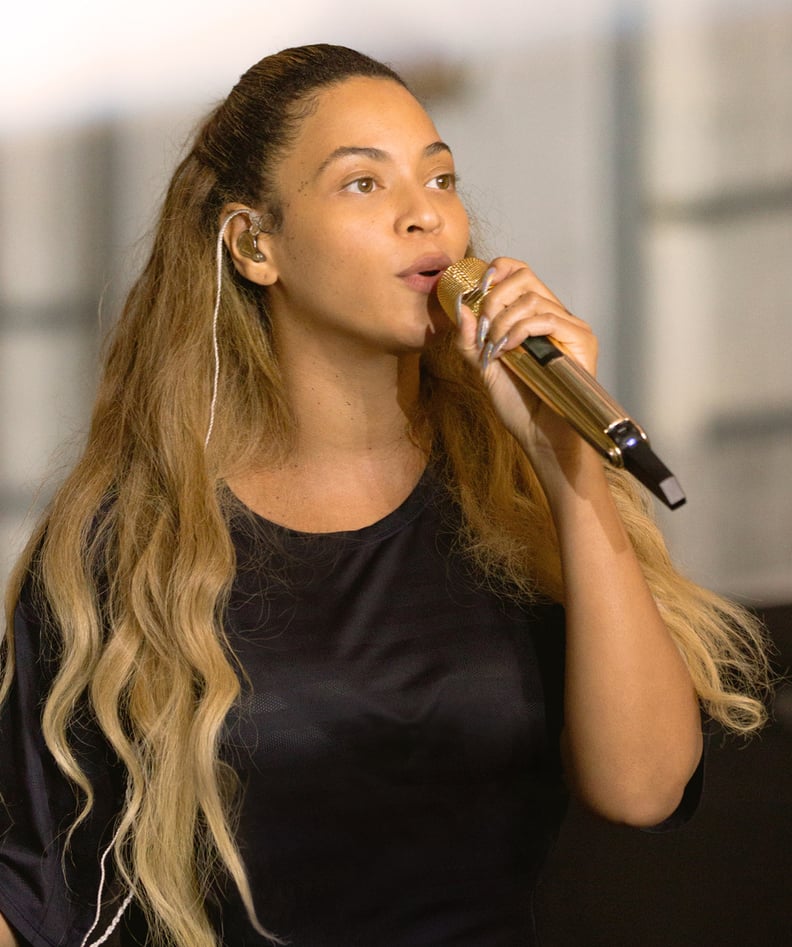 Getting Into Rehearsals Soon After Giving Birth Was Difficult
Keeping it real about her struggle, Beyoncé shares footage from her first-ever rehearsal postbirth. "I was 218 pounds the day I gave birth," she says. Mere months later, she was rehearsing for her two-hour performance. The artist admits it was hard and that there were days where she thought her strength and endurance would never be the same. "I had to rebuild my body from cut muscles" after her emergency C-section, she explains. And it wasn't easy getting to the amazing form she showed off at Coachella.
"In order for me to meet my goals, I'm limiting myself to no bread, no carbs, no sugar, no dairy, no meat, no fish, no alcohol . . . And I'm hungry," she admits, snacking on an apple. The superstrict diet came along with the hours-long rehearsals, meetings to ensure every detail was right, working out, and still being a present mother to her 7-year-old and twins.
"It's not like before when I could rehearse 15 hours straight. I have children. I have a husband. I have to take care of my body," she says.
"I definitely pushed myself further than I knew I could and I've learned a very valuable lesson. I will never, never push myself that far again. I feel like I'm just a new woman in a new chapter of my life and I'm not even trying to be who I was. It's just so beautiful that children do that to you," Beyoncé adds.
At one point, the singer admits that rehearsals were hard because a lot of choreography is about injecting your own personality to bring it to life, and she didn't feel like herself. "It took me a while to feel confident enough to freak it and give it my own personality."
But the payoff leaves the artist obviously elated in footage where she tries on an old costume that she's able to fit into 33 days before the show. "Big deal! It's zipped!" she exclaims, FaceTiming her husband to show him.
04
Beyoncé Had a Hand in Every Tiny Detail
Every Behyhive member knows exactly how precise Beyoncé is. The artist is well-known for having high standards for herself and anyone who works with her — which is why everything she does is basically perfection. In Homecoming, Beyoncé reveals that there wasn't a single detail that was too small for her to touch. "I respect things that take work, I respect things that are built from the ground up," she says in the documentary. "I'm super specific about every detail."
She goes on to reveal that she personally selected every dancer, the shape and height of the pyramid stage, all the material used on stage, and even the patches sewn on her dancers' Balmain costumes. "Every tiny detail had intention," she says.
The singer was adamant that everyone knew the show "front to back," and as the director, writer, and lead performer of the show, she wanted it to be perfect. At one point in the film, the headliner is shown in a meeting with at least 50 people after rehearsal, explaining her frustration with how she wants the sound effects of the show (i.e. the stomps, the rumble of the pyramid, the ad libs from dancers) recorded to translate on camera.
"Until I see some of my notes applied, it doesn't make sense for me to make more," she says in the meeting. "My goal is simply that . . . everyone out there can feel what we feel. I know everybody's working hard, so we'll get there."
And then she leaves for her anniversary dinner with JAY-Z, because that's what bosses do — they delegate!
05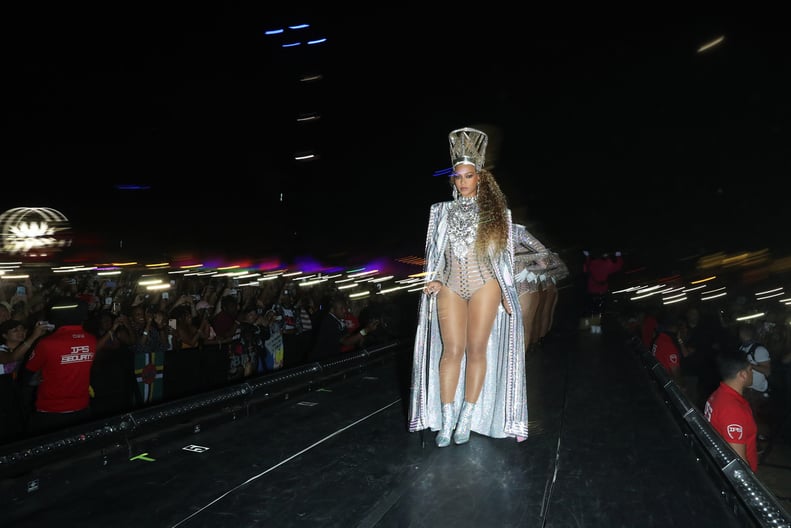 Her Children Absolutely Steal the Show
Though the artist and her rapper husband are well-known to be private about their children (at least until they're a little older), all three are featured prominently in Homecoming. In the doc, Beyoncé talks about how she was initially meant to headline Coachella in 2017, but her pregnancy with twins caused her to drop out of the festival. "My body went through more than I knew it could," she says, reliving the difficult pregnancy and birth that came with her twins, Rumi and Sir.
The mother of three admits that during rehearsals, her "mind wasn't there. My mind wanted to be with my children." She explains that she would try to bring her kids to rehearsals where she would dance and take breaks to breastfeed. At one point, the documentary shows Beyoncé walking off stage to be greeted by her twins, whom she quickly pulls into her arms, beaming and cooing.
Blue Ivy is seen at every stage, attending (and participating in) dance rehearsals, mimicking her mother's choreography and bopping in the front row at Beychella as she cheers on her mom. One of the final scenes of the documentary shows Beyoncé and her firstborn as Blue sings a sweet a cappella version of the Black National Anthem, "Lift Every Voice and Sing."
"I want to do that again! It feels good," Blue exclaims to the cheers of those watching and drawing a laugh from her mother. "You're like mommy, huh?" Beyoncé responds. "OK, if you want to, go. Lift every voice and sing." We stan a mother-daughter power duo!