Review For Big Friendship: How We Keep Each Other Close
I'm Sending Copies of the New Book Big Friendship to My Entire Inner Circle
As POPSUGAR editors, we independently select and write about stuff we love and think you'll like too. If you buy a product we have recommended, we may receive affiliate commission, which in turn supports our work.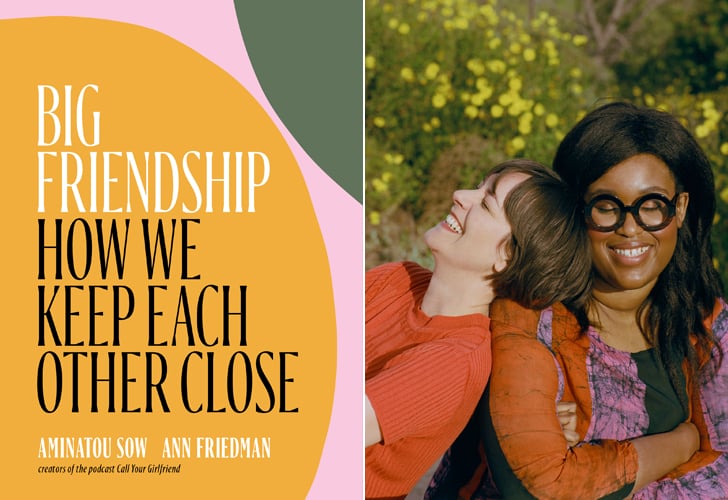 I did something I'd never done before while reading Big Friendship: I snapped pictures of entire pages and sent them to friends. I texted the photos alongside single-word declarations. "Us!" "THIS." "YES." In a very short time, the book and I were in a honeymoon phase not unlike the one shared by writers Aminatou Sow and Ann Friedman early in their friendship.
When I learned Sow and Friedman were writing a book together — one about friendship, no less — I flipped. I've been a fan of their podcast, Call Your Girlfriend, for years, and while I'd eagerly read their take on, well, anything, I'm thrilled to report that their philosophy on friendship is as insightful, hilarious, and moving as I'd hoped.
Sow, a writer and cultural commentator, and Friedman, a journalist and media entrepreneur, met when they both lived in Washington DC in their mid-20s. I won't spoil details of the perfectly 2009 night they first became friends, but I will share a few powerful lines they wrote about it: "We have changed each other in countless ways, from the profound to the imperceptible. We didn't just meet each other that night. We began the process of making each other into the people we are today."
Big Friendship: How We Keep Each Other Close, out July 14, opens with the pair's definition of what they call Big Friendship. It is "a bond of great strength, force, and significance that transcends life phases, geographical locations, and emotional shifts." Sow and Friedman note that Big Friendship is active, "full of meaning and resonance," and "reciprocal, with both parties feeling worthy of each other, and willing to give of themselves in generous ways."
It's impossible to read those snippets from their description without thinking of the people in your life who fit the bill, just as it's impossible to read the book without seeing pieces of your own relationships reflected in those described. But while many readers are certain to have the "YES!" experience of relatability as they learn about friendship and that of Sow and Friedman, the heartbeat of this book comes from the very specific love between the two writers. It's there in every word they wrote together, from their early G-chat exchanges to the celebration of their friendiversary. The magic of the book comes from the ways they've welcomed readers in, weaving personal stories with practical advice and insights to get to the heart of what makes up our best, messiest, most beautiful relationships — the ones we're in for "the long haul."
They've given friendship a complicated, wonderful love story that will sit with you.
Big Friendship is written, strikingly, in one voice, a conversational one, and whenever they diverge into their own perspectives, the point of view shifts to "Aminatou" or "Ann." That makes the reading experience itself a brand-new one, and powerful; as I turned the pages or underlined a standout phrase, I kept picturing the two of them alongside each other, or on FaceTime, talking it through, sharing ideas. It adds another layer of intimacy to the narrative.
One section of the book is titled "Friendweb," a term they use to define their "ever-changing, interconnected web of friends" that better expresses the "complex ways that the people we love connect and relate to each other." In it, Sow and Friedman share the simple details of planning a group trip to the desert, which begins with a fun email (don't they all) and ends with an uncomfortable group dynamic that captures how frustrating it can be when the small moments spark the beginnings of bigger tensions.
And how the best friendships require and deserve our effort.
Moving through a 10-year period, one that involves major job changes and new relationships and health scares and multiple cities, Big Friendship spotlights Sow and Friedman's "spark" and their days of mutual obsession without shying away from the many factors that can challenge a relationship. They highlight the joys and complications of loving someone, the nuances within a friendship, and how everything from time to place can shape and affect our closest connections. They move between research and their shared stories, and the result is a one-of-a-kind read that would be compelling at any time, but in the midst of a pandemic that's impacted Big Friendships of many kinds? Well, the context makes it particularly powerful and poignant and occasionally bittersweet.
Early in the book, Sow and Friedman talk about the strange sensation of not quite having the right language to discuss the dynamics of their friendship, but that's what they've given us. More than anything, though, they've given friendship a complicated, wonderful love story that will sit with you.
The Sweet Spot Summary
Pick up Big Friendship by Aminatou Sow and Ann Friedman ($24) if you're a devoted listener of their podcast Call Your Girlfriend or looking for a good book to read with your closest friends.
Image Source: Author photo by Milan Zrnic