Megan Thee Stallion's Creation of the Savage Feminist Was a Much-Needed Cultural Reset
Black women are doing an incredible job leading feminism into a bright new future — a future where women can no longer be shamed or controlled by double standards and the suppression of female sexuality, where there is no space for either woman-hating, incel culture, or misogynistic rap culture, to enter the unapologetically savage feminist's orbit.
Rap and hip-hop music is a notoriously male-dominated industry that has often thrived on the objectification of women's bodies. Recently, Black female rappers like Megan Thee Stallion, Doja Cat, Lizzo, and Cardi B are turning this toxic trend on itself. Two of these women made US music history on May 11, 2020, as it was the first time ever that the top two spots on the Billboard Hot 100 were secured by female rappers — Doja Cat and Nicki Minaj's "Say So," and Megan Thee Stallion and Beyoncé's "Savage."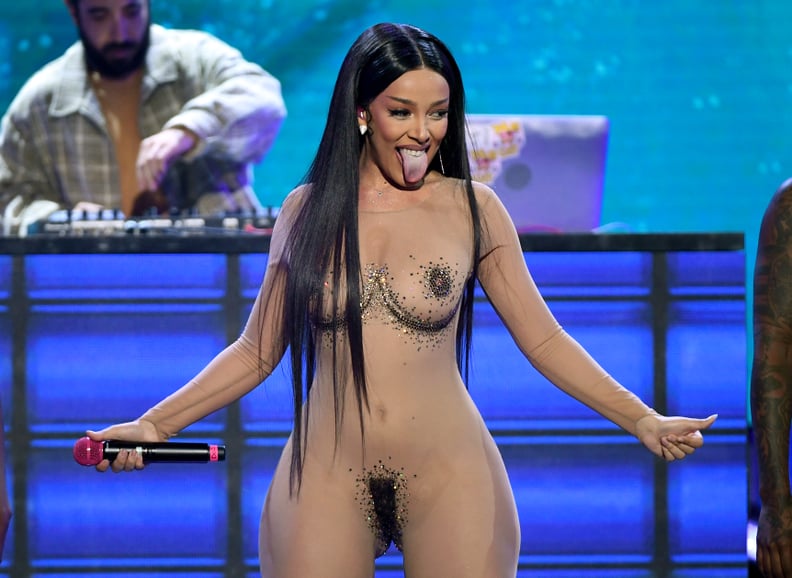 The viral popularity of "Savage" is a significant win for intersectional feminism. As the lyrics read, "I'm a savage. Classy, boujie, ratchet. Sassy, moody, nasty (yeah), acting stupid, what's happening?" Megan's chorus for "Savage" responds to multiple mythologies of race, class, gender, and sexuality as they pertain to Black women and all women.
"Megan's chorus for 'Savage' responds to multiple mythologies of race, class, gender, and sexuality as they pertain to Black women and all women."
Megan's use of "nasty" is a reclaiming of that word, once used by Donald Trump to incite misogyny during the 2016 US presidential election. The use of "savage" is also a cultural reclaiming for Black women, whose authority has been historically undermined with the myth of the angry Black woman. The song responds to these cultural tropes and successfully dismantles them for female empowerment. The remainder of the lyrics in the chorus assert that although she is unapologetically "savage" (strong) and "nasty" (sexually liberated), she is also "classy" (sophisticated) and "moody" (sensitive). Megan explains the multidimensionality of the modern woman, but also the burden she carries of trying to be "everything."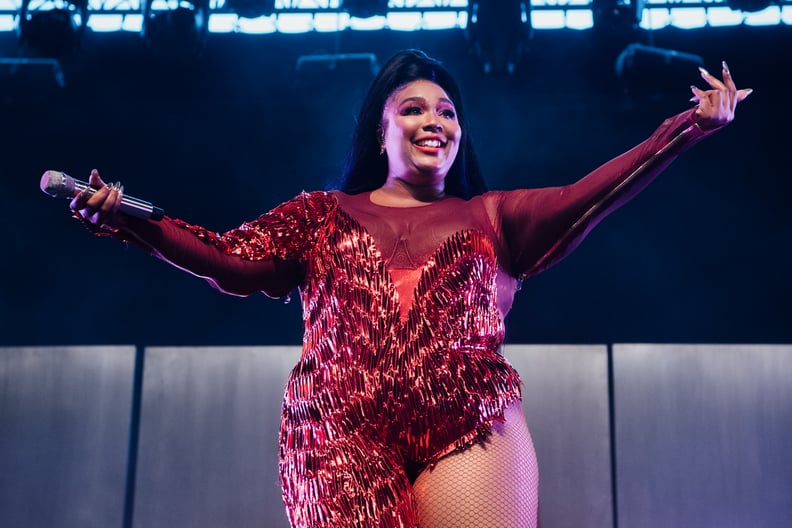 The new vanguard of sex-positive female rappers is refreshing to see, but it didn't pop up out of nowhere. Rappers like Megan, Cardi B, and even Beyoncé are products of the "queen bees" that paved the way decades prior — like Lil' Kim and Missy Elliot. I spoke to two experts in feminism, hip-hop, and pop culture — Dr. Tia Tyree, communications professor at Howard University with a specialism in hip-hop and female representations in media, and Megan Collins, cultural analyst at Civic Entertainment Group with clients including Apple TV+ and HBO Max — about how the "savage feminist" is actually changing the game.
"The ideas of talking about how wet things are, how big things are, how wanted things are, has already been laid out there," says Dr. Tyree. "But the stigma attached to having those conversations, and the idea of being sex-positive, is very much embraced now. So, while many people may have pointed or wagged their fingers at some earlier women rappers for having those kinds of sexual conversations, as culture has changed, as the narrative has changed, as the idea that we can embrace more than one hot female at a time in hip-hop has changed, we can see that talking about sex is not necessarily misogynistic, but it's very much a celebration of body and sexualism."
"What's different about hip-hop feminism in 2020 is that it occupies a uniquely vocal platform between Tarana Burke's MeToo movement and the Black Lives Matter movement."
What's different about hip-hop feminism in 2020 is that it occupies a uniquely vocal platform between Tarana Burke's MeToo movement and the Black Lives Matter movement. Both human rights collectives, which evolved from the women's liberation and civil rights movements of the 1970s, saw revivals in 2016. MeToo responded to sexual assault allegations against Harvey Weinstein, and BLM gained momentum after Colin Kaepernick took a knee against racism during the US national anthem — both occurring against a backdrop of Trump's sexist and racist 2016 election campaign. "Savage feminists" are experiencing a boost in relevance because of intersectionality — at the crux between MeToo and BLM. What's equally as significant is how these women are dominating that space by not only reclaiming their bodies but sharing that influence with other women while doing so.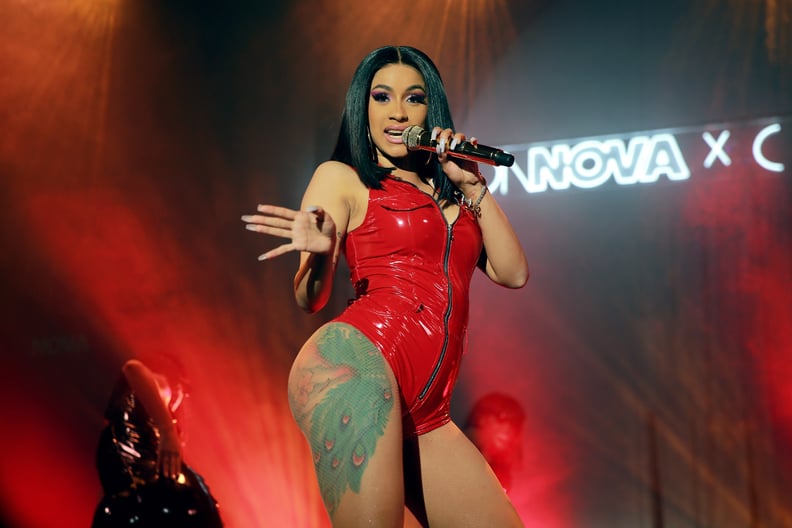 When I was growing up, there was always that one token female rapper who claimed the "queen bee" throne and sustained "beefs" with other women to maintain her dominance. Dr. Tyree agrees that hip-hop notoriously asks the questions: "Who's the queen bee? Who has the throne? And much of that is rooted in desexualising the other woman. Because sex is a commodity in hip-hop, in order for me to be number one, I have to be lyrically superior and sexually superior."
What's changing is that "all of these female rappers are coming up, and they're not immediately pitted against each other," says Collins. She cites that the last real hip-hop beef was between Nicki Minaj and Cardi B, but since then, we're seeing more cooperation and collaboration between women. As Collins puts it, "there's space for all of us, and we're much better served by helping each other up, lifting each other up, and creating space in this male-dominated industry for everybody."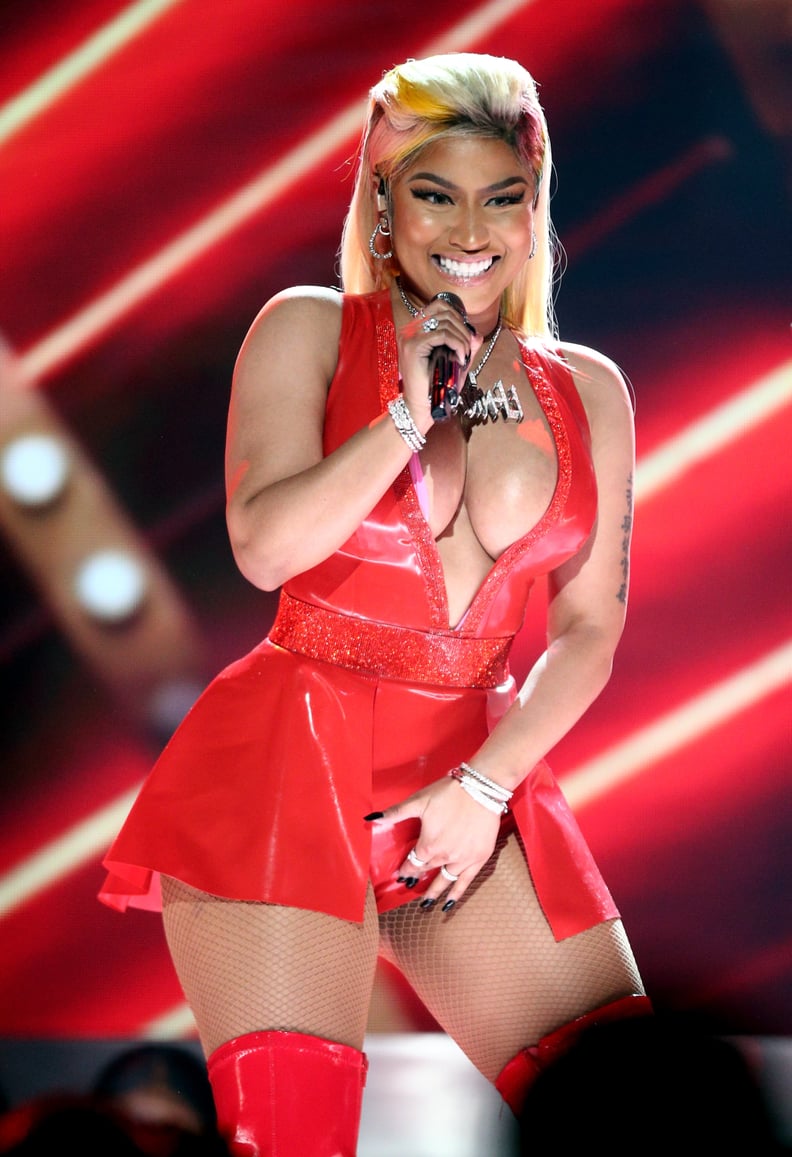 Dr. Tyree confirmed that "Nicki Minaj is always talking about that she's on top, she has the throne. And you'll see a little bit of that in Cardi B, but Cardi B is coming into this space now where it's OK to have a collaboration. It's OK to have a feature, because if you're hot, let's be hot together. I think that's a big part of Beyoncé coming on 'Savage.' That we can both be on the top of our game, and share this space, and be empowered, while talking through all those things that make us powerful, intelligent, wanted, sexual beings, but in control of our narrative. That history of fighting for that spot still exists. But there are moments where we see that we can share that same space."
Black female rappers are certainly leading feminist thought forward, but while it's something to be celebrated, we must continue to question how sexism is being challenged within hip-hop and how those narratives shape antiracism initiatives in wider society. Dr. Tyree pointed out that "in the rap game, you have to play to the strengths of what people want. [Megan Thee Stallion] is, at this moment, giving people what they want, which is a Black woman who is strong in her convictions, sexually happy. And that's what women are positioning themselves now to be. That's who women have probably always been but haven't had the opportunity to share those narratives. And so, she's coming at a right place, but she's not the first to do it."