How Boys World Became the Internet's Favorite Girl Group
Meet Boys World, the Girl Group Crushing Stereotypes and Empowering a New Generation
Allow Queenie Villaluz, Makhyli Simpson, Olivia Ruby, Elana Caceres, and Lillian Kay to serve as proof that Hannah Montana isn't the only one living the best of both worlds. Better known as Boys World, the girl group first came to life in April 2019 when record label KYN Entertainment reached out to each of them on Instagram to compliment their song covers and offer them a spot in the band. With no idea who their bandmates would be, the women boarded flights from across the country to LA and they haven't missed a beat since, putting out hits like "Something in the Water" and releasing their While You Were Out EP. In the words of Lizzie McGuire, this is what dreams are made of.
On Being Discovered
"I remember my mom was really shocked," Caceres told POPSUGAR. "She was scared, of course, and nervous because I was only 16 at the time. We were all young — some of us were even minors. But thankfully, we all have really, really great support systems and our families are really supportive, so they just let us follow the dream. Then we became close together, so this is like our family." In an interview with People in 2020, KYN Founder Sonny Takhar added, "There was a clear space in music for something a bit more fun and positive — a new girl group for a new generation of pop fans . . . We wanted raw talent, but natural chemistry and forming strong bonds between them were essential."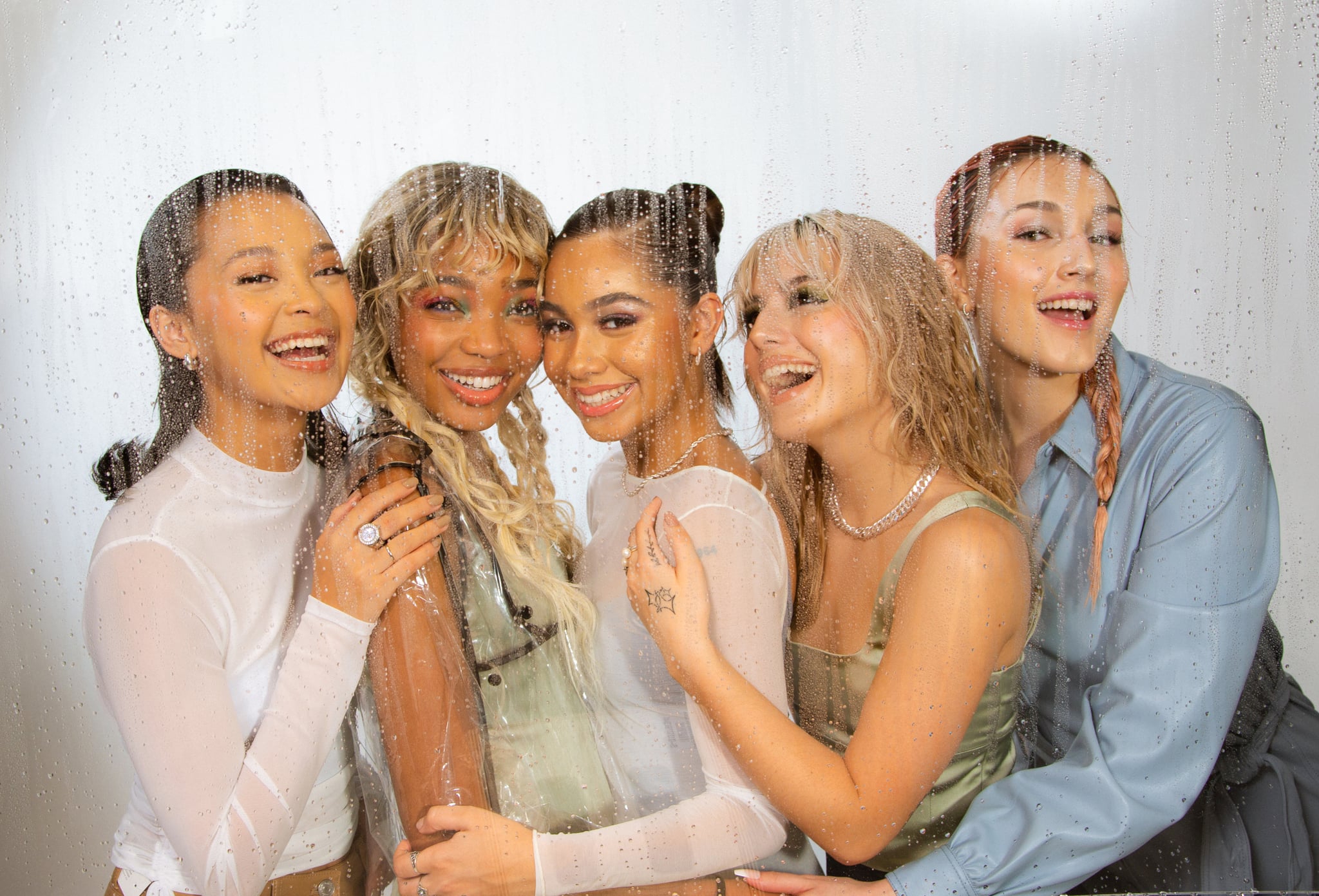 Image Source: Kai Cranmore
On Creating Their Sound
Fueled by Fruit Roll-Ups and the tenacity of the 1994-era Spice Girls, the group has spent the last two years building that chemistry and challenging stereotypes about girl groups. When writing their songs, they mesh their styles — Villaluz's love for Etta James and Ruby's appreciation for Billie Eilish — and share stories about their five different backgrounds and cultures. But at their shared house in LA, the girls spend most of their time hanging out like normal BFFs: watching movies, drinking boba, fighting over the best seat in the living room (the orange beanbag chair, obviously), and making hilarious TikTok videos. All five of them even got their ears pierced together at the same time!
Since debuting their first song cover in 2020, an a cappella rendition of *NSYNC's "Bye Bye Bye," the band has gained over 2 million TikTok followers and released five singles, including "Girlfriends," their number one song to date. Like an anthem for friendship, the lyrics double down on the importance of having a group of best friends to lean on and the colorful video draws attention to their individuality. See: Ruby speaking Portuguese, Villaluz speaking Tagalog, and Simpson doing American Sign Language. By the same token, other songs like "Wingman" and "Something in the Water" put a self-confident spin on stereotypical themes like dating and relationships.
Because of COVID-19 safety restrictions, their songwriting process has been streamlined in the form of a shared Google Doc and pre-scheduled Zoom calls, where they take turns brainstorming new material with a songwriter and a sound engineer. But the real magic happens when they're in the recording studio. To get the vibe across, some girls kick their shoes off and others like to switch up the color of the lights to match the mood of each song. "If it's a crazy, in-your-face, rah-rah song, then it's a red light. If it's a sad ballad, we do a blue light, purple," Simpson said, adding that she filled her mouth with Skittles while recording an unreleased song to get the sound just right.
On Activism and Empowering Women
Beyond expressing their growth and lived experiences, Boys World works because of their shared passion for activism and empowering women. "We're diving into many different concepts that we've never dived into before, like mental health," Villaluz said. "I feel like that's important: to just try and talk about everything that's going on [in the world] . . . Girl anthem is our go-to, but there are always so many ideas out there." Like many women in their 20s, feminism, environmentalism, and social justice rank high on the list of causes they actively care about, but they know there's more work to be done. "We're young and we know that there are some causes that we don't know a lot about. But we feel like we're growing," Simpson said. "We're going to definitely do so much more."
"We want to be better than before."
On Oct. 14, the band delivered their second live performance at Girl Up's fourth annual Girl Hero Awards, celebrating young champions for gender equality. Nervous but excited, they put their countless hours of choreography lessons and vocal training to work. "I feel like we really improved, really worked hard," Kay said. "We want to be better than before."
At the end of our interview, two things are clear: their love for each other is enough to inspire a whole album and every single member of Boys World is hungry to follow in the footsteps of all the greatest girl groups before them. Will their next win come in the form of a debut album? A nationwide tour? A documentary about their rise to fame? Right now, they're "manifesting" it all, and we'll be first in line when tickets go on sale.
Get to know all five members (and their zodiac signs) before they show up on all your favorite playlists ahead.