Casey McQuiston One Last Stop Review
Red, White & Royal Blue Fans, Get Ready — Casey McQuiston's Newest Book Will Stop You in Your Tracks
As POPSUGAR editors, we independently select and write about stuff we love and think you'll like too. If you buy a product we have recommended, we may receive affiliate commission, which in turn supports our work.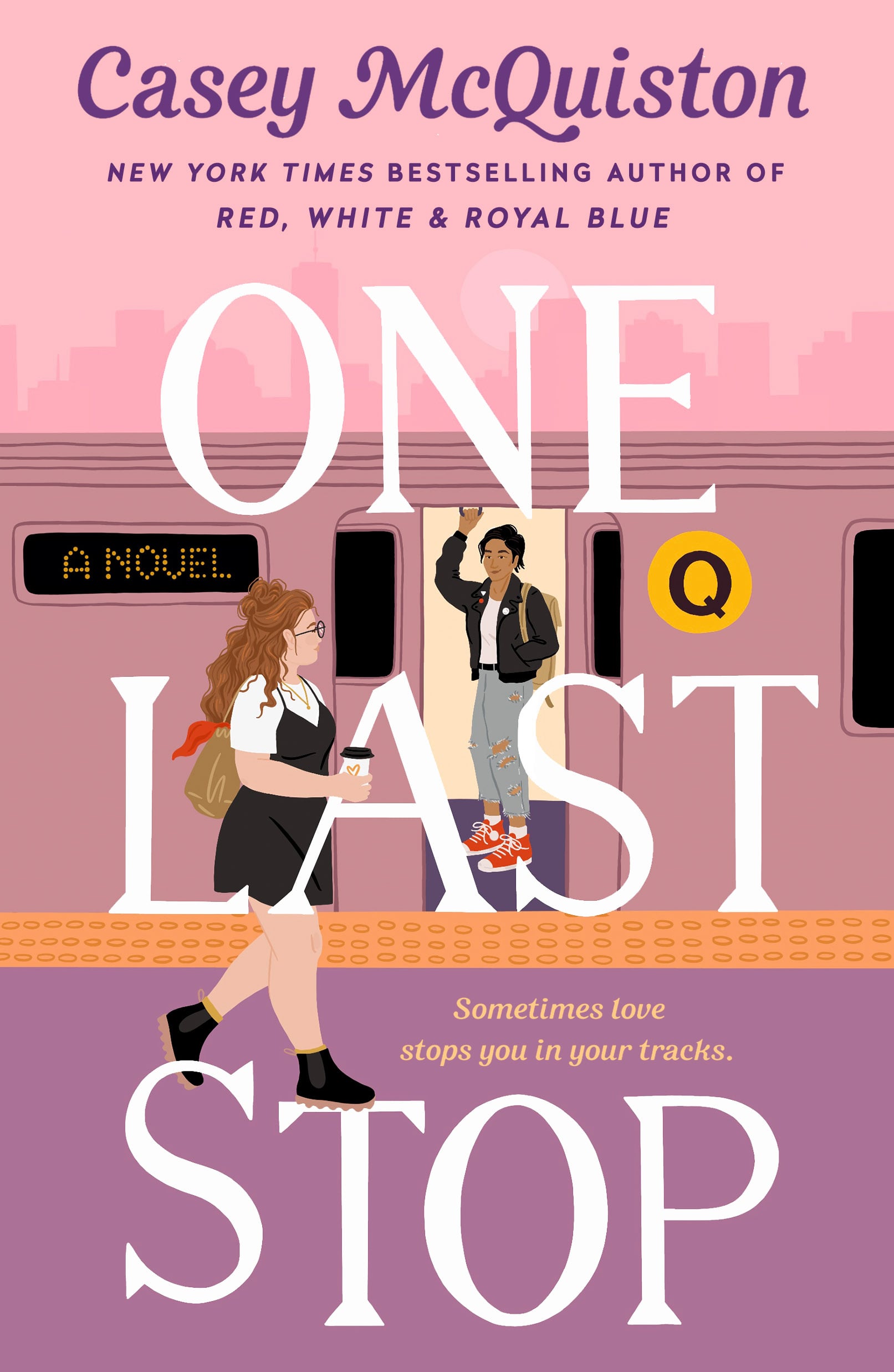 When my roommate handed me Red, White & Royal Blue and emphatically said, "Read this," I didn't expect to love it as much as I did. And I mean, I seriously couldn't put the book down. I was waking up early to read before work, going to bed late to finish up chapters, and ditching my coveted postwork Netflix time with my boyfriend to find out what happens to Alex and Prince Henry. So it came as no surprise that I did the exact same thing with Casey McQuiston's second book, One Last Stop (out June 1).
The story takes place in the city I've been sheltering in all year — Brooklyn, NY — except one character has been stuck inside for a much longer period. Jane Su hasn't been able to leave the Q train for almost 50 years, and she doesn't know why. When August Landry moves to New York City in the present day and crosses paths with the dazzling, mysterious Jane — who just so happens to look like an old-school punk rocker — it's love at first sight. Of course, Jane doesn't just look like a leather-jacket-clad activist from the '70s, she really is from that time. And she has no idea how she got here or how to get back home. August is determined to help her get unstuck in time, even if that means confronting everything she's been running away from.
"She can't believe Jane had the nerve, the audacity, to become the one thing August can't resist: a mystery."

This novel reminds me of everything I love most about New York City. I've missed going to bars with my friends, live performances, being a regular at my local diners and coffee shops down the street. I've even missed sitting on the train in peace. This novel highlights both sides of queer NYC, from fun drag queens hosting charity brunches to the activists making history in the 1970s, and reading it felt like taking a peek into the lives of real people I could have met on the Q train.
This novel was especially moving because I've felt so isolated from my own queer community throughout the pandemic. One Last Stop is about finding who you are and what your purpose is in life. It's about how the people who love you come together for you again and again, even when you feel alone. McQuiston's second novel reads like a love letter to my queer NYC community with gay history lessons and sexy, young-adult shenanigans mixed in that hit all the right notes. By the end, you'll be itching to call up your friends and invite them to brunch. You might even hold a new appreciation for the people you see on your public commute.
Standout Quote
"August doesn't believe in most things, but it's hard to argue that Jane wasn't put on the Q to f*ck up her whole life."
Mindset
Although this book is incredibly heartwarming and overall positive, be prepared that there are a few mentions of death, homophobia, and anti-Asian hate crimes.
Read This If You Like . . .
Red, White & Royal Blue, contemporary romance, LGBTQ+ fiction
POPSUGAR Reading Challenge Prompt(s)
This novel can check off a few 2021 POPSUGAR Reading Challenge prompts; just pick the one that fits best.
A book that's published in 2021
A book by an author that shares your zodiac sign (Aquarius)
A book about forgetting
How Long It Takes to Read
I read for about 30 minutes a day, and it took me a week to finish. Since it's 417 pages, it could take you less time, but I really enjoyed savoring this one.
Give This Book to . . .
A friend you haven't seen in a while or someone who wants to live in New York City.
The Sweet Spot Summary
One Last Stop by Casey MCquiston ($10) is the time-slip sapphic rom-com in book form that mixes real-life queer history with 2020 escapism you'll want to hold onto forever.
Emoji Rating
🏳️‍🌈 + 🚋 + 💕