Rock-star behavior is pretty standard for any shoot: showing up hours late to a wardrobe fitting, being decked out in Birkin bags, submitting a rider with Casamigos tequila and Blow Pops in an Axel Vervoordt-style Hollywood Hills home, squeezing in time for phone interviews while zipping through Calabasas in a pink Lamborghini, and postponing Zoom calls due to jet lag from a last-minute getaway to Paris. JT and Yung Miami — real names Jatavia Johnson and Caresha Brownlee, respectively, and collectively known as City Girls — are on the precipice of global stardom and acting accordingly.
"I've always been a rock star," Yung Miami says. "But now I'm a famous rock star. Rock star 2.0." The duo are expanding their perspectives, growing into bona fide stars, not taking sh*t, and conquering spaces they used to only dream about existing in. Though their lives are changing rapidly, Yung Miami and JT remain true to their signature City Girls ethos.
It's a tale as old as time: two talented friends from humble beginnings form a sisterhood, write some lyrics, and aim to take over the world (think Destiny's Child, Outkast, and Boyz II Men). Before the Floridians became City Girls, Brownlee, from Opa-locka, and Johnson, from Liberty City, were just two typical young women. In late summer 2017 — just playing around as friends often do — they made a song together with no real intentions of taking music seriously. "F*ck Dat N*gga" introduced the world to the braggadocious, high-femme sound the pair are known for. The track went viral. Their huge break came a year later, when a sound bite of their vocals appeared on Drake's chart-topping single "In My Feelings." The rest is history. Two studio albums, one mixtape, and countless all-star features later, City Girls have the world on lock.
But just like the aforementioned groups, JT and Yung Miami are becoming stars in their own right, and the music is just the beginning. JT is dipping her toes into modeling — she made her debut during Miami Swim Week this past July — and plans to expand into beauty. Yung Miami has a smash-hit podcast show on Revolt, "Caresha Please," and is plotting a foray into acting.
The Monday night after the 2022 BET Awards, I'm at POPSUGAR's Culver City studio for our cover-shoot fitting. Though JT and Yung Miami arrive separately, their synchronicity is ever present, even through their outfits. After a night of celebration (the duo partied until 5 a.m. at Diddy's afterparty), JT is the first to arrive, wearing a chic model-off-duty look: black joggers and a gray sweater, paired with Manolo Blahnik x Birkenstock flats, a muted gray Birkin bag, and black Saint Laurent sunglasses. Yung Miami arrives an hour later, echoing the same aesthetic: a black bodysuit with red Chanel sandals and a necklace and earrings from Van Cleef & Arpels. It's clear there's a shared love for fashion and luxury. As their lyrics go, "Nasty but classy, Birkin bag me."
Yung Miami, 28, has a reserved — almost coy — disposition at first. But make no mistake, once she starts talking, she exudes a ferocious confidence. It's something she talks about quite often: the separation of Caresha and her alter ego, Yung Miami. She refers to Miami as her version of Beyoncé's Sasha Fierce, an uninhibited personality; Caresha is the homebody who loves watching Lifetime Movie Network. "I'm always gon' be Caresha. I'm always myself. But you know, my [stage] name is like my alter ego, and I feel like when it's time to perform, or it's time to do an interview, or when it's time to give people what they want, I bring out Yung Miami."
On the other hand, JT is ready to chop it up out the gate. As we chat in front of racks of Carolina Herrera and Rick Owens, she displays a natural vulnerability. We touch on love and her high-profile relationship with lo-fi rapper Lil Uzi Vert as easily as old friends. She takes off her sunglasses and gets nestled on the couch with the body language of someone experiencing unapologetic joy. In fact, the theme song to her life is "Happy," the early-aughts hit by Ashanti, she tells me — and that shows.
"It made me a much better person," JT says with the biggest smile, speaking about her relationship with Uzi. "I feel like I found my home with him, my safe space. Once you find your safe space, you know." If you look at any of her photo dumps or Instagram Stories of the couple, you'll see that same beaming smile. It's infectious, but it took time for her to reach her current headspace.
"I went through a rough patch in my life last year, when I was very new with myself," she says. "I didn't hate myself, but I didn't understand myself or my transition. It was hard for me to wrap [my mind] around who I was becoming, and I went into this dark-ass place." She attributes this in part to moving to New York City and not liking her environment; she now resides in Calabasas with Uzi.
"I was in a situation where I didn't really have support, I'll be honest, because I didn't tell nobody what was going on," she says. "So everybody was judging me because they didn't know what was going on. I had to tap into myself to pull myself out of that."
The 29-year-old rapper is also at a stage in her life where she is self-aware and takes her responsibility seriously as a role model for dark-skinned Black women. "I feel like I have to represent that, the struggle. And my brown-skin girls, when you not feeling that powerful, not feeling that confident, you are beautiful."
City Girls' music is an ode to celebrating and liberating Black women from colorism, racism, and the patriarchy. Their music revolves around self-expression, financial independence, and sensual ownership at a time when Black women are being challenged and marginalized on all fronts.
They're using their platform as a vehicle to empower women all over the globe, both through their music as well as their testimonies. "So I just feel like it's very important to uplift women, just letting them know, hey, keep working towards your dreams. Something is gon' pop off," Miami says. "Stay confident. Just whatever bag you in, stay in that bag. Work towards your goal, but don't never lose yourself."
Part of City Girls' energy comes from the women of hip-hop before them. There's a long legacy of women and femme rappers who completely changed the fabric and soundscape of the art form, including Salt-N-Pepa, Lil' Kim, Foxy Brown, Missy Elliott, Trina, and Nicki Minaj. From affirming, sex-positive music and Black feminist theory to bridging the gap between hip-hop and high fashion, femme rappers have long been purveyors of the culture.

For decades, the misogynistic powers that be have been pitting Black women in hip-hop against each other, but it's clear that both JT and Miami are standing firm in their respect, admiration, and standom for the gworls who paved the way for them. "I love Nicki," JT says as she recounts her experience seeing Minaj hit the stage at Wireless Festival in July of this year. "Seeing her perform when I was a kid, I couldn't understand, but now as an artist, when you watch somebody from an artist standpoint versus a regular person, it's a different feeling." JT tells me how she fangirled over Minaj's performance, recording the whole thing and sending it to her phone afterward. "She was like a bad b*tch owning the stage. She just walked in, and she just brought it like she brought it — like I was watching her, and I'm like, 'Yo, I gotta start owning the stage like that.'"

Miami echoes that admiration. She also expresses her love for yet another pioneer, Lil' Kim, and reminisces about some of her favorite lyrics from the '90s icon: "I don't want d*ck tonight. Eat my p*ssy right," Miami sings, followed by: "I used to be scared of the d*ck." "I don't even know what I was doing listening to her, but I love her," Miami says.

But as a Florida native, Miami says she's most influenced by Trina, who also happens to be her godmother. "Trina had the biggest impact on me as an artist [because] she's from Miami: the way we talk, the lingo, just the bad-b*tch attitude."
Like Trina and Lil' Kim before them, City Girls know their audience — whom they've dubbed The Citizens, City Girls, and City Boys — and they don't waver too far from that distinct sound that boosted them onto the scene. In fact, they see themselves quite literally in their fans. "We are normal girls. We are a reflecting mirror of a normal, everyday girl," Miami shares.
And while Yung Miami might feel like an ordinary girl, she's been having quite the blockbuster, rom-com, main-character-energy year. At the time of our fitting, the first episode of her podcast, featuring Diddy, is available for streaming, and her legions of Twitter fans are talking about her speculated relationship with the mogul. During the debut episode, Yung Miami asked Diddy the burning question, "What we is?" It took social media by storm. Diddy replied, "We date. We're dating." Then he further explained, "We go on dates. We're friends. We go to exotic locations. We have great times." It resulted in Miami's now-iconic answer, "We go together — real bad."
Fans also had a lot to say about the moment at the 2022 BET Awards when she held up a "GO PAPI!" sign while Diddy accepted a lifetime achievement award. It has since become a viral meme. "I love it. I had two signs. Me and Diddy have a really supportive relationship. He supports me, and I support him."
And despite Yung Miami and Diddy's comments on their relationship, the Twitterverse and blogs continue to make up their own fan fiction. "People don't know us. They don't know what the f*ck we got goin' on. I'm in there like, 'Shut the f*ck up. Y'all don't know what we have going on. Me and him gon' be married — boom!' No, I'm just saying," she says, laughing hysterically. City Girls are known for this level of trolling and fueling the many narratives.
The following day, the photo crew, glam squad, and City Girls team arrive at a minimalist-inspired house in the Hollywood Hills for an intimate photo shoot. While JT and Yung Miami are in glam, I listen to the Girls' new single "Good Love," featuring Usher, ahead of its release. This is the first single off their forthcoming album, slated for later this year, and it has that authentic City Girls sound with an infectious summertime groove and a bouncy chorus from the R&B giant.
"I really appreciate [Usher] doing this record with us," JT says. "He was so down to earth, and he sees it for the record just as much as us. I think that's very important when you working with an artist." Miami also shares her praise for the icon. "Usher is so nice and charming," she says. "I love people that when you get with them, you don't see a legend. You see a person."
"Good Love" is now available for streaming. "I was surprised to see that the City Girls have the song of the summer, and that's just on period," Miami says. "The response is so great. People are doing they TikTok . . . and that's just period." And like any fan knows, City Girls' signature "period," introduced in 2018 in their single "Period (We Live)," has since become heavily ingrained in pop culture lexicon.
As far as the anticipated third studio album, which is set to be released later this year, what can fans expect from the queens of getting the bag? "P*ssy rap — [it's] what we stand for," JT shares. "It's confident music, getting-ready music, girl-power music, pop-your-sh*t, talk-your-sh*t music, fun music, alter-ego music. It's for everybody. City Girl sh*t, for real." I've previewed bits of the album (at least what was mixed and mastered at the time), and it is indeed in line with that signature powerful femme energy, just as JT puts it. The album introduces new sonics to the City Girls sound, all while remaining distinctly them. "It's very fun, very raunchy, very sexy, and very City Girls sh*t," Miami says. "We poppin' our sh*t, bringing that energy, at these n*ggas' necks, and we're puttin' on for the bad b*tches." There's a song off the new album that's sure to be a smash hit, sprinkling in notes of trap reggaeton with lyrics like, "P*ssy make him do the cha-cha, he want to hit it like a piñata." There are odes to rap classics of yesteryear, bops for a night out, and countless "act up and talk sh*t" records.
Later during the photo shoot, Miami takes a moment to FaceTime her 8-year-old son, Jai, and 2-year-old daughter, Summer. A gleeful "Hi, Mommy!" pans out from the iPhone. Amid a long shoot day, with its many moving parts, she makes sure she shows up for her kids. One can only imagine how challenging it must be to navigate parenthood and create routines while also establishing herself on the world's stage.
"I feel like I've got a lot of support," Miami says. "Before my mom was out of prison, whenever I was on the road, my son would be with his dad, which I love because I love the man raising another man." She takes a moment. Miami's son lost his father, Jai Wiggins, in the summer of 2020 in a tragic shooting. "Then I had my daughter. My mom is out now, so my mom always got my baby, and it makes me happy because she was in jail the first year [of Summer's life], so it's like she's bonding and making up the time she got lost."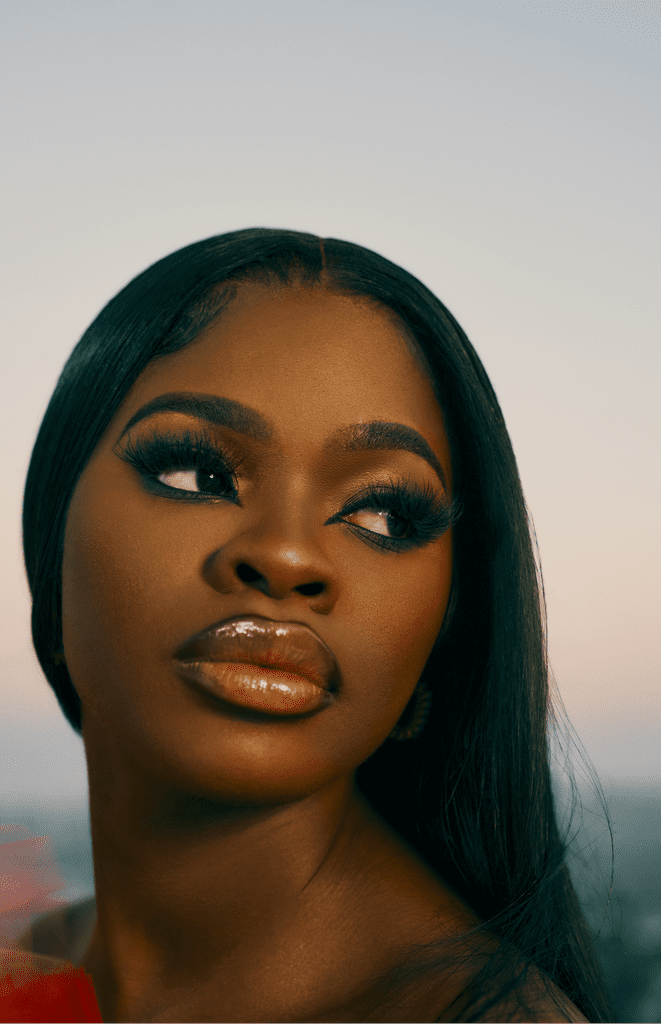 A few weeks after the cover shoot, I catch up with JT on Zoom. She's on the move. "Leaving from getting a wax, on my way to buy my friend a camera," she explains as she runs errands around Los Angeles in her pink Lamborghini.
Since we spoke in person, City Girls have been on a slight tour, performing at Essence Festival in New Orleans and Wireless Festival in Birmingham, UK. "Imagine being a girl from Miami and thousands of fans are screaming for you all the way in London," JT says. Wireless marked JT's first visit across the pond, and from the excitement in her voice, it was one to remember. "That sh*t was such an experience. I couldn't understand it while I was there, but now that I'm back home and just looking back at the crowd's reaction, energy, and everything, I feel so blessed."
JT and Miami are enjoying the fruits of their labor and checking everything off their bucket lists. "That's what lifestyle I'm on right now," JT says. "I'm on soft-life vibes. I feel like as Black women, we deserve it." For JT, that soft life involves caring for her two adorable frenchies, Bean and Mami. She takes being a dog mom seriously. "They live their best lives. They're good dogs. My friend asked me today, 'Are your dogs gon' be chewing on stuff?' I said, 'Oh no, my dogs don't chew unless they eat.' They bring me so much joy."
I follow up with Miami a few weeks later on a Monday afternoon via Zoom. "I'm so sorry, I'm just so tired," she says, waking up from a nap. This fatigue can be attributed to her returning from a chic holiday in Paris. Knowing all too well about the importance of napping, we reschedule for later in the day. That "later in the day" eventually turns into a week later due to her busy schedule.
When we finally speak again, Miami takes the interview on the go from her car, just like JT. Following our last conversation, we talk more about her hit podcast. Her transition into this medium makes perfect sense for the "Top Notch" rapper. Alongside the music, Miami's witty banter on Instagram Live with friend and fellow rising pop star Saucy Santana contributed partly to her rise in profile. But according to Miami, this venture isn't necessarily easy for her. "I can sit on the phone with anybody, like my friends, my family, and I can talk all day, but when I start speaking publicly, I get anxiety."
Criticism on social media only made things worse. "When we first came out, like 2019, I felt a real mental breakdown reading the comments with people saying I can't rap. And I was like, 'Damn, people.' You could do everything right, and they still gon' have something to say. So it was one of them things where I was like, 'You gotta just do you.'" Now she's on a high with her podcast. "I haven't read one bad review, and that just makes me feel really good. I wanted to find something outside of music that I could do, and I really feel like I found my calling."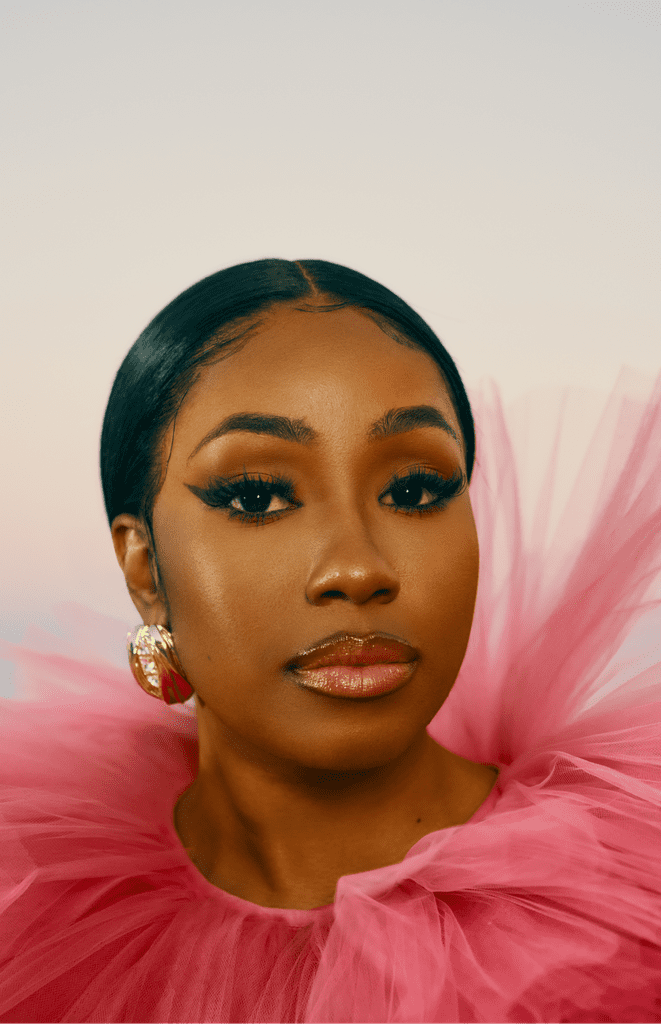 Since our time in LA, the pair have had much to celebrate. JT and Miami can now add "executive producer" to their résumés. Their life stories inspired Issa Rae's most recent HBO hit, "Rap Sh!t." "Just to be a writer for 'Rap Sh!t' is just mind-blowing," Miami says. "Coming from the hood, for [Rae] to want to write a story similar to our upbringing, I'm still speechless. I never thought that we'd be doing big things like this so early on in our career, which is knocking down so many doors. We are here doing big things, the City Girls. We really came, and we're doing our sh*t."
As a fan and City Boy, I sense throughout our multiple talks so much growth between the two. There's a rawness, vulnerability, and desire to be completely open. That transparency is necessary when living in a time when public figures are held accountable for their actions and words, especially on social media.
In 2018, offensive, homophobic tweets from Yung Miami resurfaced from 2013. One read: "Boy Oh Boy If I Ever See Any Type Of Gay Sh*t In My Son Imma Beat That Bo So Baddd." She issued an apology at the time but afterward shared some of those same sentiments during an appearance on Power 105.1's "The Breakfast Club." Four years after that radio interview, she tells me: "As you grow older, you really learn and grow as a person, because a lot of sh*t that I did when I was young, I would never f*cking do that, I would never date this person, I would never say that. Just being young, being in a small circle in Miami, hanging around certain people, just being ignorant. Now I'm 28, have kids, and see things from a whole other perspective."
Despite missteps, fans have loyally followed and watched as JT's and Yung Miami's profiles have risen. From SoundCloud to major placements on the Billboard Hot 100; from rapping about gifted Birkins to being Birkin collectors; from Dade County to the world — City Girls show no signs of slowing down. But decades later, how do JT and Yung Miami want to be remembered? JT wants City Girls to be known for perseverance. "'Those girls were always taking blows, but they always came back stronger, and they never gave up.' I want my legacy to be, 'She was so beautiful, she was so talented, she was herself, she was one of us.'"
Yung Miami echoes that sentiment. "I want my legacy to be, 'That b*tch really manifested everything. She came from nothing.'"
Creative
Photography: Joshua Kissi Styling: Zoe Costello at Opus Beauty Styling Assistants: Brandon Yamata, Hannah Fischer Hair: Tevin Washington, Ricky Wing Makeup: Jazzmin Jordan, Michele Parker Manicurist: Yvett G, Em Creative Direction: Jae Payne Design: Becky Jiras Producer: Alex Friedlander 2nd Producer: Aisha Rae Production Assistant: Sam Findlay
Editorial
Editors: Jessica Andrews, Jada Gomez, Iyana Robertson Copy Editors: Mary White, Bryan Brandom Talent Director: Sam Flinn Consumer Marketing: Victoria Pedlar, Melissa Hayes Editorial Production: Whitney Moore
Styling
Look 1 Miami: Top: Carolina Herrera, Pants: Carolina Herrera, Shoes: Aleví Milano, Jewelry: Celeste Starre, Rings: Stylist owned, Look 1 JT: Dress: Carolina Herrera, Earrings: Celeste Starre, Rings: Sterling Forever, Lili Claspe, Talent's own, Look 2 Miami: Dress: Fendi, Boots: Brian Atwood x Scarosso, Jewelry: Stylist owned Look 2 JT: Bra: Agent Provocateur, Coat: Fendi, Shoes: Fendi, Jewelry: Celeste Starre, Look 3 Miami: Jacket: Versace, Skirt: Versace, Shoes: Versace, Jewelry: Talent's own, Look 3 JT: Jacket: Rick Owens available at FWRD, Bodysuit: Rick Owens, Dress: Rick Owens, Shoes: Rick Owens, Jewelry: Marine Serre, Look 4 Miami: Jumpsuit: Roberto Cavalli, Jewelry: Talent's own, Look 4 JT: Jacket: Roberto Cavalli, Jewelry: Talent's own