How Latin Music Publicist Cristina Novo-Bernal Built Career
Cristina Novo-Bernal Became a Top Publicist in Latin Music by Creating Her Own Lane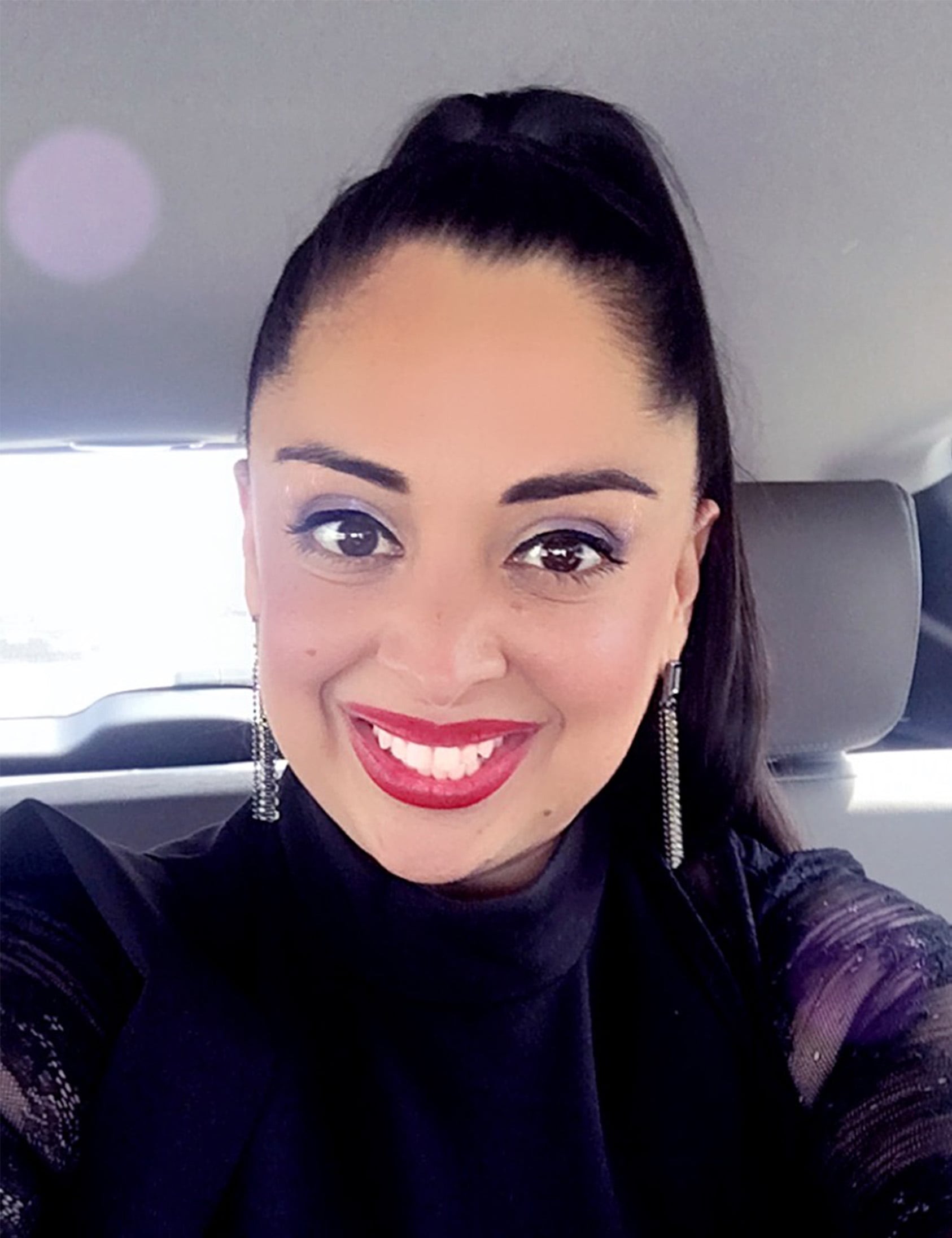 Publicist Cristina Novo-Bernal has been around music all her life. The daughter of a Peruvian mother and Argentinian father, she was born in Lima, Peru, but grew up in Miami. Her father was a concert promoter and also owned a nightclub; the family still has footage of little Cristina on stage with performers, singing alongside them. "Music is kind of all I've known and all I know," she tells POPSUGAR.
Now one of the preeminent publicists in Latin music, Novo-Bernal represents clients like Nicky Jam, Anuel AA, and Lenny Tavárez. Still, the 42-year-old couldn't have predicted that her career — as well as greater recognition of Latin music on the international stage — would take the twists and turns it has. With an attitude of "create your own lane," Novo-Bernal has solidified her place in a historically cutthroat industry. And despite her long and successful career, she promises she's just getting started.
But let's go back to the beginning: in the early 2000s, Novo-Bernal was just starting out. Although she loved music, she got a job as a booker and producer for a Telemundo show. Soon, she realized that she enjoyed booking music talent for the segments — discovering new artists and giving them a platform — more than anything else.
"If there's something you want to do or you are finding there are roadblocks in, build your own."
Meanwhile, as her early career progressed, reggaeton was beginning to tighten its grip on a wider swath of American audiences. Daddy Yankee was gaining popularity, and in 2004, Ivy Queen came out with "Yo Quiero Bailar." Novo-Bernal knew that these were the types of artists she wanted to be working with, getting them even more recognition. "I was like, how do we bridge this?" Novo-Bernal remembers.
At this point, she was living in Florida. But at the recommendation of another producer living in New York, Novo-Bernal decided that's where she needed to be; the Big Apple seemed to be the nexus of where everything seemed to "be happening."
"So one day, I literally quit my job, packed my bags, and moved to New York," she says. "And then because I already had all these relationships with these artists and labels, I just started connecting the dots."
Mind you, Novo-Bernal was still young, in her mid-20s. She had no blueprint for what it meant to be a music publicist; she hadn't studied it in school or held a job as one before. "I went off instinct and what I felt needed to happen," she says. A lot of that was pure determination and grit: "It's like, Oh, I need to put Daddy Yankee on the cover of "Fader," and so I'd look up who's the contact at Fader, and then I'd pitch him, and that's how I did it."
Eventually, Novo-Bernal realized she wanted to learn more about record labels, so she joined Motown Records, which eventually merged with Republic Records, where she worked in the publicity department. She was there to learn the "infrastructure" of that side of the industry, she says — and was able to gain insight into how certain decisions were made from the record label's perspective. But after she rose in the ranks and "hit a ceiling," she decided to quit her job and start her own public relations agency, Artistry & Records. Once again, Novo-Bernal was pivoting and figuring out her next move in real-time.
"For a year, literally, I ate 99-cent pizza. I was struggling so much," she remembers. "Then, 'Despacito' comes out, and the boom of the Latin market again kind of explodes. And then, all of a sudden, everyone's like, 'I need representation.'"
The first client she landed was Nicky Jam, and from there, she was introduced to other artists and was generally hired on a word-of-mouth basis. Again, it was paramount that Novo-Bernal be nimble. In an age of dying traditional media, like print magazines, and the growing popularity of streaming, she's had to become more than just a publicist. It's now equally about creating buzz and activations to get artists recognized, she says. Like always, she's carving out her own path, learning and growing with the times. But unlike others who run their own businesses in 2023, Novo-Bernal says she doesn't really have a website or promote herself on social media. As she puts it: "I think my work speaks for itself, and that's kind of how I've been able to grow in the way I have been."
It's an interesting foil to the way many Latin music artists themselves — from Bad Bunny to Karol G — have been increasingly achieving recognition around the world. As Novo-Bernal explains, it's not that Latin music became successful overnight or out of the blue. "Latin music has always been super popular," she says. "It's just that the reach wasn't as visible or wasn't as tangible."
That visibility has specifically grown with social media and the internet, she adds: "People need to see to believe and understand, and thanks to places like IG and Spotify — these platforms that are global — everyone sees those numbers, and numbers don't lie."
As "representation" becomes more of a conversation, Novo-Bernal continues to advocate for what she believes in. After the murder of George Floyd by police in 2020, Novo-Bernal got involved in Conciencia Collective, an alliance within the Latin music community fighting racial injustice and led by Afro-Latinos.
For Novo-Bernal, 2020's racial justice protests showed that change will only come if everyone is involved — and for the Latinx community, that means being included in the conversation from the start. "The information that needs to be funneled needs to be funneled in both English and Spanish," she says. "If we're not all inclusive, you can't expect people to voice something they don't understand." Her work, she adds, has involved educating the Latinx community about the racism that happens within all identity groups and also actions they can take to fight against this.
Indeed, in everything she does, Novo-Bernal centers going against the grain if it means doing what she believes is right. That's what she's done throughout her career, she says — even when people have tried to dissuade her from straying from more traditional paths. "If there's something you want to do or you are finding there are roadblocks in, build your own," she says. "Don't listen to anyone else. In a lot of ways, I'm very stubborn. If I want to do something, I'll get it done, no matter what anyone else says."
That will inevitably lead to some failures, Novo-Bernal adds, but that's part of what keeps her going and innovating: "It's always been, like, how do I learn from this and make it better?"
And she keeps striving. Earlier this month, Novo-Bernal went to the NBA All-Star Game for the first time and basked in just how "awesome" it was to get an opportunity like that. It made her realize that she wants to keep working toward that next awesome thing. "I want to take my artists to the front rows at fashion weeks in Milan and Paris," she says. "There's way more that I can do to expand. That forward-thinking is what I want to do more of."
"It kind of makes you feel like superwoman."
Although Novo-Bernal's career might've been directly inspired by her father's, as the mother of a 1 ½-year-old son, she's also inspired to keep going because of her mom.
"I feel like I'm making my mom proud, because my mom was a stay-at-home mom, she took care of us," Novo-Bernal explains. "She would say to me, 'If I'd known what I know now, I would've gone for a career.' I love breaking some of those generational chains."
Amid the craziness of her day-to-day job and being a mom, Novo-Bernal comes back to that. "It's a great feeling of accomplishment at the end of the day, like, I did all this sh*t, plus I did this, plus I was with my family," she says, and you can practically hear the pride in her voice. "It kind of makes you feel like superwoman."
Image Source: Cristina Novo-Bernal