Netflix's The Devil All the Time's Story Is Told Non-Linearly — Here's How It All Connects
For the most part, the story of Netflix's The Devil All the Time, which premiered on Sept. 16, is easy to follow — at least, when you think of it as vignettes held together by an overarching theme. There's WWII veteran Willard Russell and the belief that his cancer-stricken wife will get better if he makes sacrifices to God; there's Willard's son Arvin, who has to grow up with his father's choices hanging over him as he protects his step-sister Lenora Laferty from those around them, like lecherous Reverend Preston Teagardin; then there's Sheriff Lee Bodecker who's looking for reelection but realizes his sister and her husband may jeopardize everything with a dark secret they hold.
Each of them is suffering the damages of post-war, crime, or a dark family shadow, leaving each a disturbed individual that resorts to violence to solve their problems. If you got swept up in their stories and found yourself confused as to what was going on, keep reading to see how all the main characters of The Devil All the Time are connected.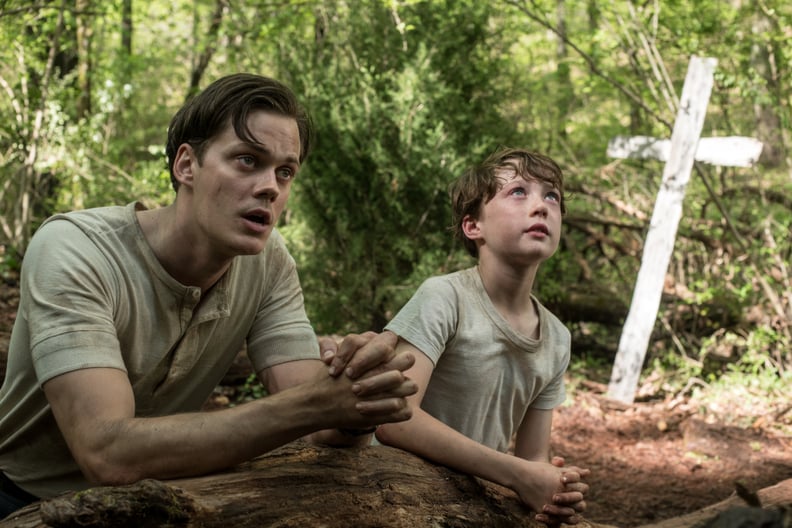 Willard Russell With Arvin Russell, Carl Henderson, Helen Hatton, and Sheriff Lee Bodecker
While passing through Meade, OH, Willard stops at a diner and happens to take serial killer Carl Henderson's seat. This small interaction leads to the two men meeting their future wives. Once back home in Coal Creek, WV, Willard's mother introduces him to Helen Hatton, who she promised God he would marry if God brought Willard back home safe. Unfortunately, he's already in love with Charlotte, the waitress from the diner. Willard then moves to Knockemstiff, OH to marry Charlotte and they have a son named Arvin. By not marrying Helen, Helen is able to have Lenora, aka Arvin's step-sister.
Sadly, Charlotte dies from cancer. Willard believes that if he makes sacrifices to a cross he's built, things will work out for his family. Although he's told his son they're going to visit his mother, Willard commits suicide the same evening they bury Charlotte. Willard's suicide connects Arvin and Sheriff Lee Bodecker as Lee is the officer called out to deal with the scene.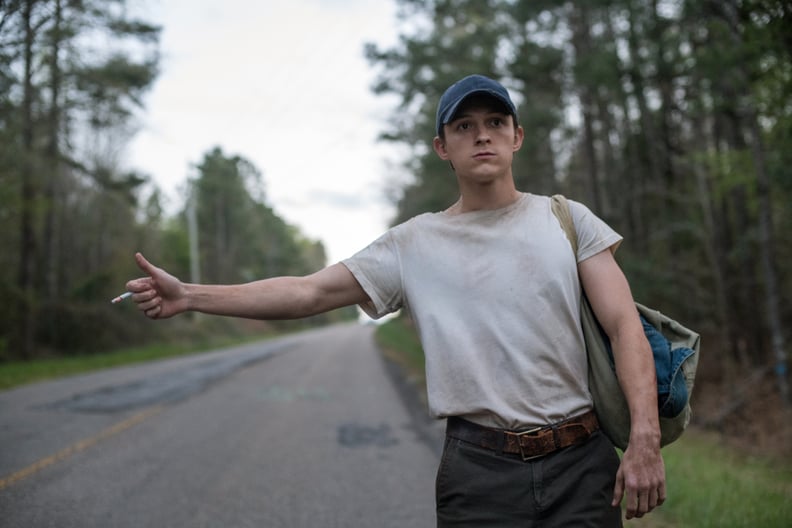 Arvin Russell With Willard, Lenora Laferty, the Hendersons, Preston Teagardin, and Lee Bodecker
Arvin is essentially connected to everyone. He grows up in Knockemstiff, OH, with his parents Willard and Charlotte, meeting Sheriff Lee Bodecker after his father commits suicide. He then moves to Coal Creek, WV, to be raised along with Lenora Laferty by his grandmother and great-uncle. Although Lenora and Arvin aren't related, they view each other as siblings and he does anything he can to protect her. Reverend Preston Teagardin comes to town after the town preacher takes ill and preys upon Lenora, causing Arvin to take matters into his own hands.
Once he kills Preston, Arvin goes on the run and decides to hitchhike back to Knockemstiff to set right his father's legacy. The Hendersons pick him up, despite it going against their number one rule not to pick someone up from home. Arvin senses something is wrong and shoots Carl Henderson before the other can make a move. Sandy Henderson pulls out her own gun and gets a shot out, however, Carl had emptied her gun before their trip and filled it with blanks, so Arvin ends up killing her as well.
Lee gets a tip about Arvin being the killer and goes to kill him. The pair meet in front of Willard's cross, bringing their story full circle before they shoot at each other. Arvin is unscathed while Lee dies from his injuries.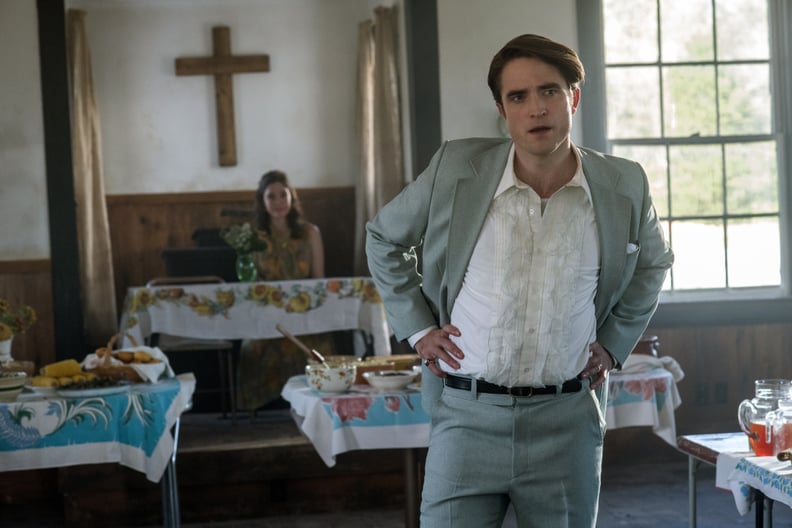 Reverend Preston Teagardin With Lenora Laferty and Arvin Russell
After Reverend Teagardin's uncle takes ill, he comes to Coal Creek, WV, to take over the other's church. His first connection happens during the arrival luncheon, where he embarrasses Arvin Russell's grandmother over her fried chicken livers, causing Arvin to dislike the preacher. Preston then takes advantage of Lenora Laferty's innocence after she comes to the church for shelter from the rain. It's his connections to both Arvin and Lenora that end in his death.
Preston gets Lenora pregnant, telling her they didn't actually have sex (even though they did) when she confronts him. Preston says he won't acknowledge the child and that he can't be the father, resulting in Lenora's accidental death — which everyone believes is a suicide. A sheriff's deputy tells Arvin about Lenora's pregnancy after her death. Arvin decides to kill the preacher for what he did to Lenora and how he continuously preys on the community.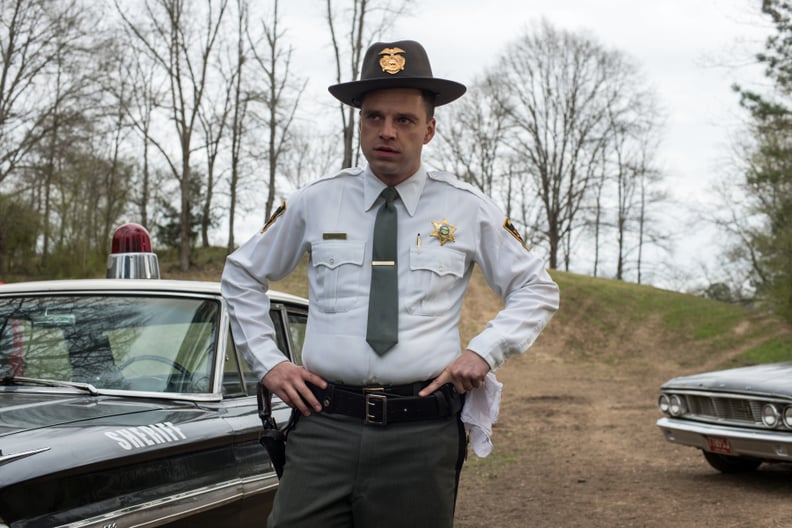 Sheriff Lee Bodecker With Willard and Arvin Russell and Carl and Sandy Henderson
Sheriff Lee Bodecker is a corrupt cop living in Meade, OH. His path crosses Willard and Arvin Russell's on the night that Willard commits suicide, and it isn't until years later that he meets Arvin again. After learning Arvin is the one who killed his sister and her husband, he goes to Knockemstiff, OH in the hopes of killing him. Arvin and Lee face off, which results in Lee's death and Arvin gets away.
Lee begins to uncover what Sandy and her husband are up to when he finds one of their polaroids. This leads him to try and cover up any involvement people may think he has as he wants to be reelected sheriff. He kills crime boss Leroy and his henchman Bobo before burning all of Sandy's polaroids and negatives of her and Carl's crimes.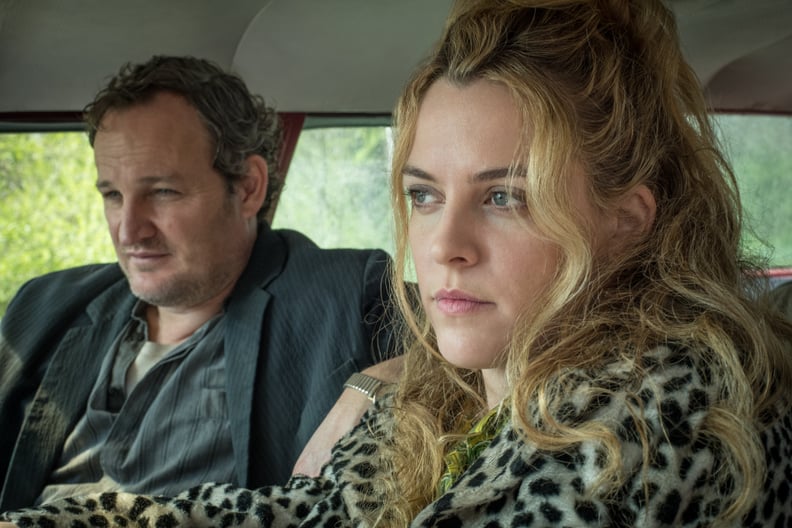 Carl and Sandy Henderson With Sheriff Lee Bodecker, Roy Laferty, and Willard and Arvin Russell
By chance, Carl Henderson's seat gets taken by Willard Russell, and because of this, he's able to meet his future wife Sandy Bodecker. The pair marry and soon start a spree of killings, with Carl being nicknamed "The Shooter," Sandy being called "The Bait," and their victims being called "The Models." They pick up Roy Laferty, who's on the run for killing his wife Helen Hatton, and he becomes one of their first victims. By killing Roy, they effectively leave Lenora Laferty an orphan, which leads to her being raised as Arvin Russell's step-sister.
Sandy becomes disenchanted with their life and wants to leave Carl, but ends up staying and continuing their killing spree. The Hendersons pick up Arvin, who's on the run for killing Reverend Preston Teagardin, which ultimately becomes their doom. Carl tries to make Arvin another victim, but Arvin shoots Carl before he gets the chance. Sandy then pulls out her own gun, however, Carl empties it before their trip and fills it with blanks, so Arvin shoots her as well.
Because Sandy's older brother, Lee Bodecker, is sheriff, he's the one that's called to the scene of their murder. Still thinking of his reelection, he heads to Henderson's home to burn any evidence of their prior kills, which he learns of via a polaroid he finds on the ground.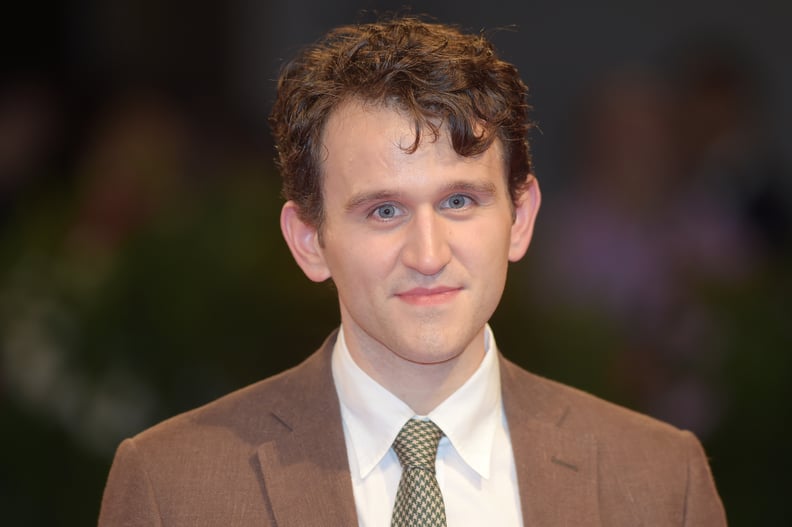 Roy Laferty With Helen Hatton, Willard Russell, Lenora Laferty, Carl and Sandy Henderson
Roy Laferty is connected to Willard Russell by circumstance. He speaks at church the day Willard's mother introduces him to Helen Hatton. Absolutely taken with Roy, Helen stays behind to be blessed by him. Since Willard didn't pay her much attention, Helen and Roy eventually marry. They have a daughter and name her Lenora, the same Lenora that is raised as Arvin's step-sister.
Roy gets bit by one of the spiders he uses in his sermons and spends two weeks in a dark closet because he feels God is testing him. At the end of the two weeks, he believes God has spoken to him and leads Helen to believe they're going on a drive. The pair leave their daughter Lenora with Willard's mother and Helen never sees her daughter again. Roy kills Helen because he believes God has given him the power to resurrect the dead.
Roy unfortunately comes into contact with Sandy and Carl Henderson when they pick him up as he's on the run for killing his wife. When the group stops, Carl demands Roy have sex with his wife while he takes pictures. Roy refuses and Carl shoots him in the head, making him one of Carl and Sandy Henderson's first few victims.