Advertiser Content From
"Disney Lorcana" Creates a Nostalgic New World For All Trading Card Gamers
Advertiser Content From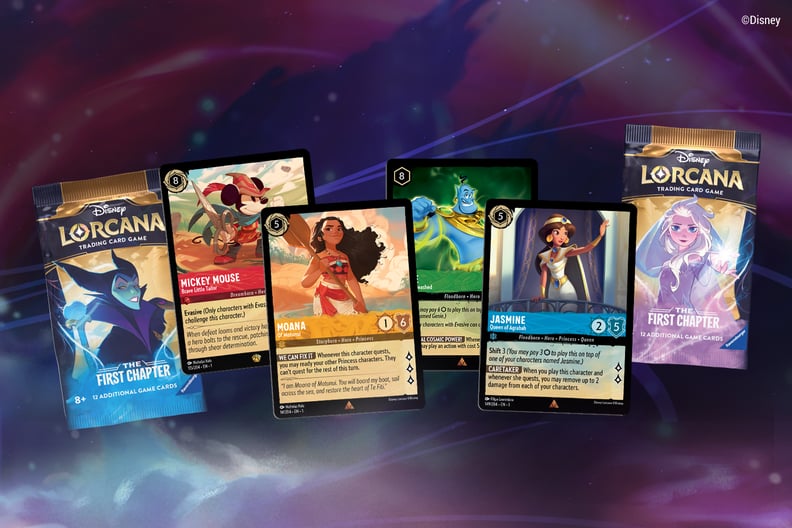 PHOTO: Courtesy of ©Disney DESIGN: Mia Coleman/POPSUGAR
PHOTO: Courtesy of ©Disney DESIGN: Mia Coleman/POPSUGAR
Trading card games (TCG), a large sector of the table-top role-playing game (TTRPG) genre, have undergone a transformation in popular culture in recent years. In 2022, the gaming genre generated a little over $11 billion in revenue on a global scale. This evolution can be attributed to a combination of factors, including the advent of online platforms and the rise of inclusive game design, plus an increased interest in trading card games during the pandemic.
As traditional boundaries continue to dissolve, a new TCG is adding a more nostalgic direction for the gaming community. "Disney Lorcana Trading Card Game", created by popular game developer Ravensburger, combines the strategic elements of table-top role-playing with the whimsical nature of becoming your own storyteller with classic Disney characters. Similar to the effect that "Disney Dreamlight Valley" had on the cozy gaming community, "Disney Lorcana TCG" has the advantage of creating bridges between a wide variety of table-top gamers.
"I've been noticing a shift in the last few years where I'm seeing a lot more Black characters included in trading card games," says Victoria Brown, a retro video game content creator and social media manager for Black Girl Gamers, a community-powered organization that pushes equity for Black women within the gaming industry. "I didn't really see anybody who looked like me before."
In "Disney Lorcana TCG," two players (or up to six players) take on the role of Illumineer, and use magical ink to summon Disney characters and items called glimmers. Using action and item cards, the special effects from each glimmer, and their powerful imaginations, Illumineers race to complete their adventure before the other player by going on quests with their glimmers and collecting lore points. The first Illumineer to collect 20 lore points wins the game. Since there's no combat in The Great Illuminary — the center of the magical realm of Lorcana where Illumineers summon their glimmers — players can "challenge" each other's characters to have them removed from gameplay or simply slow down their lore collection.
The beauty of "Disney Lorcana TCG" is the weaving together of classic Disney story elements into the strategy of the game. On one of the beautifully designed cards featuring Ariel from "The Little Mermaid," the Disney Princess is drawn with human legs, which she's rewarded with after giving up her voice to Ursula the Sea Witch, as the story goes. With this card, titled "Voiceless," Ariel is unable to sing songs, which would be a helpful feature for the "Song" action cards. Whereas, the Ariel card with her green mermaid tail can perform the action if necessary in gameplay.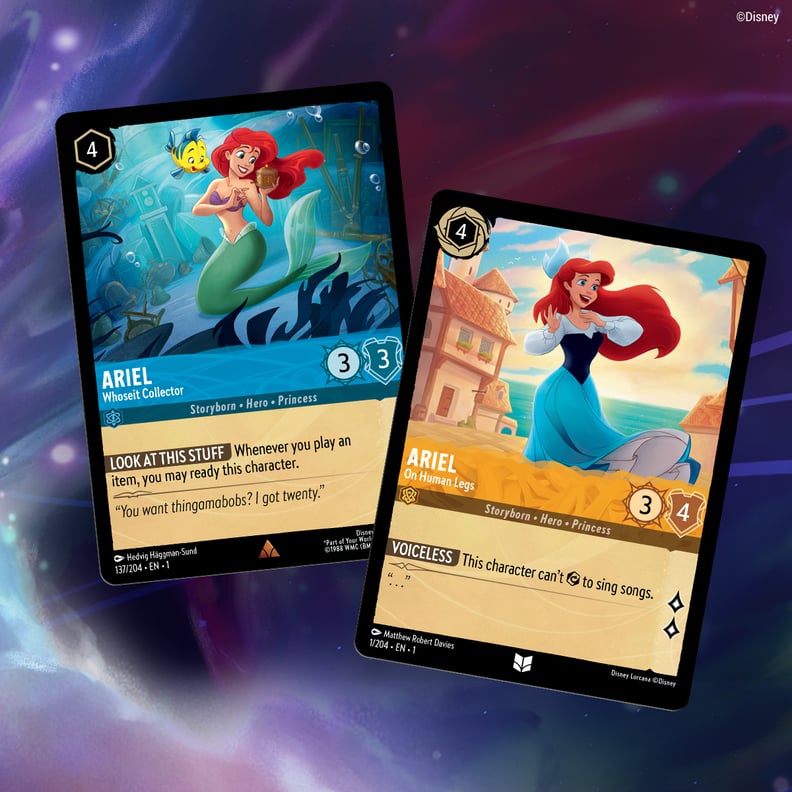 Storytelling is a large part of table-top trading card gaming. Brown, who's been streaming gamer content since 2018, says having a love for storytelling also helps her develop bonds with fellow gamers. "I love the lore of the games, learning more about the characters, the story, and what to be strategic with. Like what's my next move and [thinking] what is the person across from me's next move going to be," she says. "Next thing, you're spending literally hours at the same table with the same people getting to know them while still just mapping out what story or strategy you're going to make."
A major part of TCGs is building your personal deck, which is where much of the strategy comes into play. For "Disney Lorcana TCG," players use a deck of 60 cards (featuring colorful and original Disney art) that consists of two types of glimmer sets — Amber, Amethyst, Emerald, Ruby, Sapphire, or Steel — that wield their own benefits and strengths. In comparison to other TCGs, the game mechanics of "Disney Lorcana TCG" are simple enough for new table-top gamers to jump in and learn, but also calls for a level of strategic gameplay that will entertain more experienced role-playing gamers.
"Disney Lorcana TCG" also has the rare privilege of sitting at an intersection of multiple generations of Disney titles. The game's characters allow gamers who enjoy the newer Disney films like "Moana" and "Frozen" to connect with lovers of the classics like "101 Dalmatians" and "Sleeping Beauty." Players of all ages can enjoy finding the Easter eggs hidden within the story gameplay and in the card designs. For example, the card featuring Pascal, Rapunzel's pet chameleon from "Tangled," features the ability to only be challenged by other characters who have the rare "Evasive" characteristic, since those are the only characters who can "see" Pascal's camouflage. In the illustration of the card, Pascal begins to blend into the background design, alluding to his special effect.
Brown is personally excited to play with her favorite Disney character, Simba, from "The Lion King." "I grew up watching 'Lion King' on VHS and broke three tapes from watching it so much," she says. Simba appears on three cards from the Steel deck, each with its own set of benefits — one even has the rare "Evasive" trait which will surely be useful during gameplay. With more people becoming interested in table-top games, "Disney Lorcana TCG" may be the introduction newbies need to get started in the genre.
Brown notes that the inescapable nostalgia built into "Disney Lorcana TCG" along with the immersive storytelling and engaging gameplay, creates "a magical experience for both seasoned players and newcomers alike." She cautions new gamers to research the game before they stack up on multiple decks though, in order to build a deck they can feel comfortable with before spending hundreds, if not thousands, of dollars. "Trading card collecting is a completely different beast [than video games]," she says. "Next thing you know, you're spending so much money on stuff that you have no zero knowledge about. Save your money and just ask for help. Someone in that community is going to be willing to teach you how to play."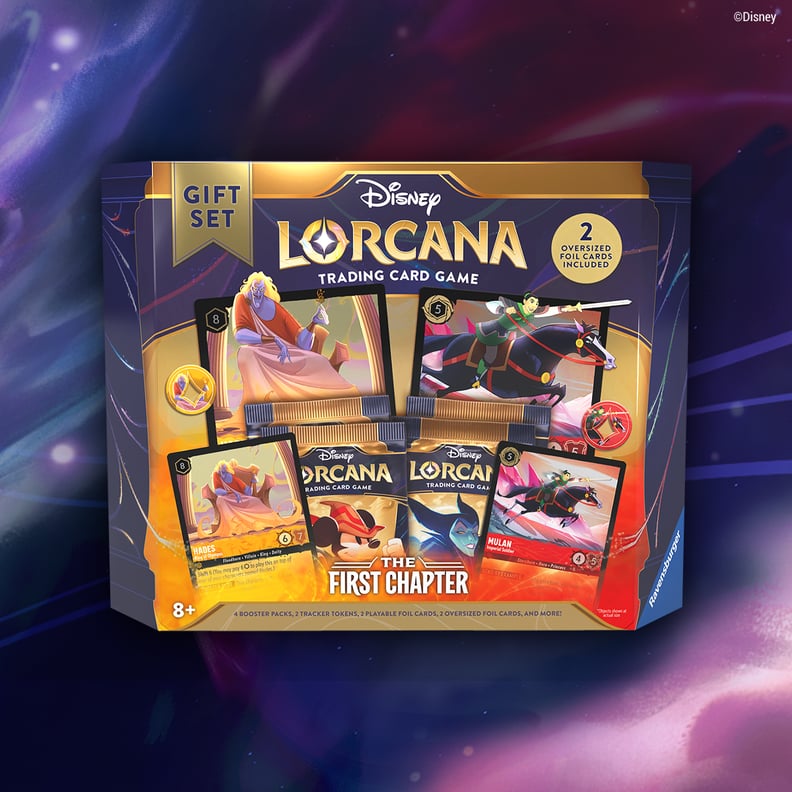 Though TTRPG may seem intimidating at first, Brown encourages new gamers to just hop into the welcoming community. "You can go to a convention and find a table-top section where you can meet other people who may be playing your type of games," she says. "Next thing, you're making friends with complete strangers. I love that aspect of the trading card community — being together and just having a great time. Especially if you run into people who are willing to have the patience to teach you how to play different games; I love those people. They are like angels."
"Disney Lorcana TCG" released its first set of cards, titled "The First Chapter," on September 1 and, as expected, was received with open arms by gamers and Disney enthusiasts alike, with most major and local retailers quickly selling out of stock. Due to popular demand, another set of "The First Chapter" was released at the top of this month and came with an announcement for even more exciting new cards.
On November 17, Ravensburger will be releasing a new 200-plus card set titled "Rise of the Floodborn" that's expected to add new twists and turns to gameplay. With floodborn glimmers, gamers are introduced to Disney characters like they've never been seen before. As the story goes: in a mysterious ink flood in the Great Illuminary, storyborn and dreamborn glimmers are all mixed all up, creating floodborn characters. These characters come with new abilities and a new gaming mechanic called Resist, which will indictate how much damage a character can ignore before taking actual damage in a challenge. On one card we see Gaston from "Beauty and The Beast" as a scientific genius and on another, Belle is a skilled archer — truly a whole new world that holds exciting new possibilities for story-building during gameplay.
Accessories such as card sleeves, deck boxes (comfortably fitting up to 80 sleeved cards), playmats, and portfolios were also released during the first wave and are available where games are sold. Though no official plans for organized play have been announced yet, gamers are banding together in increased anticipation and retailers are being encouraged to apply to host tournaments and/or game nights. Along with buying the cards, players can also download the "Disney Lorcana Trading Card Game" Companion app, which triples as a card collection manager, a lore counter during gameplay, and a play guide to review game rules step-by-step when needed. For more information and to stay in-the-know on game updates, visit DisneyLorcana.com.