Maya Hawke and Camila Mendes Are Looking For Payback in Netflix's "Do Revenge"
Maya Hawke and Camila Mendes are joining forces for a new Netflix movie, "Do Revenge." The high school comedy follows two teenage girls who team up to take down their bullies. The movie also features a cameo from Sophie Turner, though her role is unknown.
Netflix's log line for the movie reads: "After a clandestine run-in, Drea (Alpha, fallen it girl) and Eleanor (beta, new alt girl) team up to go after each other's tormentors. 'Do Revenge' is a subverted Hitchcock-ian dark comedy featuring the scariest protagonists of all: teenage girls." "Euphoria"'s Austin Abrams plays Mendes's ex.
The film is directed by Jennifer Kaytin Robinson, who wrote and directed 2019's "Someone Great." She also created MTV's "Sweet/Vicious" and served as a cowriter with Taika Waititi on "Thor: Love and Thunder."
"I think there are different points where everyone's the villain and everyone's the hero in this story," Robinson told Elle about the movie in July. "And that is so much of what growing up is. I wanted to make something that paints with all the colors of adolescence."
"We joke that they are like, the young Hollywood Avengers," Robinson told Elle of the movie's stacked cast. She added, "They call themselves 'The Revengers,' which we love." Robinson also revealed to the outlet that they shot the movie in Atlanta while "Stranger Things" season four was filming so that Hawke could star in both projects. "[T]hey just are all really talented," Robinson said. "And they were the best people for these parts."
Read on for everything we know about the movie, including the trailer, release date, plot, and cast.
"Do Revenge" Teaser Trailer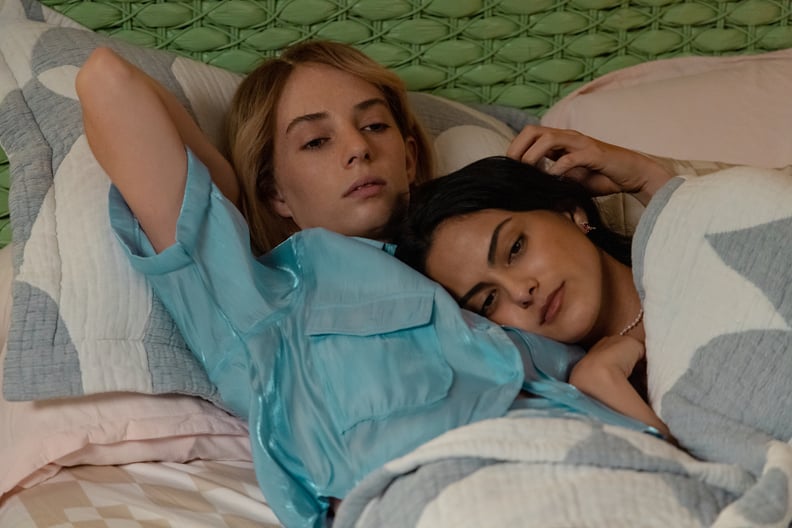 "Do Revenge" Cast
In addition to Hawke and Mendes, the cast also includes "Ms. Marvel" star Rish Shah, "13 Reasons Why"'s Alisha Boe, Austin Abrams, Ava Capri, Talia Ryder, Jonathan Daviss, Maia Reficco, Paris Berelc, and Sophie Turner.
"Do Revenge" Plot
Here's how Netflix described "Do Revenge"'s premise: "Drea (Camila Mendes) is at the peak of her high school powers as the Alpha it-girl on campus when her entire life goes up in flames after her sex tape gets leaked to the whole school, seemingly by her boyfriend and king of the school, Max (Austin Abrams). Eleanor (Maya Hawke) is an awkward new transfer student who is angered to find out that she now has to go to school with her old bully, Carissa (Ava Capri) who started a nasty rumor about her in summer camp when they were 13. After a clandestine run-in at tennis camp, Drea and Eleanor form an unlikely and secret friendship to get revenge on each other's tormentors."