What Is Everything, Everything to Amandla Stenberg and Nick Robinson? Love and McMuffins
If you've been searching for a movie to fill the void The Fault in Our Stars left in your heart, look no further than Everything, Everything. Based on Nicola Yoon's bestselling novel, the story centers around The Hunger Games actress Amandla Stenberg as a young teenager named Maddy who is anything but normal. Diagnosed with a severe immune deficiency as a baby, she has never left her house . . . until a handsome boy (Nick Robinson) moves in next door and changes her whole outlook on life, adventure, and love. With a killer soundtrack, two incredible leading actors, and one bitter twist, the adaptation (out May 19) is sure to become your latest obsession. POPSUGAR had a chance to talk with the film's stars and they discussed their instant connection, how they compare to their characters, and what everything, everything is to them.
POPSUGAR: What about the script really captured your attention?
Nick Robinson: First, I had the opportunity to sit down with Stella [Meghie, the director] before I read it, so I knew what she was thinking. The second thing is that it had a kind of dream-like quality, which I enjoyed.
Amandla Stenberg: Like Nick said, I enjoyed the whimsical quality and that there were moments of surrealism in it. But something that really captured my attention was the fact that this was a story about an interracial couple, and it was written that way, but race is never a conversation that is brought up in the film.
PS: How did you try to make the characters your own?
AS: I think that just happens when you try to play characters as naturally as possible. That's something that Stella really impressed upon us and ensured that we would do, that we would play it naturally.
PS: Speaking of playing the characters naturally, the chemistry feels so genuine. Did you two hit it off right away?
NR: Yeah, we did. We first met right before we left for Vancouver, and we both had a second of, "OK, I think we can do this." It was good to work with someone knowing that they have your back.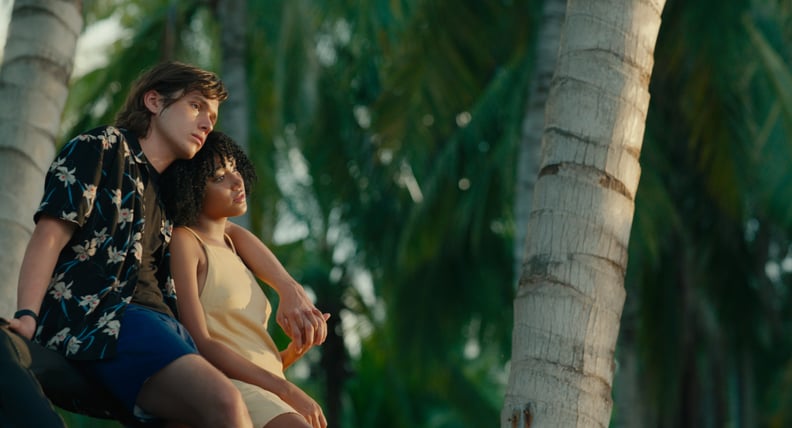 PS: How do you compare or differ from your characters?
AS: There are a lot of similarities between me and my character. I was just able to play a version of myself. There are a lot of things in common; I just think she's less experienced than I am because she's been stuck in her house for her entire life.
NR: I have a lot of similarities with Olly as well. I don't think I'm as romantic as he is, not quite, but he is a very curious person and someone who is always on the lookout for something to change his perception of things, and we share some of that curiosity.
PS: Amandla, this obviously isn't your first YA adaptation, and you have a few more in the works. Is that something you're drawn to?
AS: I'm drawn to it and it also seems to be what people really like making right now. It's just a coincidence that I'm working on a lot of things that are book-to-movie adaptations. That's where the good stories are right now.
PS: In Maddy's book review of The Little Prince, she says that love is everything, everything. What is everything, everything to you?
AS: I agree that it's love. Love makes the world go round.
NR: Yeah, that's true. Love or a sausage-egg McMuffin.