Fin.K.L, the Pioneering K-Pop Girl Group
Fin.K.L Forever: The Pioneering Girl Group That Paved the Way For Future K-Pop Idols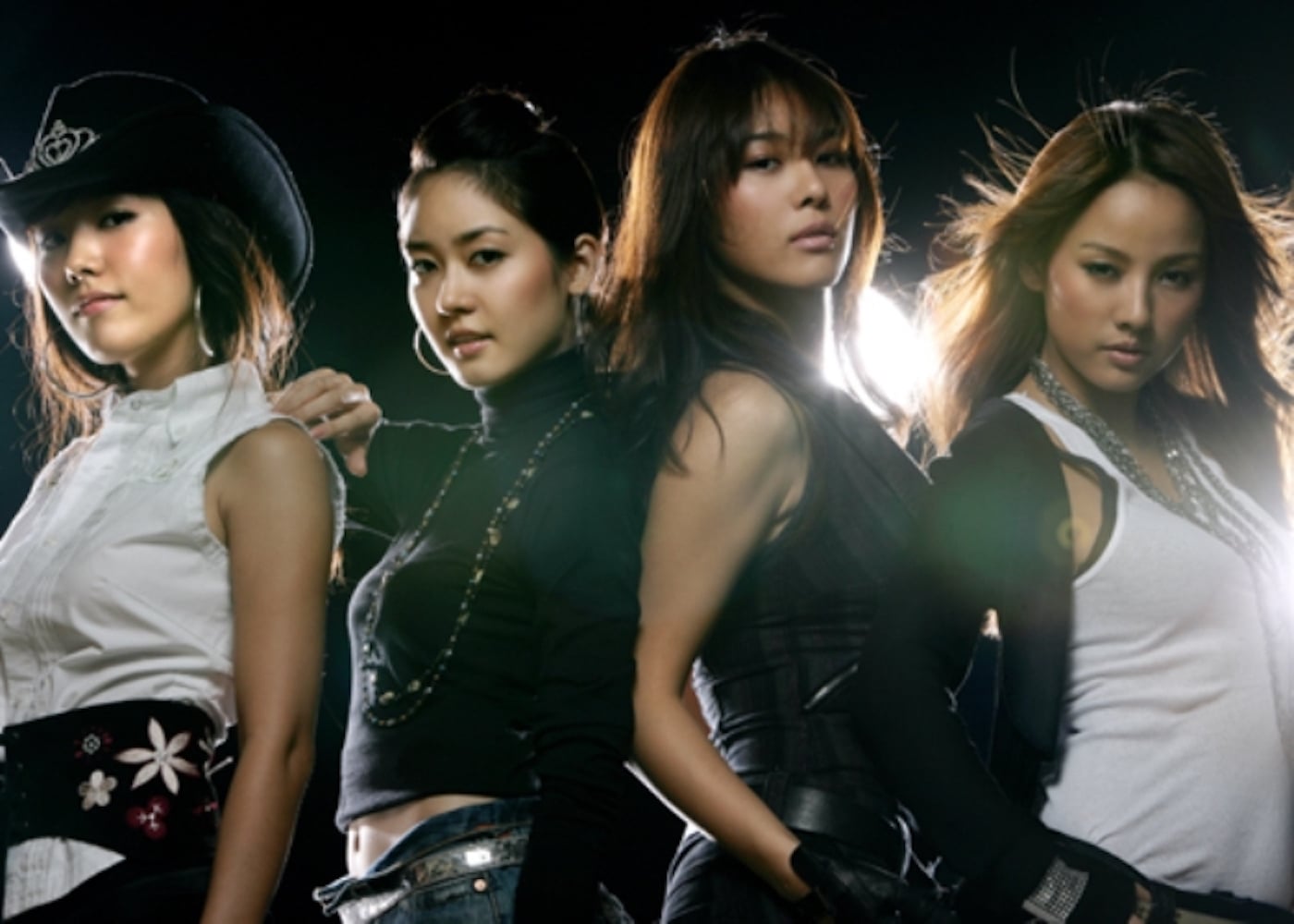 Image Source: DSP Media
K-pop is undeniably a global phenomenon. Its music videos regularly rack up millions of YouTube views, concerts often sell out within minutes, and tweets about K-pop stars frequently go viral. Once a burgeoning music sector that initially catered to South Korean audiences, K-pop has exploded in popularity over the years. Today, it's more heavily consumed outside of its home country than within it. But long before bands like BTS, Blackpink, Seventeen, and Twice topped music charts and won audiences worldwide, a four-member girl group named Fin.K.L (pronounced like "Pinkle") captivated Korea and proved there was a fervent demand for K-pop idol music.
One of K-pop's earliest girl groups, and part of its so-called "first generation" of artists, Fin.K.L broke into the music scene in the late 1990s when Korean music executives were trying to figure out what K-pop should look and sound like. When the whole K-pop idol system was still taking shape, Fin.K.L mapped a blueprint for future K-pop girl groups. Fin.K.L's success helped pave the way for K-pop to eventually grow into a multibillion-dollar industry and one of South Korea's top cultural exports — a thriving ecosystem that has launched an estimated 200 to 400 idol groups over the past decade.
Formed in 1998 by Korean entertainment label DSP Media (then known as Daesung Enterprise), Fin.K.L consisted of members Lee Hyori, Ock Joo-hyun, Lee Jin, and Sung Yu-ri. The group's name stands for "Fine Killing Liberty," an admittedly awkward moniker that borrows the French word for "end" (fin) and is supposed to mean "ending everything that oppresses freedom." The pioneering K-pop ensemble was one of the most prominent girl groups in the late 1990s and early 2000s, along with rivals S.E.S. While S.E.S presented an ethereal, fairy-like aura, Fin.K.L came across as your cute girl-next-door types. Between 1998 and 2005, Fin.K.L released seven albums, including four full-length studio albums, two special albums, and one mini album.
When the group debuted in May 1998, R&B was just beginning to emerge as a popular genre in South Korea. Fin.K.L's inaugural album, "Blue Rain," leaned heavily into R&B as well as ballads — a quality perhaps best captured in its soulful title track, which quickly dominated various music shows in Korea and catapulted the band to domestic stardom. Subsequent hits from the album, such as "To My Boyfriend" (selected by Korean music experts in 2021 as one of the top 100 K-pop masterpieces of all time) and "Ruby," further cemented them as one of Korea's top musical acts. They nabbed accolades at various music award shows that same year.
In 1999, Fin.K.L followed up with another hit album, "White," which climbed to the top of the charts within just a few weeks of its release. More dance-oriented than their first album, "White" included songs written by each of the members and fueled the group's continued popularity with notable tracks like "Forever Love," "Pride," and "Waiting For You." Later that year, the quartet released yet another chart-topping album titled "Special," which contained hits like "To My Prince," "White," "Time of Mask," and a remake of the Korean pop icon Nami's "Like an Indian Doll." That same year, Fin.K.L became the first women K-pop group to hold a solo concert and the first K-pop girl group to perform in North Korea.
Fin.K.L's overseas appearances didn't stop there. At the time, the Korean Wave was still in its early stages but gradually expanding as countries in Asia began to express a growing interest in Korean popular music (and K-dramas). Fin.K.L were invited to appear on various shows in Taiwan and were among a handful of top Korean artists selected to perform at the inaugural "Korea China Song Festival" in Beijing, which aired all over China. The following year, Fin.K.L released a third full-length studio album, "Now," and experimented with a dynamic range of sounds, from hip-hop and funk to house and rock. "Now" also marked a shift in the group's overall concept — they swapped their previously sweet and innocent image for a more mature, edgier, and sexier vibe. By this time, they were frequent guests on various radio shows in Korea and regularly winning first place on popular music shows like KBS's "Music Bank," MBC's "Music Camp," and SBS's "Inkigayo." It seemed Koreans couldn't get enough of Fin.K.L — the band appeared in numerous commercials and even had their faces plastered on specially branded "Fin.K.L bread," which came with collectible stickers of each member. Around this time, they also recorded the catchy theme song "True Love" for the soundtrack to the acclaimed 2000 K-drama "All About Eve."
In 2001, the quartet dropped their second special album, "Memories & Melodies," a collection of covers of Korean classics from the 1980s and 1990s, such as Hye Eun Yi's "You Wouldn't Know" (a song every Korean is at least somewhat familiar with) and Lee Yerin's "As Always (Come On Baby Tonight)." Their last full-length studio album, "Eternity," came about in 2002; the music video for its title track, "Forever," was the group's first to have a storyline.
Between 1998 and 2002, Fin.K.L won a slew of music awards in Korea, including the new artist of the year award at the 1998 Golden Disc Awards (one of the most prestigious award shows in Korea). The group also won the grand prize at two other major award shows in 1999: the Seoul Music Awards (which they shared with the legendary ballad singer Jo Sung-mo) and SBS Gayo Daejeon. Fin.K.L became the first girl group to win two grand prizes at Korean music award shows.
After releasing their mini album "Fin.K.L" in 2005 and an accompanying video for the high-energy title track, the group went on an indefinite hiatus — though they haven't officially disbanded to this day. By then, all four members had already embarked on solo projects. Ock Joo-hyun, the group's lead singer whose soaring vocals can be distinctly heard in their songs, pursued a career as a solo artist and worked as a radio DJ and an MC on various Korean TV shows. She's also become one of Korea's leading actresses in musical theater and starred in Korean adaptations of Broadway shows like "Wicked," "Chicago," "Aida," and "Cats."
Lee Hyori, Fin.K.L's leader and main rapper and dancer, is arguably the group's most internationally recognized star. One of the original queens of K-pop (along with BoA), Lee is the only Korean woman solo artist to have a No. 1 hit in the 1990s, 2000s, and 2010s. She was known for pushing the boundaries of sexy in Korea (as evidenced in many of her music videos, such as "10 Minutes" and "Get Ya") — a lasting legacy that has influenced many women K-pop acts. Lee has also appeared in many Korean commercials and variety shows (as well as a couple of K-dramas) and hosted domestic music and television programs, including her own reality show, "Hyori's Bed and Breakfast."
Sung Yu-ri ventured into acting, beginning with the 2002 K-drama "Bad Girls" (its soundtrack includes songs sung by Ock, Lee Hyori, and the entire group). She subsequently starred in many other K-dramas, including "Thousand Years of Love," "First Love of a Royal Prince," "One Fine Day," and "The Snow Queen" (to name a few), and won acting awards for some of her performances. Besides her K-drama work, she has also appeared in films and hosted several radio and variety shows. Like Sung, Lee Jin also pursued acting, taking on roles in K-dramas such as "Glory Jane," "Shining Romance," and "The Secret of Birth," in which she starred alongside her bandmate Sung. Lee earned accolades for her acting performance in the historical K-drama "The Great Seer" and the early 2000s sitcom "Nonstop."
By the end of 2006, all of the members of Fin.K.L had left DSP Media and signed with other labels. In 2019, the group briefly reunited on the JTBC reality-TV show "Camping Club," which showed the fabulous four traveling across Korea in a camper and reflecting on their Fin.K.L days. That year, they also released a compilation of their greatest hits, "Fin.K.L Best Album," and the single "Like the Song Remains" — their first new song since 2005. Although the members of Fin.K.L are still continuing their individual projects, their collective legacy as one of K-pop's first idol groups — the sunbaes' sunbaes in the K-pop industry — will remain forever.